Vendor Highlight: O.W. Lee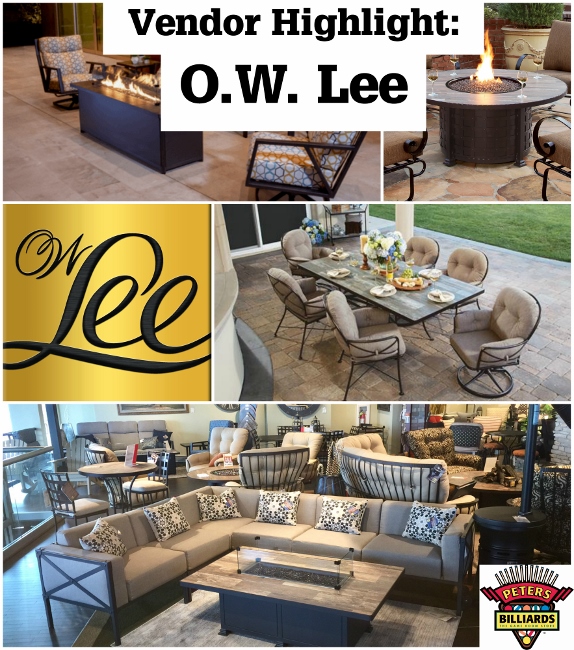 Are you familiar with the outdoor furniture manufacturer O.W. Lee? They are a premier manufacturer of beautiful outdoor furniture, much of which we have on display in our showroom. They manufacture in the USA and continue an American family tradition with third and fourth generations directly involved on a daily basis.
O.W. Lee's handcrafted patio furniture is backed by an incredible warranty, and the furniture is designed and built to last for generations. Their factory is located in California and if you'd like to view the factory you can take a Virtual Factory Tour below. You'll get an inside look at how this furniture comes together to become the gorgeous pieces for your patio. Let's take a look at what makes O.W. Lee a premier patio furniture manufacturer.
The O.W. Lee Difference
1. MADE IN THE USA
The company started in 1947 manufacturing custom gates, railings and furniture for the luxurious estates of Pasadena and San Marino areas of Southern California. The company was founded by Oddist W. Lee and it continues to have generations of the Lee family working in all aspects of the company today. Oddist Lee's high standard of high quality craftsmanship hasn't wavered over these last 70 years.
2. CUSHIONS
Two premier all-weather cushions are offered from O.W. Lee. The cushion is determined based on the frame design chosen.

Standard Cushions

Reticulated, open cell foam for the core – lasting comfort and allows fluid to flow through and dry quickly.
Velcro tabs and zippers
Polyester fiber wrap for a soft sit – also resists absorbing liquids and bacterial growth
Solution Dyed Acrylic exterior fabrics – best in the industry
Tenara© thread used for stitching which is unaffected by sunlight & is weatherproof.

Plush Comfort Cushions©

Indoor foam core provides same comfort as fine indoor furniture, long lasting comfort and maintains original shape for many years.
Outer core is cluster filled channels with down-like fibers for resiliency and softness.
Final outer layer is a spun water-resistant exterior cover that repels moisture, prevents water penetrating the cushion, and has a high breathability factor while still maintain long lasting comfort.
Velcro tabs and zippers
Solution Dyed Acrylic exterior fabrics – best in the industry
Tenara© thread used for stitching which is unaffected by sunlight & is weatherproof.

Also read from the O.W. Lee blog "What's on the Inside that Counts" about their cushions.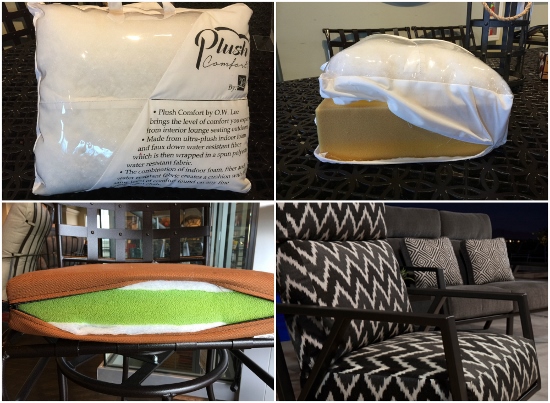 3. SUPER POLYESTER FRAME FINISH
Weather resistance is 3-5 times better than standard finishes
Frames are blasted to remove dirt, oil and any impurities. The frames are then washed in a five step bath for a perfectly clean frame ready to receive the finish. The next step is to hand spray with zinc rich epoxy primer and then individually sprayed with super polyester powder coated paint. The paint acts like a magnet to the frame and covers all areas equally. Finally, it's heated in a 500 degree oven to cure and seal the finish.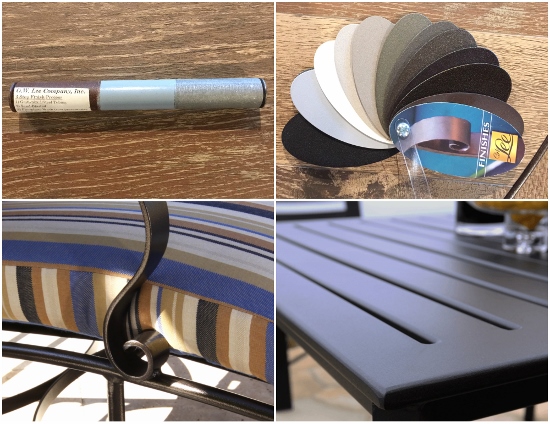 4. HIGH END MATERIALS
Raw materials are delivered daily to ensure a continuous flow in production. Their steel frames are made of galvanized steel or carbon steel. (Think galvanized metal fences.) Their aluminum frames are constructed of 6061 alloy aluminum.
All fabrics in the line are brands such as Sunbrella, Outdura or Tempotest that manufacture solution-dyed acrylics. The "solution dyed" is the key, meaning the colors go all the way through each yarn. This provides for the longest lasting fade resistance and are even bleach cleanable. They also offer Bella-Dura solution dyed polyolefin fabrics which are American-made and offer very similar characteristics as solution dyed acrylics.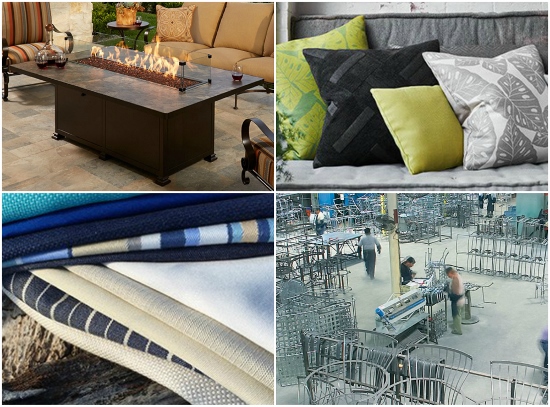 5. HAND CRAFTED BY ARTISANS
O.W. Lee's factory is a 100,000 sq. ft. manufacturing facility in Ontario, California. Here they use century-old techniques with state-of-the-art equipment to produce high-quality beautiful casual furniture.
Some frames, such as the Classico collection back detailing, are done by artisans in the same techniques used by blacksmiths centuries ago. You will notice in O.W. Lee's Virtual Factory Tour that the metal on some frames is heated and then worked by hand to obtain the desired shape.
Full circumference welds are used on all frames to prevent any moisture retention and provide the ultimate in durability. They are also measured and adjusted individually to ensure accuracy and levelness.
Their cushion fabrics are hand-sewn by experts and then hand-stuffed to ensure the fit is precise.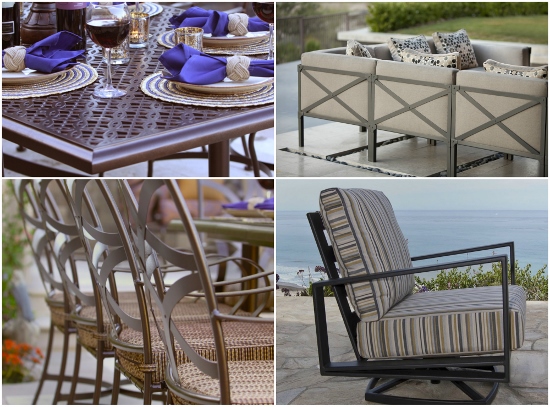 New Introductions in 2017
An updated cushion thread called Tenara© which is a Gortex-type thread that withstands the outdoor elements a lot better than typical sewing thread.
See also:
Come into our showroom and view O.W. Lee's beautiful outdoor casual furniture and fire pits. We have a large display along with all of the possible metal finishes, fabrics, tile tops, and more to customize the perfect setting for you.
Thanks for visiting Entertaining Design.
Categories
Sign Up for Emails
Be the first to get info on sales, new items and more.