What's New in Fire Pits?
April 25, 2017
Houzz
Fire pit options are becoming almost endless. They are the go-to table right now because of their versatility. There's a fire pit size, shape and color for every furniture layout and décor style. Add a fire pit that doubles as a coffee table, end table or dining table to get the most out of your space. Our Minnesota weather is ideal for fire pits because of our chilly spring and fall months or cool summer nights after the sun goes down. They also make the perfect spot for serving food, putting your feet up, and dining on, too. Let's take a look at what's new in fire pits in 2017.
MORE HEIGHTS
Occasional Height is a fairly new option from our vendors. The popular chat height has been around for many seasons. Chat height measures 24" high and the new occasional height measures 18" high, very similar to a coffee table. Occasional height fire pits distribute heat at a lower level and provide a possible footrest. They do need a special size propane tank, which Peters Billiards carries. You can also have a professional hook up your fire pit to a natural gas line.
Occasional heights are available from a couple manufacturers and in multiple sized tops including:
26" x 45"
26" x 75"
30" x 50"
36" x 58"
42" x 72"
42" x 54"
36" round
42" round
54" round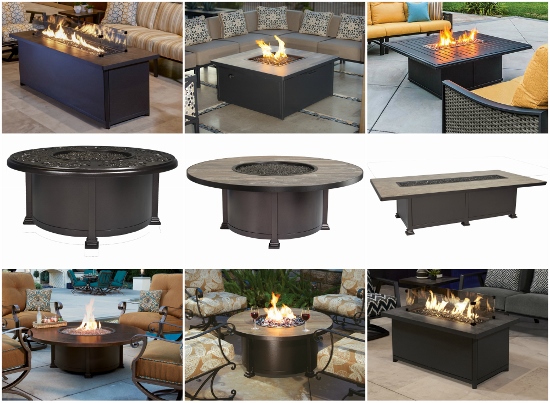 *** Keep in mind our fire pits have always been and are still available in these heights: chat, dining, and counter with varying top sizes and designs.
NEW MODELS
This season we have the Metrop fire pit by O.W. Lee. It's constructed of a never-rust aluminum frame which comes in both occasional and chat heights, as well as two lengths: 26"x45" and 26"x75". Customize this fire pit with your choice of all-weather porcelain tile top, metal frame finish, and center fire media.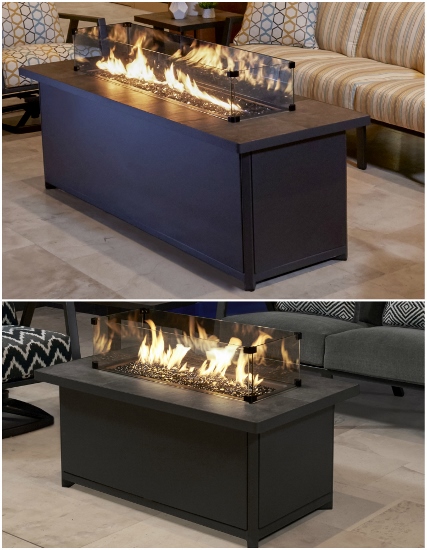 The Creighton is another new model from O.W. Lee which pairs perfectly in more contemporary settings and for sofa/sectional configurations. This fire pit currently only comes in 42" square and occasional height. Customize this fire pit with your choice of all-weather porcelain tile top, metal frame finish, and center fire media.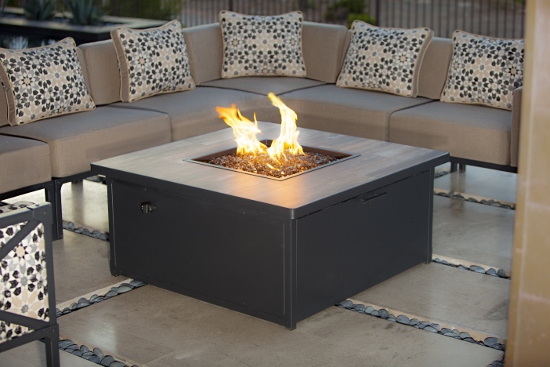 We now carry a slatted top 44" Chat fire pit from Winston Furniture which is available as shown only. This aluminum fire pit has a powder coated finish in color Night.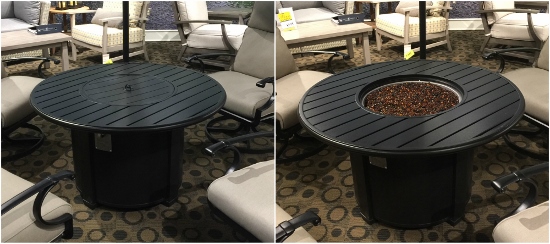 ADDITIONAL MANUAL IGNITION OPTION
Tropitone, well known in the commercial patio industry, has now added the option to have manual ignition on their fire pits. Depending on the fire pit size you can now choose either an igniter or manual ignition.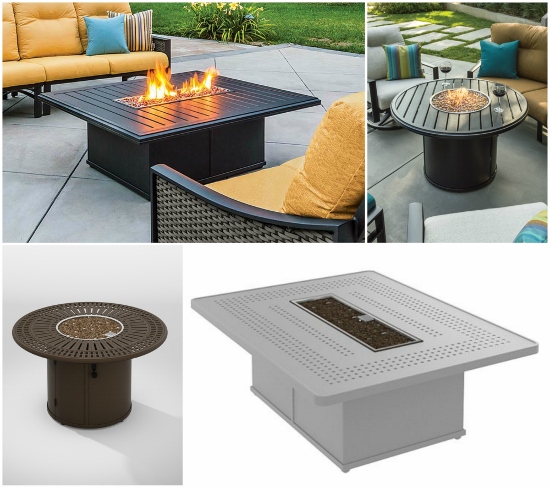 NEW TOPS
O.W. Lee brought out a new premium top called Urban Effect, done in the all-weather porcelain tile. It's made to resemble concrete for a modern and industrial look. Two standard porcelain tile tops are now available in neutral tones called Roma Light and Roma Dark.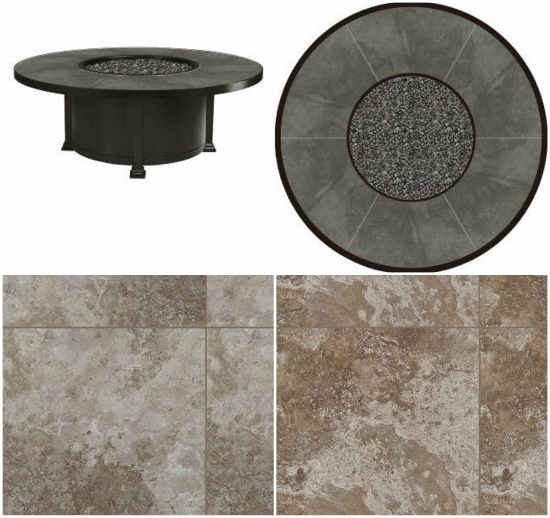 NEW ACCESSORIES
Weatherproof fire pit covers are now available in more sizes for a more tailored fit and they're capable of handling all fire pits we carry. Tanks are also available for all height fire pits including our occasional heights. These fire pits require either a 20 pound horizontal tank or a short 11 pound tank. A large selection of media glass and blended glass colors are available with a few new additions for 2017.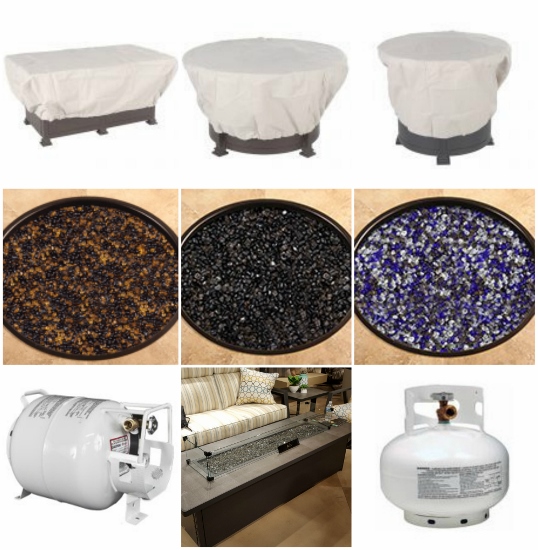 FIRE PIT FACTS
Most of Peters Billiards fire pits are gas operated and the heat output ranges from 32,000 up to 90,000. This will vary depending on the fire pit size, manufacturer and whether you choose to use a propane tank or natural gas.
Almost all of our fire pits are Made in the USA and can be customized to your liking by choosing size, frame finish, fire pit top design, fire media and/or additional accessories.
Nylon glide feet protect the fire pit frame and patio surfaces.
Slide out feature for tank provides easier access.
Optional features include: lazy susan, flat burner cover, dome burner covers, glass flame guard, and weatherproof protective covers.
If you're looking for a traditional wood burning fire pit we do offer a handful of beautiful solid copper fire pits in a variety of sizes and designs.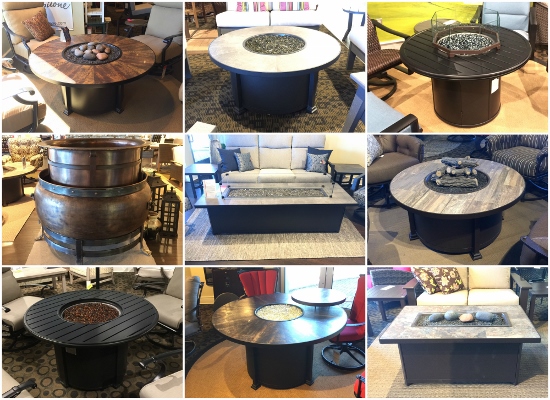 Stop in to view our large selection of over 15 fire pit varieties on display. We have many in-stock and ready to pick up same day or schedule to have it delivered by our own Peters Billiards delivery crew. Our excellent patio staff will gladly help you navigate the options and help you customize the perfect fire pit for your space.
Thanks for visiting Entertaining Design.
Other patio furniture posts to view:
Fire Pits – Feeling Hot! Hot! Hot!
Five Must Have Fire Pits to Extend the Outdoor Season
Patio Furniture 2017
Patio Furniture Materials – The 411
All Weather Sectionals