10 Home Decor Trends to Look for in 2017
February 21, 2017
Houzz
A new year brings new home décor trends to get excited about. Going to furniture and home décor shows over the past 6 months we have seen touches of all of these trends in the various showrooms we've visited. The upcoming spring is a time when most of us are getting anxious to freshen up the look of our home, both inside and out. Here are a list of 10 trends in home décor to look for this year.
1. Warm Metals – Brass and Gold are getting a comeback. Not in the shiny hues they once were, but it more muted, warmer shades. Darker shades of steel and even unfinished metals are pleasing to the eye and suitable for many current décor styles.
2. Mixing Metals - Mixing metals provides a fresh and modern twist. No longer do you need to strictly stick with one type of metal for the entire room. Try mixing brass and chrome or stainless and bronze.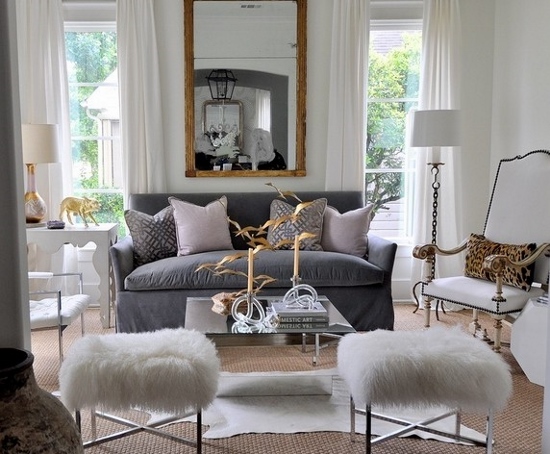 3. Jewel Tones – Such as emerald green, sapphire blue, purple amethyst, and yellow topaz. These bold colors don't need to cover your entire room, but you can try using as accent color throughout the room. As with any dark color, make sure you have ample lighting. These colors work best in areas where you have good natural light, too.
4. Textures – Keeping the room neutral, but adding lots of textures in linens, raw woods, unfinished metal, fabrics and artwork will help give the room pop, without the need for lots of color.
5. Retro Inspiration – Mid-Century Modern is a growing trend. This look has expanded into all areas of the home from kitchen and dining furniture to living rooms and bedrooms to patios and porches. Whatever room in your home needs a mid-century modern touch you'll easily be able to find furniture and décor to fit this style.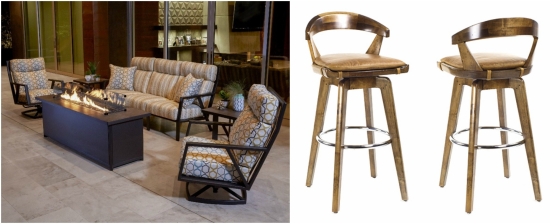 6. Matte Finishes – The trend is gearing towards less shiny or smooth and more matte or textured finishes in metals, woods, leathers, and fabrics. Matte finishes can help show less finger printing and dust too, which is a bonus.
7. Greens – An exciting and organic color that you will be able to find everywhere. From small accent pieces and accessories such as bowls, candle holders or a faux plant to even a large upholstered chair or sofa. Even Pantone's color of the year is Greenery 15-0343.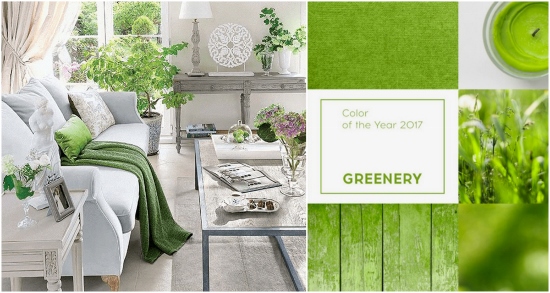 8. Richer Wood Tones and Grain – Not everything has to be smooth and white, white, and white. Richer, darker browns and grays with the wood grain showing is gaining steam. This brings greater depth into the wood and lots of warmth to a room.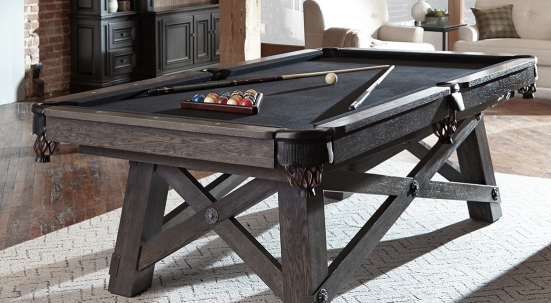 Loft Pool Table
9. Mixing Past and Modern – While this has been trend for a while, it's still very true. Using only modern pieces makes a home feel stark and showroom-ish. Using only past antique pieces will make your home feel outdated. Having a blend of both is the perfect way to give your home a warm and welcoming atmosphere, but with a current and fresh style.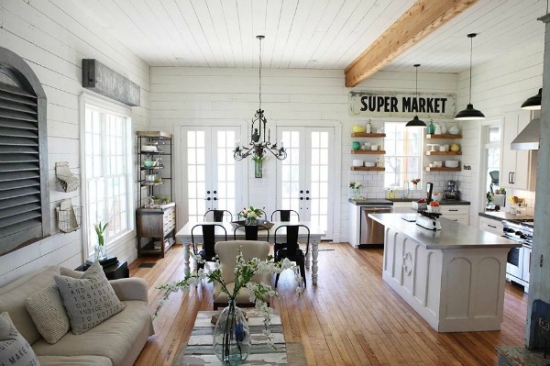 10. Scaled Furniture – Oversized furniture is out, although large pieces of furniture are still in. Sound tricky? Because more manufacturers are offering the option to customize sofas, sectionals and chairs it is becoming easier to find the ideally scaled furniture for your space. Oversized furniture overwhelms a room, if the room is not large enough to handle it. Creating functional use of the space is becoming more important and designers are able to help navigate the options and find the best piece and size for your room.
Even though something is a trend, it doesn't mean you need to stick to it. Play up a couple of the trends you love and make your home your own. Your home should be a place that you enjoy, trend or no trend.
For more trend and design ideas please visit our store, our website, or check out past blog posts.
Thank you for visiting Entertaining Design.