Patio Furniture 2017
March 7, 2017
Houzz
It's almost spring!! OK, so it's Minnesota so I probably can't say that just yet. A couple weeks ago it did feel like spring, but as a born Minnesotan I had to know that it was just Mother Nature giving us a little teaser before slamming us with more snow and cold weather. The official first day of spring is March 20 so it truly is just around the corner. Whether or not the weather will feel spring-like is anybody's guess, but here at Peters Billiards we like to prepare and hope for the best. All of our 2017 patio furniture has been rolled out and is proudly on display ready for spring, summer and even the fall seasons.
Get the most out of your furniture by coming in early to select from in-stock dining, deep seating, fire pits and umbrellas or customize an order in your choice of fabrics, frame finishes, and furniture pieces. Let's take a look at some of our 2017 patio furniture on display now.
Creighton Deep Seating
The new Creighton collection is a fully customizable sectional deep seating group that truly embraces modern industrial design. Inspired by trestle style iron work often used in industrial capacity, this group offers details of a bygone era with modern styling.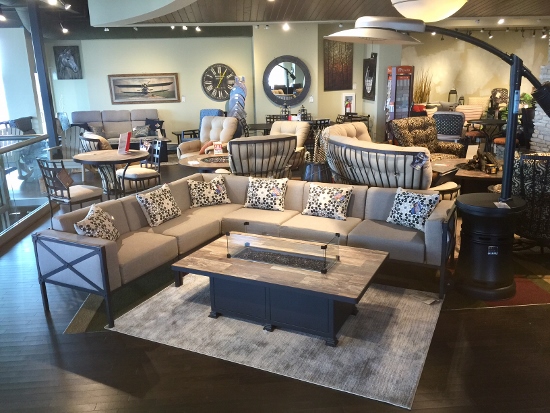 Manor Deep Seating Chat Set
This versatile deep seating collection incorporates a high back seat frame for unbelievable comfort and shown here with an aluminum gas burning fire pit. Come check out this model and see for yourself!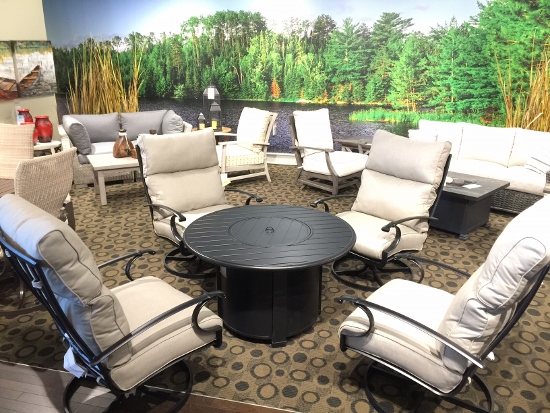 Monterra Deep Seating
One of our best-selling collections, the Monterra provides the ultimate in casual comfort. Featuring unique details such as hammered rivets at key intersections and embossed flat bars that surround the cushioning of the chair, creating beautiful and distinctly comfortable deep seating. Plush cushions and soft fabrics are constructed to withstand the outdoor elements. This collection is made in the USA so you have options to customize from hundreds of fabrics, twelve powder coated frame finishes, fourteen porcelain fire pit tops.
Rustic and Croquet Dining Set
A beautiful blend of all-weather aluminum, wicker, and fabric textures for an eclectic, yet pulled together dining set. Shown in the popular slate frame finish and a soft dove gray fabric with contrasting welt.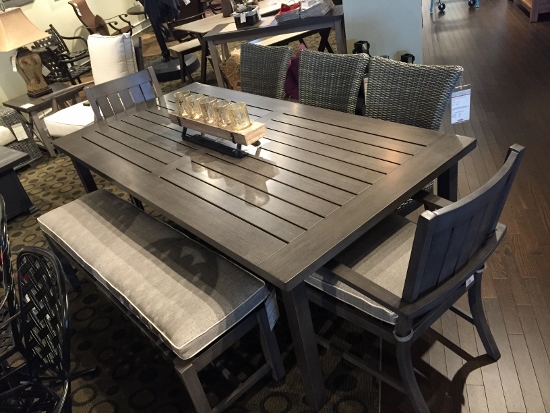 Rustic and Croquet Deep Seating
The Croquet chair embodies classic elegance yet durable aluminum framework. Characterized by stylistic simplicity, sleek design and natural shapes, it's a perfect blend with the Rustic Wicker sofa. Hand-crafted with superior N-dura™ Resin the Rustic collections rugged design will endure the years in style. The low occasional height fire pit is a perfect complement and keeps you warm on chilly spring days. Available to customize with a selection of frame finishes, hundreds of fabric options and your choice of furniture pieces.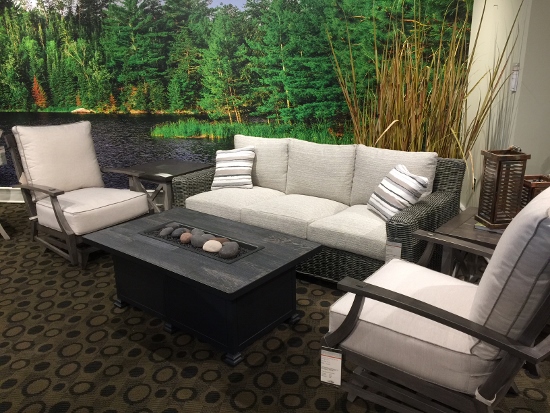 Aris Deep Seating
The Aris collection applies Mid-Century ergonomics to modern lines creating an attractive and superbly comfortable group. To achieve this type of comfort, OW Lee developed a two chambered ergonomically correct pillowed back. The back combined with a flexible metal strapping under the cushion provides just enough give for the perfect sit. We've grouped the Aris seating with the new Metrop modern styled fire pit. Come in and test this one out to feel the comfort and see the beauty!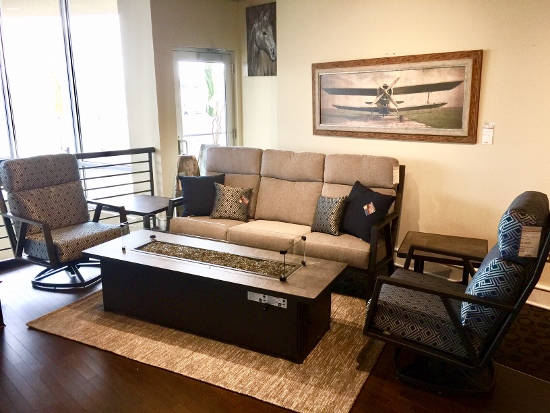 Montreux II Chat Set
The Montreux collection of outdoor patio furniture was such a hit that it is making an encore appearance with Montreux II. Shown here in the smaller size dining chat chair for those smaller scale settings. With a blend of extruded aluminum and cast-aluminum details, stylishly curved arm support, all-weather cushioning and all-weather fabrics, the Montreux II patio furniture will transform any outdoor living space into a showstopper.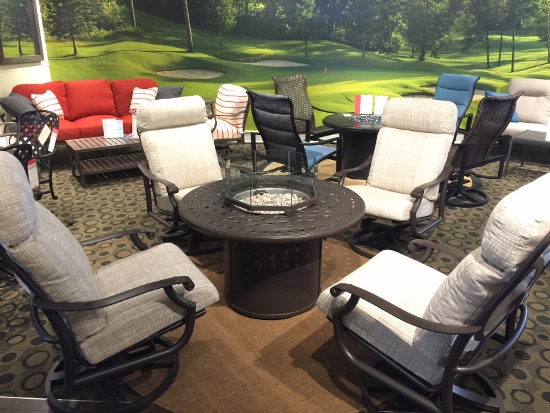 Plymouth Bay Dining
Classic farm table styling makes this collection a perfect fit in traditional or contemporary settings. Add some style to the patio with this kid-friendly super durable design. Telescope Casual's MGP, constructed of super high quality Marine Grade Polymer, has been used for over 20 years by shipbuilders on the topsides of high quality sailing and motor yachts.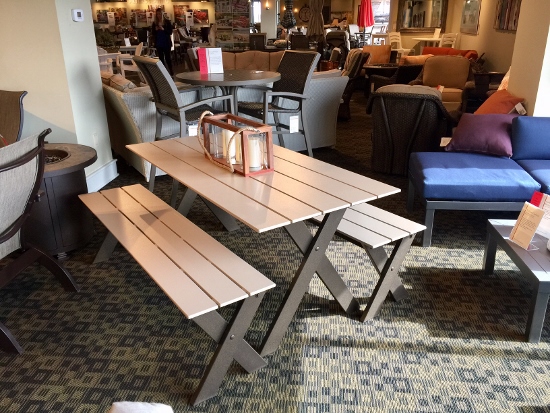 Mini Monterra Chat Set
The Mini-Monterra chairs feature all of the unique detailing and superb quality as the grand-daddy Monterra chair, but with a smaller scale to fit into a wider variety of backyard settings. Paired with an occasional height Santorini Fire Pit, it is designed to create the perfect outdoor room. This collection is made in the USA and available to customize with twelve powder coated finishes, hundreds of all-weather fabrics, and fourteen porcelain tile tops for the fire pit.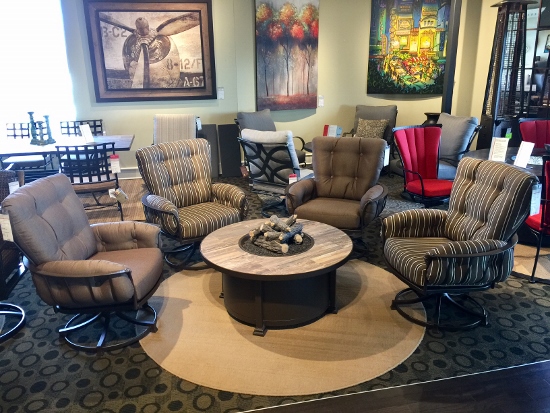 Bay Lounge Deep Seating
The Bay collection is a simple, clean and relaxing style that gives you an overall feeling and emotion of sitting by the bay. The reclined position emphasizes an introverted and relaxed state of mind, hence the name – Bay. Constructed of beautiful, sustainably grown teak for all-weather and long lasting durability. This set is available to customize with your choice of fabrics and sling combination.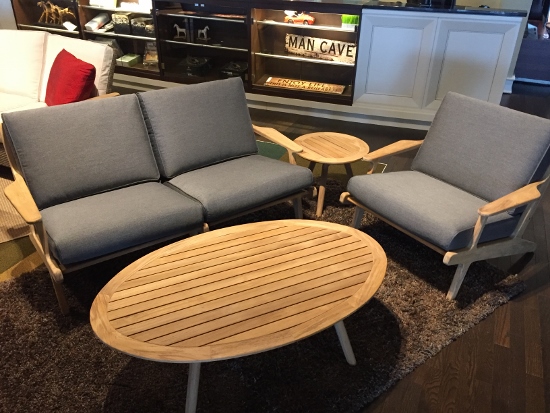 SYM Dining
Simple. Youthful. Modern. The SYM collection is designed with refined lines, graceful curves and a pop of color to enjoy life's simple pleasures outdoors. This set is crafted in the USA from a marine grade polymer called Envirowood. It's non-porous, resistant to moisture, solid color throughout, and has been permeated with UV stabilizing coloring to offer quality, comfort and the beauty of wood, without the maintenance. Available in many colors options.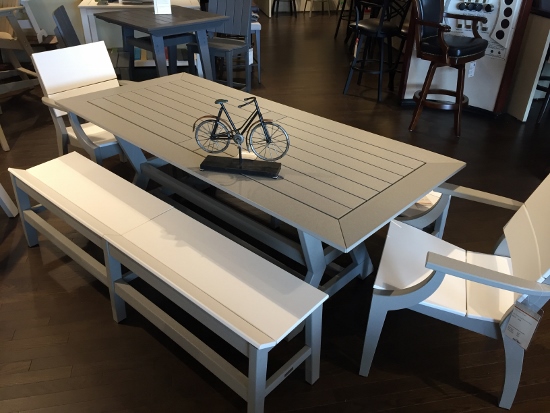 DEX Deep Seating and MAD Fusion Chat Chairs
Simple lines and comfortable angles converge in the DEX Collection of modular, deep seating chairs that offer unlimited possibilities for the deck, patio or hearth. Combined with MAD Fusion chat chairs that do not require a cushion for comfort. Mix and match any combination of cushioned or non-cushioned chairs for your ideal patio setting. Made in the USA so you can customize with your choice of frame finish and all-weather fabrics.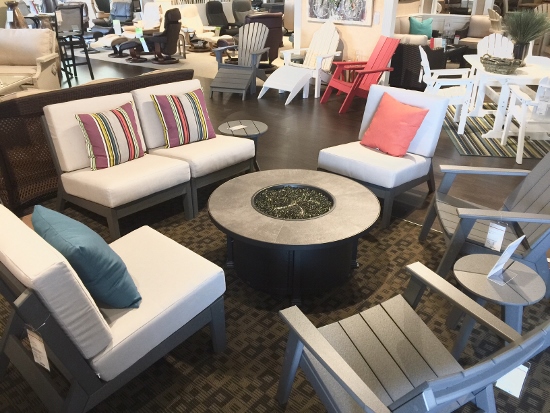 Cabana Club Woven Dining
A smaller scale dining set that still allows for six comfortable and stackable dining chairs. Constructed of all-weather commercial grade aluminum to withstand everything life has to throw at you. Made in the USA this set is available in 21 durable powder-coated metal finishes and three weave colors.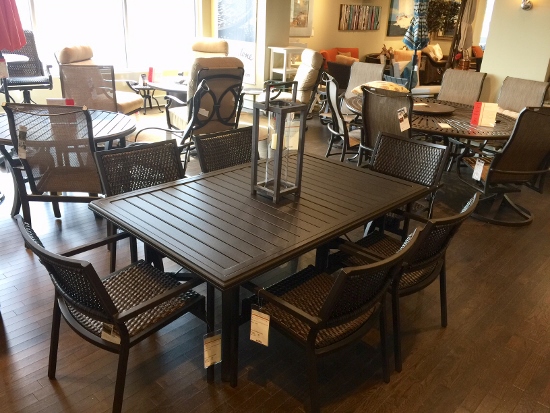 Hamptons Deep Seating
This all-weather wicker set is unique in that it is made by one of the only manufactures that makes an outdoor woven wicker that is not made of PVC. Made in the USA by Lloyd Flanders who have been perfecting their outdoor wicker for over 100 years! This all-weather wicker is woven over an aluminum frame and can withstand many years of sun and rain. Another benefit is that you can choose from 20 frame finishes and hundreds of fabric choices.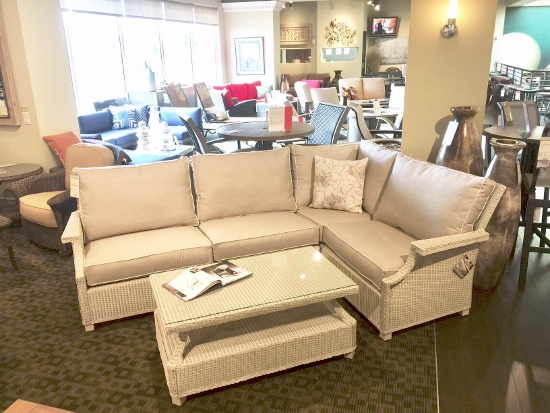 Casa Bistro
Perfect for balconies, small patios or intimate courtyards, Casa stools and a porcelain top pub table help transform small outdoor spaces into relaxing private getaways. This set is made in the USA so you can customize finishes and fabrics to your own personal liking.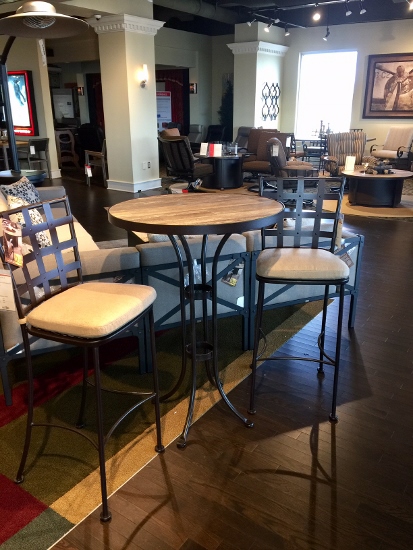 Provance Deep Seating
This collection really is a work of art. The copyrighted double latticework design on the back and the curved scooped back frame make for both a beautiful, yet still very comfortable design. It doesn't hurt that it's also made from all-weather never-rust cast aluminum to provide the ultimate in outdoor durability. Choose from hundreds of fabrics and a selection of metal frame finishes to customize this set.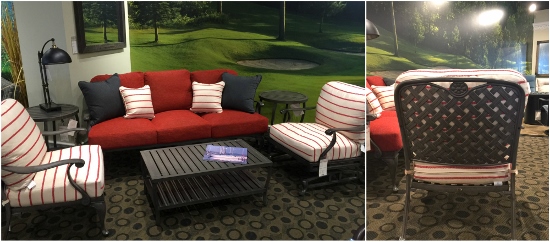 Remember this is only a sampling of what is on display. We have many more dining, deep seating, fire pits, patio heaters and umbrellas available to view in our showroom. Many pieces are in-stock and ready for pickup the same day or delivery within the week. Can't find the size, color or style for you? Just ask one of our patio furniture experts and we would be happy to help you navigate through the options and create that perfect custom order item or patio setting for your backyard.
For more patio furniture ideas please visit our showroom or check out our website.
Thank you for visiting Entertaining Designs.

Other patio posts to check out:
Outdoor Cushions: Do They Really Hold Up?
Special Order Patio Furniture
How to Effectively Mix Patio Furniture
6 Tips to Know Before Buying Teak Furniture