How to Effectively Mix Patio Furniture
July 16, 2015
Houzz
An eclectic furniture style has become a popular choice as most people prefer a personalized look specific for their home instead of a cookie-cutter, pre-packaged design. This can be hard to know how to effectively mix up materials, colors, and styles especially in outdoor furniture. The trick is to unify the space by coordinating the pieces using color, material, design style, and furniture layout. Here are some examples on how to effectively mix patio furniture with photo help from Houzz and Better Homes & Gardens.
COLOR
Use the same color in both settings or to tie different pieces together in a single grouping. Repeating the color three times is the key. Check out some examples below on how to effectively achieve this look.
Each chair has one thing in common – color. They are completely different styles yet they worked together perfectly.
Repeating the red color in the Adirondack chairs, rug and accent pillow and using blue in the ottoman and accent pillows bring together this eclectic grouping and make it complete.
This set above is completely done in similar shades of green, but if you look closely they have combined a variety of different styles to complete this look. It is unified through color and therefore becomes a complete set.
MATERIAL
Bringing some of the same material into all furniture groupings is another way to help them belong together. If you're putting together unique pieces to make a single furniture grouping, try to use materials more than once. This is where the "Rule of Three" comes along. Repeat that material three different times throughout the set and it will make the whole grouping unified. Materials that can be repeated include: metal, wood, fabric, plastic, wicker, glass, etc. They can be repeated in the seating pieces, tables, decorative accessories, lighting, umbrellas, and more. This will give your space a custom look. The days of buying every piece from one collection are long gone.
This set above shows an example of material and color unity. The two metal framed ottomans coordinate with the metal coffee table. The sofa and two chairs are constructed of the same material. And finally the green fabric and the green bolster pillows tie those pieces together.
Both the deep seating group and dining collection in the back are from the same collection, but they've integrated teak in the dining table and end tables for interesting texture.
DESIGN STYLE
Pair like design styles – i.e. traditional with traditional or contemporary with contemporary. They don't need to be the same colors or material, but similar design styles will blend together well. Here are a few examples on how to achieve this:
Vintage metal chairs paired with a distressed wood table keep in tune with a modern theme of mixing old and new pieces. The blue in the chairs and light help to unify the set with color. Even the rustic 'M' on the wall ties in with the table and helps to bring together the entire space.
Even though the three main furniture pieces in the set are all different materials, they all fall into a transitional design style. Mixing the three pieces and materials give interest while staying cohesive.
The casual design style for both the dining grouping and deep seating set on this patio allow for a unified, yet interesting outdoor entertaining room.
FURNITURE LAYOUT
Separate each seating arrangement so they read as two distinct groupings instead of one mismatched one. This can be accomplished simply by using an area rug or by physically separating the two settings with a wall or other boundary, i.e., fireplace or greenery.
Take this photo above for example, the wicker furniture facing the fireplace and the metal dining set is off to the side as another grouping.
These two groupings are gathered in two separate areas, but still in each other's view. This photo gives examples of all four unifying techniques - color, material, design and layout.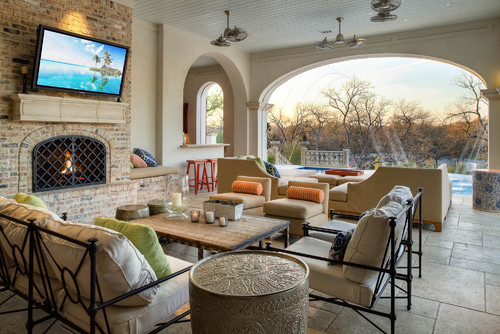 Although these two furniture groupings are in the same room, they've been set up as two separate seating areas with a different focus. One group is viewing the fireplace while the other has a view of the yard and pool. Touches of green, orange, and blue in accent pillows, stools and decor bring together the two seating collections through color and repetition.
I hope this helps you extend your use of your patio and gives you design inspiration. For more patio furniture ideas click here for the blog or visit our website.
Thanks for visiting Entertaining Design.