How to Add "Fixer Upper" Style to Your Home
January 6, 2016
Houzz
The ever popular show "Fixer Upper" on HGTV with Chip and Joanna Gaines seems to have swept the nation with farmhouse charm and rustic style. The push for organic, all natural, green, and earth friendly materials in all areas of our lives has really driven this trend for natural textures and colors in all aspects of the furniture industry.
If you haven't heard of "Fixer Upper", it started out as an HGTV show with a husband and wife team of Chip and Joanna Gaines who fix up run down properties in Waco, Texas and bring them to their full potential for Texas-area buyers. The couple now has a handful of businesses related to Fixer Upper including a real estate division, a furniture line, and a local shop for home décor and furnishing.
Joanna's design style is clear as she favors unique vintage, rustic, repurposed designs and mixes them with modern and streamlined pieces. Her design style is simple and fresh, but still feels cozy and inviting. Here are 5 ways to get the "Fixer Upper" style in your home.
1. Go Neutral
Joanna loves to use a neutral pallet of light and airy colors to create a calming and casual atmosphere. When she does add color it's typically a soothing green or sea-mist blue that adds a touch without too much pop. Soft shades of brown, black, grey, tan, beige and white are used quite often to ground the whole design concept.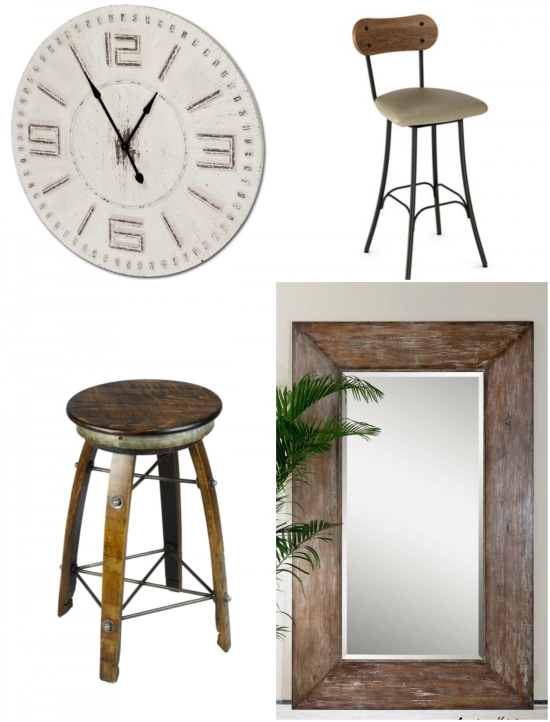 2. Incorporate Vintage and Modern
The mixture of old and new keeps your look fresh, but inviting. Even if you don't own any true antiques you can fake it. Distressed finishes and sanded off painted surfaces give the look of worn out furniture that has a story to tell. Joanna loves to pull vintage farm equipment into the décor and gives each piece a new purpose. Think outside of the box when decorating your home using old windows, glass jars, used books, dressers as vanities, trunks as coffee tables and more.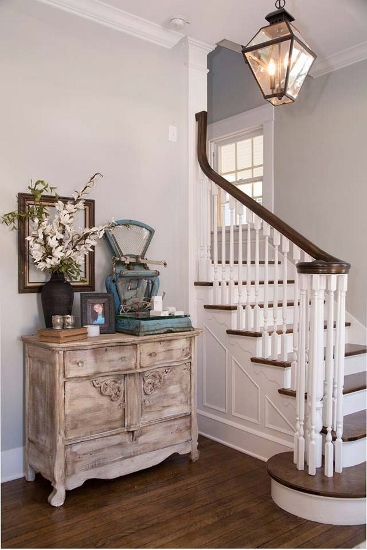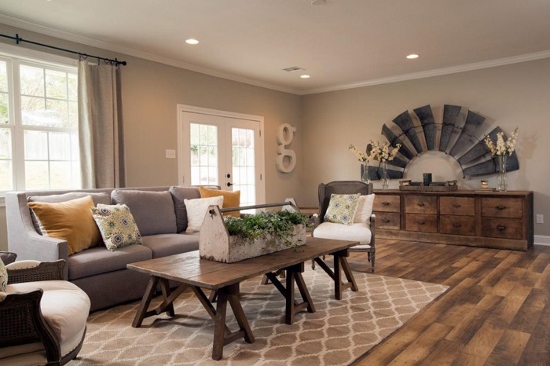 3. Bring the Outdoors In
Pulling in greenery from your garden (or your neighbors) adds character and beautiful texture to warm up a room. Options includes indoor plants, twigs, branches, succulents, herbs, flowers, pine cones, and anything else you can think of! Use them in pots, clear vases, and more. Whether real or fake, this is a staple of the Fixer Upper design style.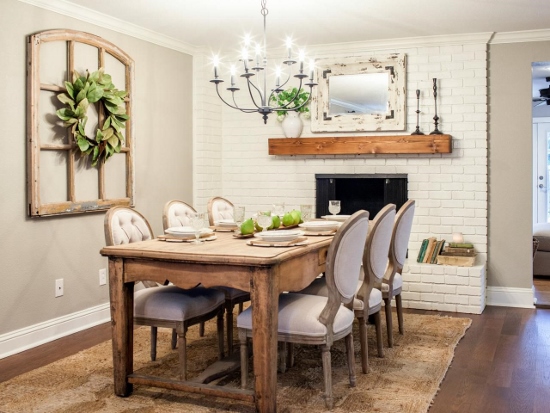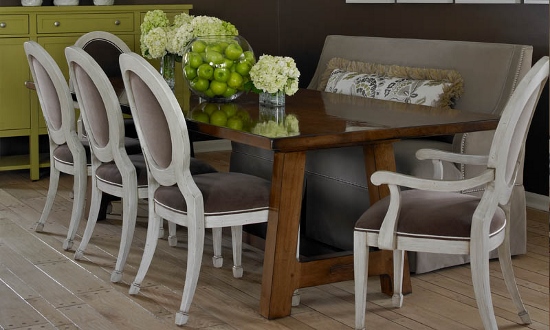 4. Add texture
Shiplap wood walls, brick accents, barn wood floors, wicker chairs, aged leather, cement countertops, linen pillows, antiqued dining tables, textured mirrors and much more. There is always an abundance of texture in the homes they create. Even if you don't own a home with brick walls or wood floors you can add in texture through your furnishings. An aged leather sofa and the right accessories can really add character to your room and bring in that "Fixer Upper" look.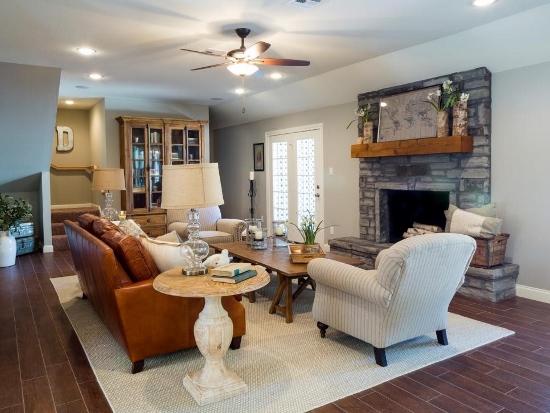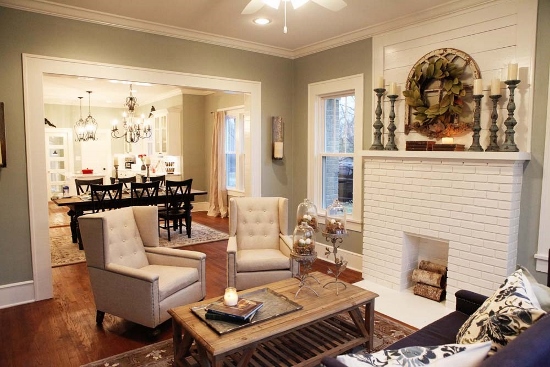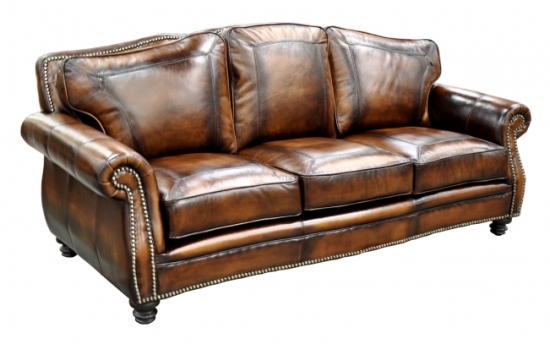 5. Add a Clock or Two
Almost every home the couple re-creates is outfitted with a large clock. Joanna's even known to do a gallery of smaller clocks in the décor scheme. Clocks can fit anywhere in your home including above a mantle, in the kitchen, on a stair case wall, and anywhere else you can fit one. Here are a few photos from the show and similar clocks Peters has on display.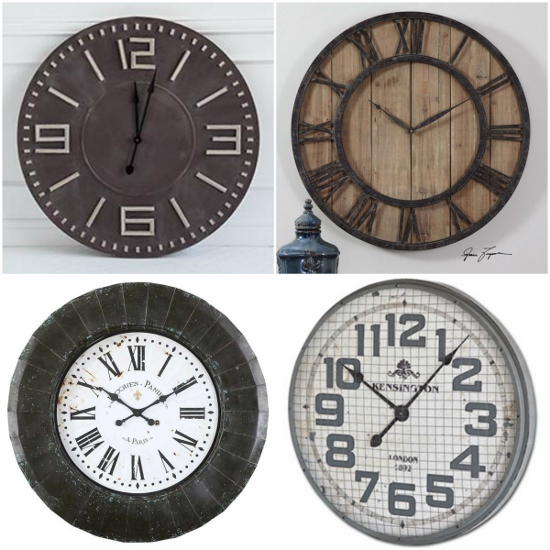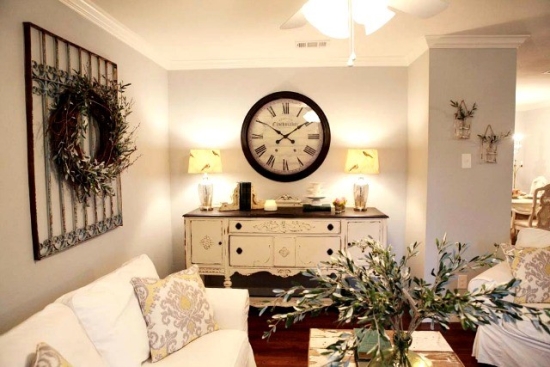 Check back for more design ideas and décor trends. Thank you for visiting Entertaining Design.
Thank you to Houzz and HGTV for additional photos to aid in this posting.