Six Tips on Choosing a Dining Table
August 18, 2015
Houzz
Most people in the Twin Cities know that Peters Billiards has a large selection of barstools. But what most people don't realize is that we have dining chairs and tables, too. And just like most of the products we carry, our dining collections offer a lot of customization. Having a hard time finding the size, design, and color you are hoping for? We have the solution!
When building a custom dining set the final result can be hard to envision. I've compiled a list of six steps as a guide to finding just the right dining table for you.
1. Let start with size. Knowing how many people you would like to seat around the table is important, as well as the size of the room. It's great to have a large table to fit all your guests, but you should also consider how much room is needed to get in and out of the seats. As a designer, I recommend 30" minimum between the table edge and wall/cabinet/hutch/etc.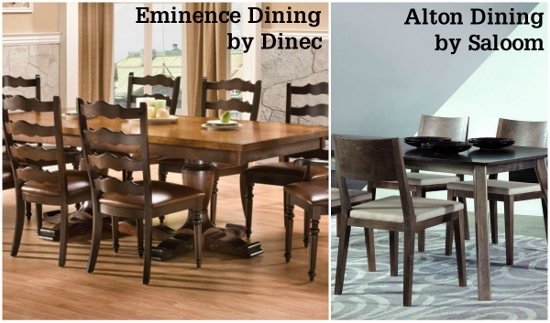 2. Different shapes for different spaces. Round, square, boat, oval, and rectangular shaped tables are available. If you're looking to go smaller, a round table is a great option because it takes up less square footage than a square table with the same diameter. If you're looking to go larger, the rectangular table is a popular choice to seat the largest number of people in the smallest amount of space.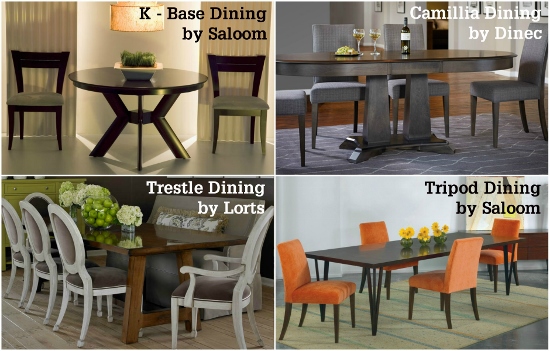 3. Do you know the height you want? Most customers prefer the standard 29-30" dining table height, but occasionally they are looking for a casual dining space so they choose to go with counter height, a.k.a. gathering height. A table like this sits at 36" high (same as your kitchen counters) and requires 24-26" seat height stools. Bar height tables sit at 40-42" high and require a 30" seat height. These table are great for smaller rooms or as additional seating to the larger dining set. A gathering or bar height table often has more limited offerings in size and designs. Click here for a cheat sheet to table and seating heights.

4. Endless Design possibilities. Are you traditional? Looking for something sleek and modern? Do you prefer a rustic or industrial style? By choosing the table height, shape, base, apron, and edge style you can design the overall look of your dining table. A boat shape table with decorative turned legs will fall into the traditional design category. A rectangular table with a thick square edge and x-base will be at home in a modern setting.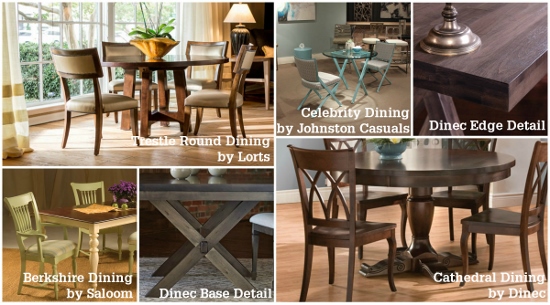 5. Color. The sky is the limit! From cherry stains to gray paints to bold metals, there are many options to choose from. Many manufacturers even provide different wood textures such as distressed, aged, wire brushed, and more. Bringing in samples of your cabinetry, trim, wood flooring, carpeting, paint, and pictures will help narrow down the perfect choice for your home.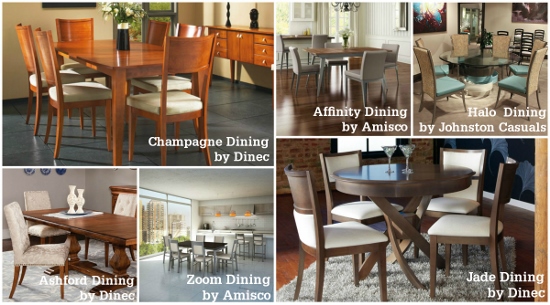 6. Seating is up next and the choices include chairs, benches, or stools (if you choose a taller dining table.) Hundreds of design and color options are available here as well. So much so that it requires a separate blog post! (Tune in the next few weeks for more information.) Benches are great for families with kids because they can easily climb in and out and you can squish more small bottoms in a smaller space. Chairs with arms are easier to climb in and out of for elderly, but they require more space for the larger width. Side chairs or armless chairs are the most popular seating style because of their versatility. They take up less space, are easier to slide into from the side, and offer the widest range of design options.
Be sure to check out dining chair trends, barstool tips, gathering and pub tables, and finds from the 2015 Vegas Furniture Show. Click here to view more dining ideas on Peters Billiards website.
Thanks for visiting Entertaining Design.