Seven Trends in Dining Chairs
October 13, 2015
Houzz

FULLY UPHOSLTERED
Chairs that are fully upholstered are more comfortable and add an extra depth of color and texture to your dining area. Pops of color, linens, and even plush velvet or velvet like fabrics are in. Afraid of spills with all that upholstery? Opt for vinyl or leather to easily wipe off or choose fully upholstered captain's chair on the ends of table only.
o
MODERN RUSTIC
Mixing old and new for a blend of modern and rustic is a hot trend. You can achieve this look with brightly colored chairs and a rustic industrial table. Another option would be a sleek table and chairs, but done up in a burnished metal that shows all the welds and burn marks such as the Harley finish from Amisco. (See photo). Also, blending shiny and bold colors with rustic and aged materials will set the stage for this trend.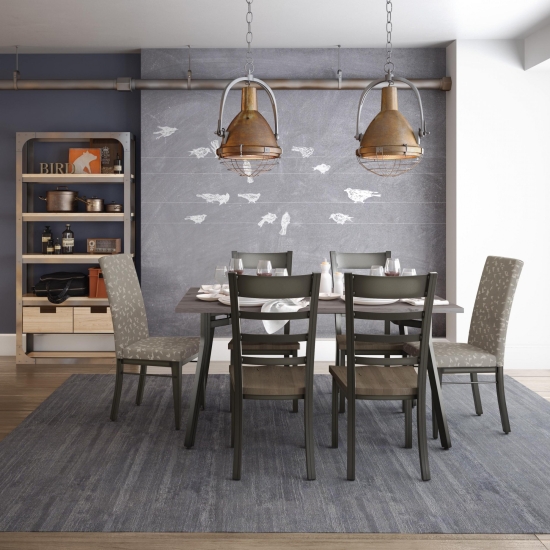 FARMHOUSE
With the ever popular farmhouse dining table this trend continues to be present all over the market. You can add small touches of farmhouse style or go full on with an antique dining set plucked right out of a 1930's farmhouse. Wicker chairs, antiqued or distressed finishes and paints, caning, mismatched chairs, and ladder-back styles are just a few of the possible ways to get the "farmhouse" look. Not ready to saddle up with farmhouse country style? Choose a traditional chair frame style, but in modern colors such as grey or even a bright color such as yellow or aqua. This will keep your style fresh and new with a nod to the farmhouse trend.
PAINTED
Use classic styled wood dining chairs, such as the Windsor style, but give it a twist and have it painted in a bright bold color. Neutral paints such as white, gray or black are also a hit.
BENCH SEATING
Get the most out of your space with a bench. Many different varieties are available to choose from: backless wood benches, benches with a seat pad, pew style benches, booth style benches, metal frames and many more. These are great options for families that have little ones or for those who want to seat the most amount of people in a small space. The bench does not have to match your chairs exactly, but instead can offer a coordinating style to the overall dining aesthetic.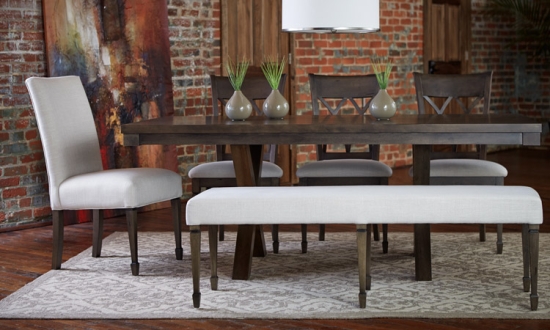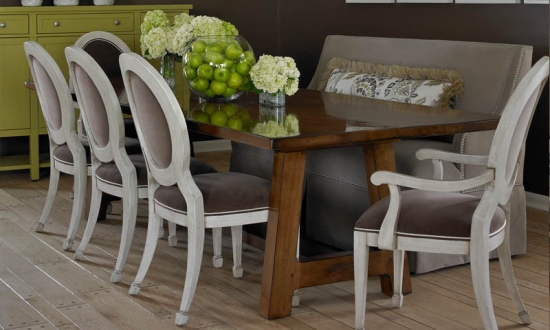 TEXTURED NEUTRALS
Textured neutrals in both fabrics and wood stains. We are seeing a lot of shades of brown, grey, and white with nubby textures in fabrics. Distressed, washed, hammered, and wire brushed are all desired techniques for the wood frame.
BLENDED STYLES
Mixing different styles is not a new trend, but a trend that keeps on growing. A less stuffy and more welcoming dining style is a common want. Blending different designs, styles, materials and even different chairs into one dining set provides you with that casual "come sit here" feel.
Check out more trends and tips including: 6 tips on choosing a dining table, barstool trends, and barstool selection tips.
Thanks for visiting Entertaining Design. Check out Peters Billiards for more dining trends and ideas.
Photos courtesy of Houzz, Amisco, Lorts and Dinec.