Eight Solutions for Media Room Seating
November 3, 2015
Houzz
Media Room Seating is not just for the home theater room, but can used in any room settings such as lower level theater rooms, main floor family rooms or a cozy den off the kitchen. We're seeing theater seating in many applications and various types too. Home theater seating or HTS is still the most popular, but it's definitely not your only seating option.
The main object of this type of seating is comfort. For a dedicated TV watching spot you'll want to feel comfortable for the entire duration of your movie. Not just the previews. Most of the time this will require a reclining option or at the very least an ottoman to rest your feet. Your personal design style, room shape, room size, and desired seating capacity will all determine your seating choice. Let's take a look at eight seating possibilities to use in your favorite TV viewing spot.
1. HOME THEATER SEATING
HTS or Home Theater Seating is what most people think of when they think of media seating. This is the most popular option because of 3 main reasons - each seat reclines individually, each seat has cup holders and you'll get the most recliners in the smallest footprint. There are almost unlimited styles, configurations, and upholstery options available. Other added features such as in-arm storage, tray tables, tablet holders, and LED lights are available to add to your movie watching experience.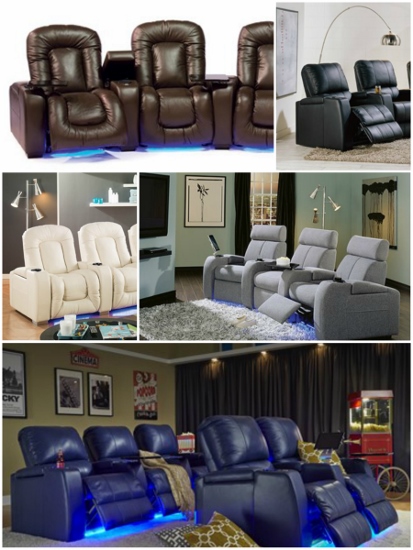 2. CINEMA SEATING
These seats are going to be just like going to the movies. They are smaller size rocker/recliner chairs to give you that "at the cinema" feel. They do not have a footrest so you'll need an additional ottoman if you would like to kick up your feet. Most people have these as accent chairs to another set of larger and plusher seating.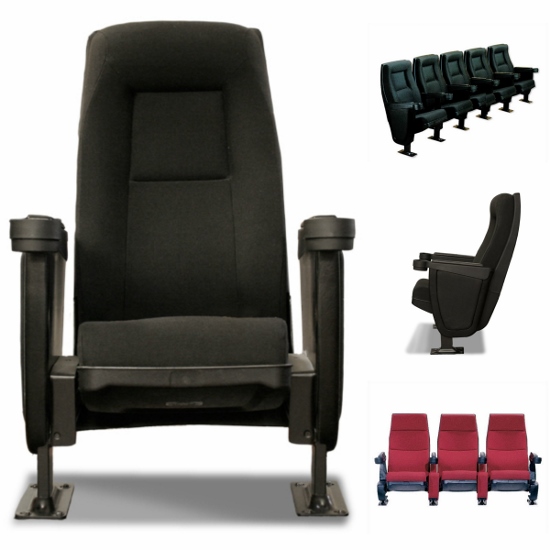 3. INDIVIDUAL RECLINERS
These are great for the main floor den or if you have a large theater room that can handle multiple individual recliner chairs. A couple chairs in view of the TV are perfect for catching up on the latest episode, a Friday night movie or Monday night football games. On the other hand 6 recliners spaced out between two seating levels in a home theater room would make for a wow factor!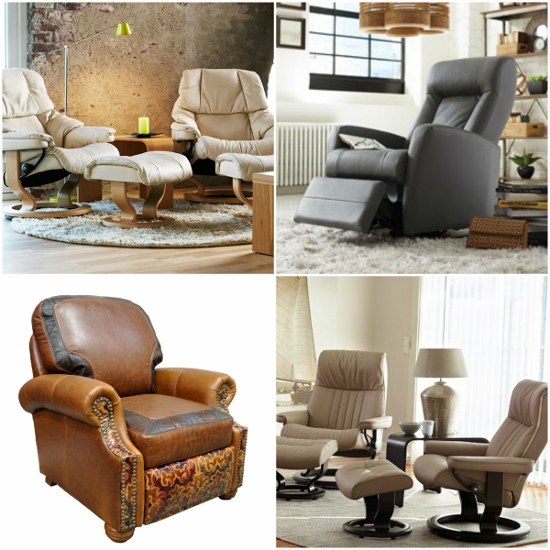 4. SOFAS
Not every media room needs theater seating, especially if your main TV is located in the family room. Sofas will offer the option of lying down sideways for a Sunday nap. Sofas are also a great option if your media room is on the main level of the home where your room functions as both formal and casual seating.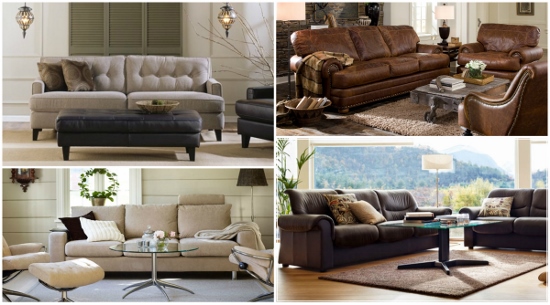 We've also seen customers choose a sofa for their front row of seats in a lower level home theater, while the back row remains home theater seating such as seen in this photo below from Houzz.
5. SECTIONALS
A popular option to fit as many people as you can in a small space. Sectionals can be customized in an L or U shape in varying sizes. L shaped sectional tend to be used in the upper and lower level family rooms while the U shaped sectionals have been used in theater rooms for a bed-like seating design. Add ottomans and pillows for the most comfort.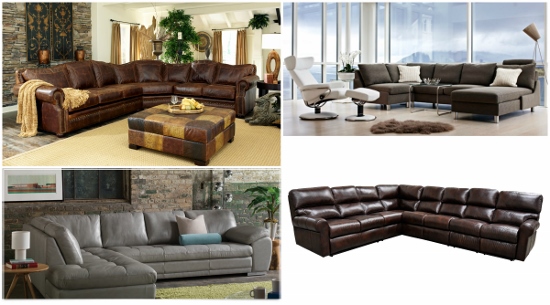 L shaped sectionals, such as pictured in the photo, tend to be used in the upper and lower level family rooms while the U shaped sectionals have been used in theater rooms for a bed-like seating design. Add ottomans and pillows for the most comfort.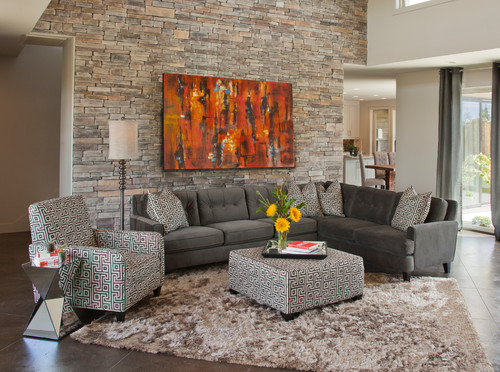 6. CONVERSATION SOFAS
This type of sofa is set up to aid in - you guessed it - conversation. But they are also in a similar design to our most popular theater seating configuration. A loveseat or single center recliner with the two ends turned inward. (See the photo below for an example.) Conversation sofas can be ordered with recliners on the ends and you an even add a removable "theater arm" that has a cup holder. Pretty nice feature if you can't decide between theater seating or a sofa, now you can have the best of both!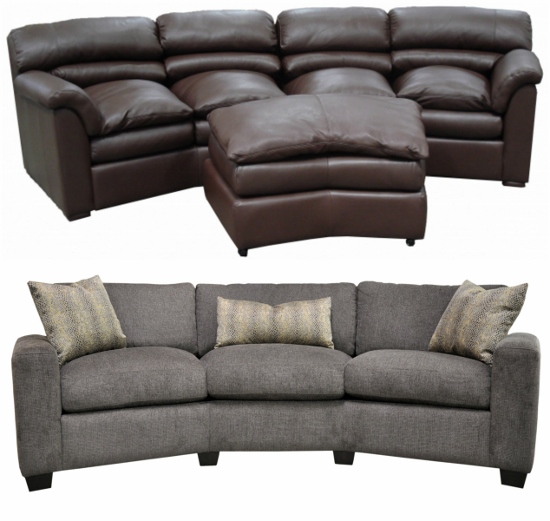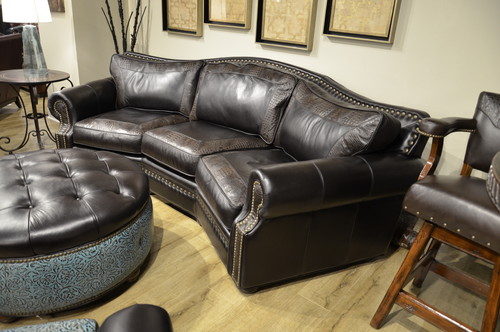 7. SPECTATOR CHAIRS AND STOOLS
A popular spectator chair we offer is called the Mann chair – named after Mann Theater – is more than just a large barstool. It's a larger rocker/recliner chair that sits up tall, similar to a barstool, but much more comfortable. Spectator chairs are very similar, but they do not rock. Both of these chairs are meant to give you that "spectator" view when used behind a sofa or row of theater seats. Barstools with plenty of cushion can also act as an additional movie watching spot.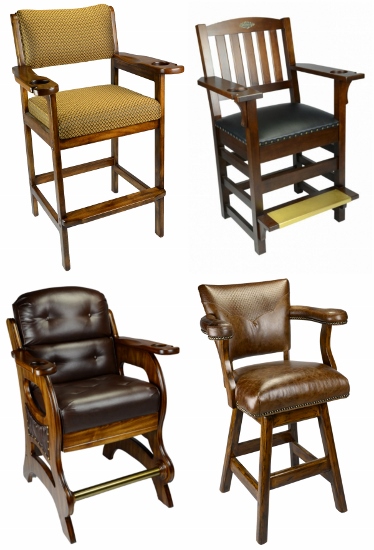 8. SWIVEL ACCENT CHAIRS
Why not add a couple smaller chairs for playing games or just for additional seating in your room? Swiveling chairs offer more versatility and playfulness for youngsters and their friends. Accent chairs are a fun, casual element for the room, especially if you choose to deck them out in a fun bright color such as red or orange.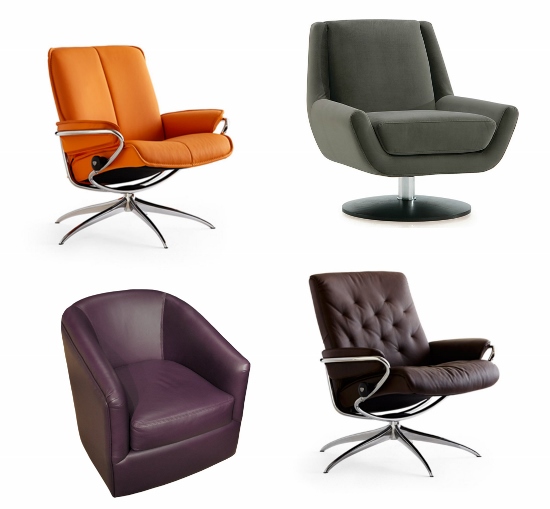 *** Check back for "Accessorizing your Theater Room". From popcorn carts to movie posters to theater bars, let your imagination run wild with décor and theme ideas to complete your room.
Thank you to Houzz for providing wonderful room setting photos.
Thanks for visiting Entertaining Designs.