WHAT'S TRENDING? Industrial, Reclaimed, and Vintage
October 13, 2014
Houzz
Industrial, reclaimed, and vintage are all popular trends in the furniture industry today. This trend is evident from the "mom and pop" shops to high end designer brands. From actual vintage pieces to re-created looks, the market place is full of options. Sustainability has moved to the forefront and driven this look. Wrok-out, aged, weathered, distressed, and antiqued are all words to describe this style which is evident in accessories, rugs, sofas, barstools, tables and much more. Even using just a few key pieces will help you create this industrial, organic, and recycled lifestyle into your home. Here are some examples below of furniture and accessories that fit into this design category.
Natural, aged wood and raw metal give na industrial flair to this gathering table and collection of stools.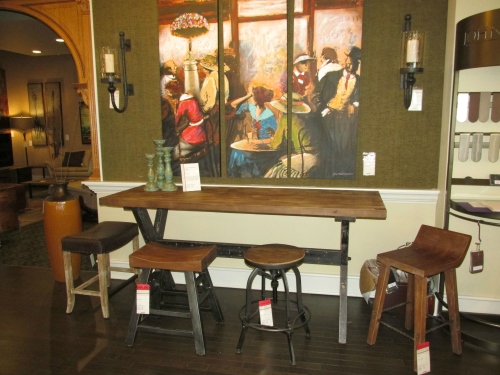 Beautifully textured leather with tufting and antiqued nail heads brings out the character of this sofa, chair and ottoman set. Built by Omnia Leather in California, it has the look of an antique piece, but with the durability to withstan many years of use.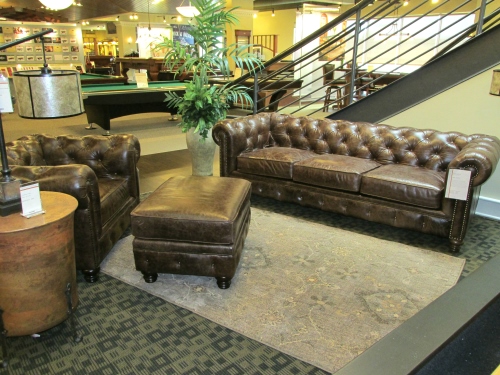 The Merrimakc pool table by Brunswick provides old world craftsmanship. With hand hammered metal hardware and distinctive artisan joinery, this classic design provides rugged and rustic qualities with the modern technology of precision, stability, and playability. Finished in a hand-rubbed antiqued finish that showcases natural knows, grain and texture.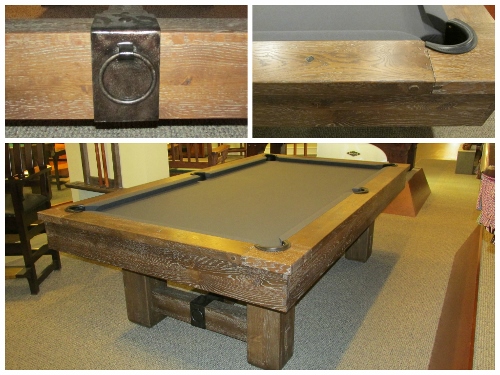 No room is complete without artwork! Add this unique depiction of a plane propeller which is perfect for a game room, office, or boy's bedroom.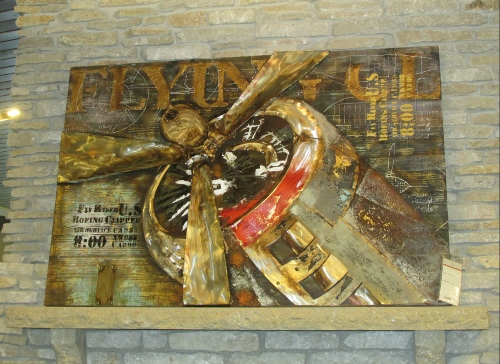 Metal stools finished in raw steel and uphosltered in easy-to-clean vinyl offer up a contemporary and industrial style perfect for kitchens and bars alike.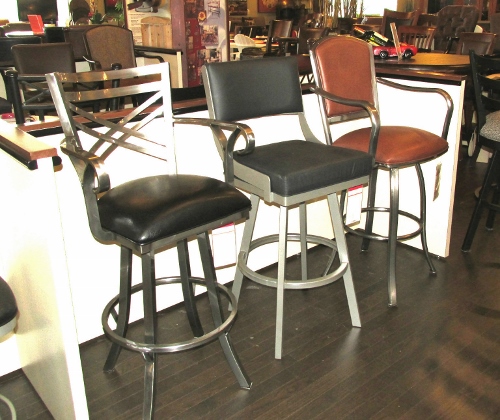 Hard to see the photo, but this Breckenridge shuffleboard by Olhausen is finished in a custom Matte Onyx stain which provides a modern look while still showing of the grain and natural texture of the wood. Accessorize with this aged depiction of the American Flag to show your USA pride!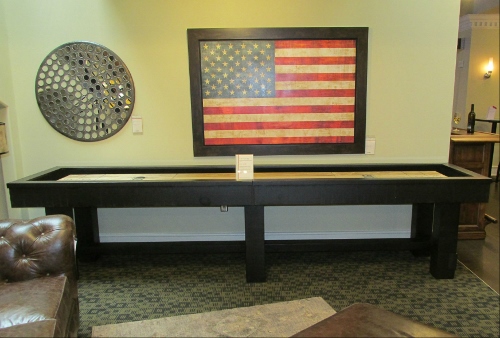 This mirror brings out the industrial trend with hammered metal corners and wood finish showing off the natural grain and texture.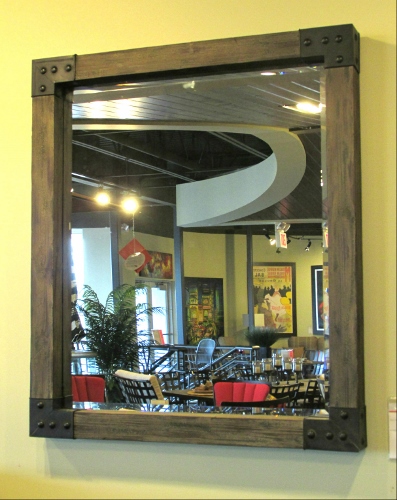 Made from recycled wine barrels, this set truly is unique and re-purposed! Finished in a carmel stain and uphosltered in chocolate leather this set is a perfect accent table for a wine cellar, kitchen nook, or basement game room.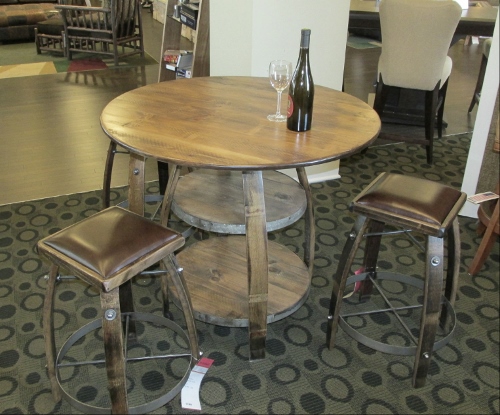 This gathering height table and stools blends contemprary with a rustic flair. The clean lines contrast the antiqued wood top for a beautiful combination.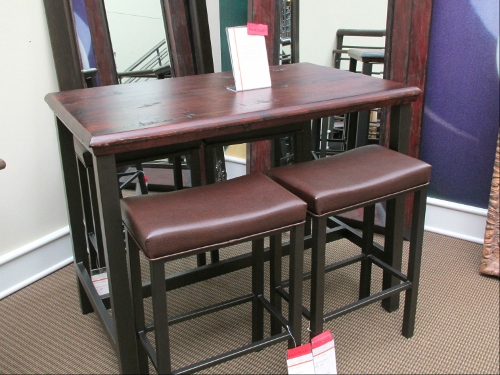 Thanks for visiting! Check back frequently to see more design trends and new in Entertaining Design.