Stressless….Why Not?!
October 13, 2014
Houzz
Have you ever heard of the famous Stressless® chairs? If not, you need to test them out. Part of the parent company Ekornes® out of Norway, they are by far some of the most comfortable chairs you will ever sit in. They've even been endorsed by the American Chiropractic Association (ACA). So if you have neck pain, back pain, any other body pain, or you just want a great piece of furniture, Stressless® offers relief and comfort.
Here are 7 good-to-know tips about Stressless® Furniture before you buy:
1. LIFE SPAN – 25 YEARS PLUS!
10 year warranty on internal mechanism is almost unheard of for upholstered furniture.
Built to withstand many years of use with 9 construction components that ensure lasting comfort and ease of use.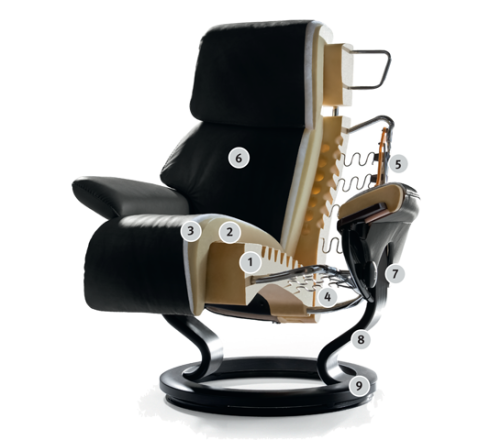 2. FITS LIKE A GLOVE
Many chairs come in small, medium and large sizes – such as the picture below. Perfect for all sizes and ages.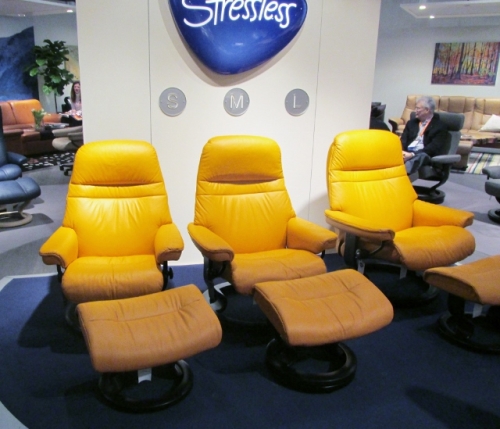 A properly fitted chair has a back height about the same as your eyebrow level when seated in the chair. This allows for support points to be correctly placed on the back, neck and head.
Add an "elevator ring" to the bottom of your chair to elevate or lift the chair so it sits higher off the ground. Perfect if you're tall or if you have tired knees.
3. ENDLESS COLOR CHOICES
Four different top grain leathers are available, including family friendly options. No vinyl or split leather is used.
Luxurious and long lasting fabrics are also available which have been tested for "hard" and "normal" use.
The Stressless® wood base is constructed of laminated beech hardwood and available in 7 finishes to tie into your existing décor. They also feature a new metal 5 leg base available in chrome.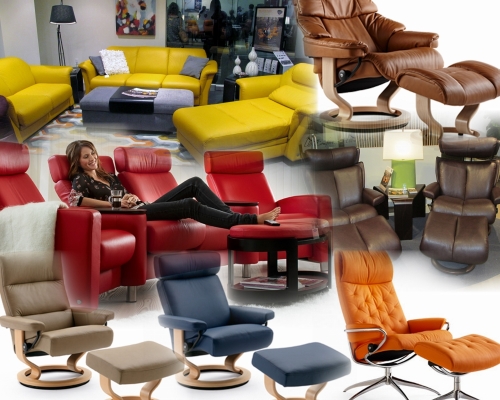 4. COMFORT IS IN THE DETAILS
The Plus System offers total body support which covers lumbar support, articulating headrest, and a sleep function. The articulating headrest adjusts automatically so you can read and watch TV, even in a reclined position.
The Glide System allows the chair to easily recline and move with your body so you can stop and relax at any angle. You can adjust the tension so it is set for your body weight. The ottoman also has the ability to recline forward as you lay back which provides relief for your knees and back. ( See the ottoman in the pink chair below.)
A 360 degree swivel on most recliners allows for ease of getting in and out, as well as turning for a window view.
The Sleep System will provide a lay-flat sleep position in a pinch. Adjust the headrest with one simple motion to start getting your zzz's.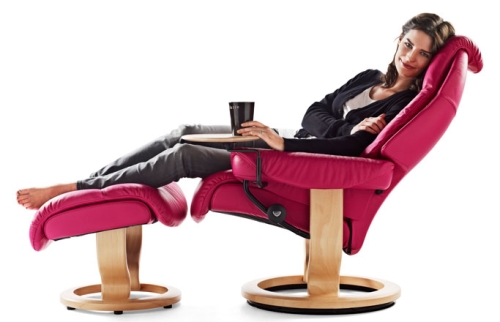 5. NOT JUST RECLINERS!
Many Stressless® chairs are available in coordinating sofas, loveseats, theater seats, office chairs, and sectionals.
Many sofas are available in medium and large sizes similar to the chairs for a customized fit.
6. DESIGN ONLINE
Need help with furniture layout or deciding what will fit? Stressless® Design Online allows you to choose the piece, upholstery, and wood finish you want.
Choose a room layout, flooring and accent pieces to add to the furniture OR insert a photo of your own room. Pretty neat feature for space planning!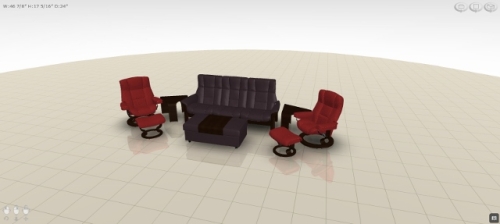 7. ENVIRONMENTALLY FRIENDLY
The beech is farm grown, so it can be replenished as they are cut down.
They use cold foam which expels much less gas than most cushion foam in the industry.
Reuse, Recycle, and Resell are terms that Ekornes® uses often. For example: Leather waste is used to make samples or sold to other manufacturers that need smaller cuts of leather.
They do not use PVC (polyvinyl chloride) in any of their upholstery, which has been linked to health issues.
Ekornes® is part of the United Nations Global Impact initiative.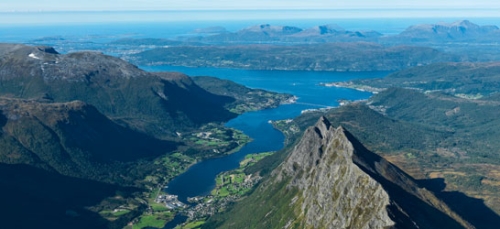 Do you need more information about Stressless® furniture? Come on in and our experts will be happy to help find the properly sized chair, sofa, office chair, or theater seating for you. There is truly nothing like actually sitting and feeling the comfort in person.

*** Check out the current Ekornes® promotion here!

Thanks for visiting Entertaining Design.