American Made Furniture: Mikhail Darafeev
June 23, 2016
Houzz
Here at Peters Billiards we strive to carry long lasting, quality furniture that will last for generations. We have carried the Mikhail Darafeev brand for over 35 years! This family owned and California based premier manufacturer of wood game room furniture has continually impressed us with their quality, style and attention to detail. Today I'd like to highlight a few of the reasons why Darafeev furniture stands the test of time.
Solid Wood Frame
Both pacific coast maple and northern red oak are quality hardwoods that are used in the construction of their furniture. Solid hardwood provides a stable framework that can withstand heavy use and can handle a wide range of wood stains and finishing colors.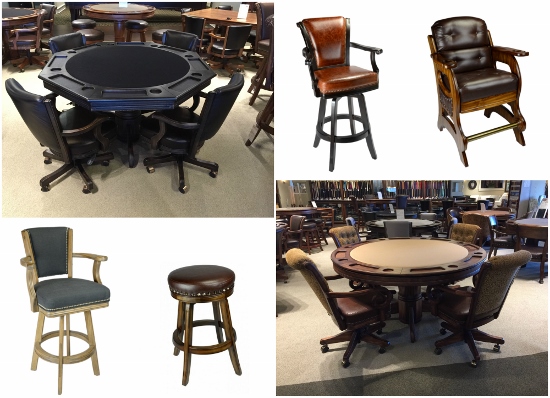 Construction
Constructed with precision fitted double-doweled joints that are glued and screwed so they will not squeak or fall apart. They are also built with reinforced corner blocking on the seat frame for additional support.
Solid hardwood cross-member supports are used to prevent rocking on the frame, avoiding the primary cause of frame failure.
All game chairs come with a five leg caster base (also referred to as a 5 star base) verses a four star base. This provides additional safety, support and ease of movement. All barstools have a double doweled screwed and glued footrest for secure climbing on and off the stool.
High Density Resilient Foam combined with Sytex® Flex Bottom seating provides maximum comfort for the lifetime of the seat and will not bottom out or flatten over time.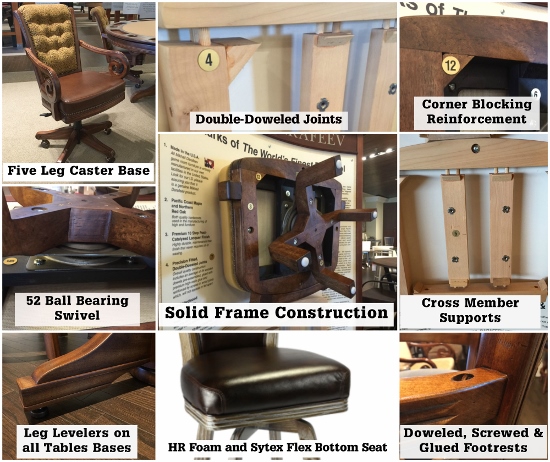 Upholstery, Finishing and Details
Darafeev uses a premium 10 step catalyzed lacquer finish which is highly durable and maintenance free. Your choice of stain is almost endless with about 20 standard options, 10 distressed/antiqued options, and even the option for customer's own stain.
They offer hundreds of upholstery choices including fabrics, vinyls and top grain leather for the ultimate choice in customization. Other offerings such as mixing multiple different upholsterys on one frame or providing your own material guarantees you will have a one of a kind look.
Additional choices such as nail heads, metal footplates, and casters add the final detailing to complete the look you desire.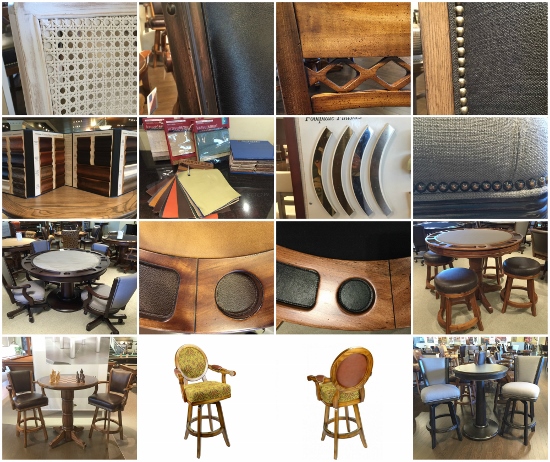 American Made
The Darafeev brand of furniture is made in the USA in Chino, California. Because it is an American made furniture product they are able to offer more than an overseas manufacturer can such as:
It is investment grade furniture and made to last through generations. Quality and attention to detail are what you get from a family owned manufacturer. Top of the line materials and construction techniques will ensure your furniture will stand up to years of use.
Darafeev is able to offer many customizations. From choosing your frame finish and upholstery to details such as nails heads, footplates and caster color they also offer the option to customize game table sizes, barstools heights, customers own stain colors and customers own upholstery.
Everything is made to order and is constructed in their California factory so we're never waiting on a shipment coming across the ocean. They are also easy to contact if an issue or question arises.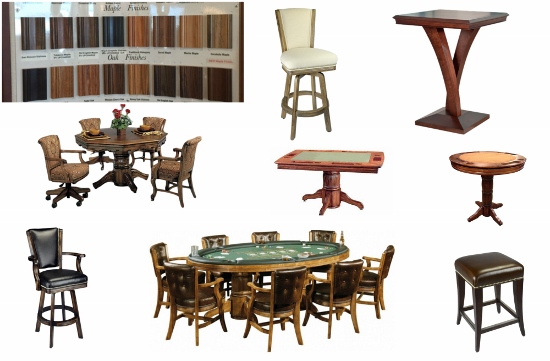 It's hard to find good quality furniture manufacturers these days and we're lucky to have more than a handful of American made options, like Mikhail Darafeev, that have such a high standard of quality. To view Darafeev stools, pub tables, bars, game tables & chairs, and spectator chairs we recommend visiting our website or, better yet, stop into our Minneapolis showroom to see their quality and beauty in person.
Thanks for visiting Entertaining Design.