Leather is everywhere in the furniture market these days, but some manufacturers can get a little sneaky with advertising. I've learned that less expensive doesn't always mean a better deal.
Many manufacturers use different leather terms to describe the material that's on the piece. It might not even have any leather in it at all! "Leather" sofas can run the range from $399 - $5,000 or more and you would be fooled to think one company can sell that same quality leather product for those 2 drastically different prices. Now I'm not saying everyone can afford or needs the top of the line leather furniture, but you should know what you're paying for.
As always, speak with a professional first who knows the products because there are other factors under the leather that will affect price, comfort, and longevity too.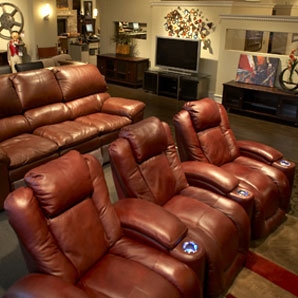 LEATHER TERMS:
Top Grain – The top layer of the hide. This can be left natural (full grain) or might be slightly buffed to remove surface imperfections and a texture is added to make it look as close to the natural grain as possible. Top grain is very strong and durable.

Full Grain – The top layer of the hide left natural, meaning nothing has been done to enhance it. Scars, wrinkles, etc. are considered marks of true high quality leather. Considered the strongest leather and usually very soft.
Pure Aniline Dyed – Top grain leather immersed in a leather dye bath that penetrates the leather and permeates the color all the way through, like a carrot. Visible grain, such as pores, scars, etc. are still visible and common in pure aniline dyed leathers.
Semi-Aniline Dyed – Also referred to as Aniline plus. Leathers are still immersed in aniline dye bath like Pure Aniline. Semi-aniline leathers then go through a few more processes. First they have a surface pigment color applied for a more consistent color. Secondly, other finishes may then be applied to give a certain desired look. Finally, a clear protective coat is applied to the top to protect from stains and the sun.
Nubuck – A pure aniline dyed 100% top grain leather that has been buffed on the grain side to produce a velvet-like surface. This process increases the leathers exposure to body oils, soiling, water and scratches. Meant to age and have a natural patina. This typically offers a more casual appearance.
Corrected – Top grain leather with many scars and blemishes are less desirable, so hides are often buffed to reduce these marks. Corrected leather is a top grain leather that has the natural grain removed and an artificial one embossed on top for a blemish free, "cleaner", and more uniform look. This leather then goes through a similar dyeing and finishing process similar to semi-aniline dyed leathers.
Wax Pull-up – A finish applied to aniline or pigmented leathers. Leaves a slick gloss-like feel to the surface. Identified by lightly scratching the surface and then being able to rub the scratch away with your finger.

Split Grain – Created from a second layer sliced from beneath the top layer of a hide. This requires an artificial layer to be applied to the surface and embossed with a leather grain so it resembles the natural grain of a leather hide. Split grains are not as strong as top grains.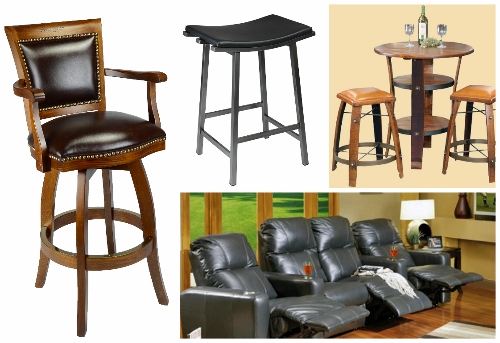 LEATHER ALTERNATIVES:
Bonded – A man-made, lower cost upholstery that isn't really a leather hide at all. Made from scraps of leather that are glued onto polyurethane (plastic) and cotton layers. It's then embossed with a leather-like texture. Easy to clean and wears similar to vinyl.
Reconstituted – Another name for bonded leather.
Bi-cast – A type of split leather, meaning it's a layer under the top layer of the hide, which is sprayed with a polyurethane (plastic) top coat and then embossed with an artificial texture to make it look like leather. Because the leather is only used for the backing, the leather portion is not generally visible in the finished product. The resulting product has an artificially consistent texture that's easy to clean, but not as pliable.
Leather Match – Vinyl (or sometimes split grain) used to match the color and texture of top grain leather. Typically used in large seating pieces on backs and/or sides to help reduce costs. Not as pliable as top grain leather.
Faux Leather (Vinyl) – Made to look like a real leather with similar texture, but it's exactly what it's called: fake.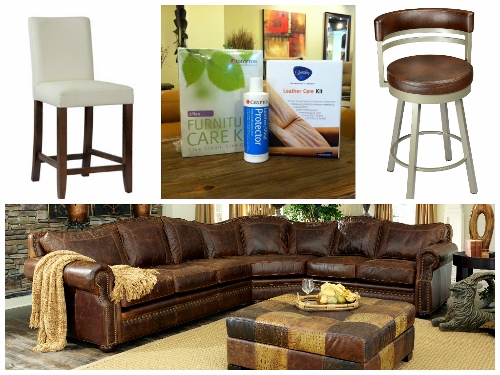 LEATHER CARE:
Remember that real leather is made from the skin of an animal. It is prone to scaring, scratches, wrinkles, and other "imperfections" which aren't really imperfections at all. These just give it that true leather characteristic so you know you have the real thing.
Top grain leather is porous, meaning that it breathes. It will warm to your body temperature. If you have had "leather" furniture that was sticky, you probably had a leather alternative.
To care for leather most manufacturers suggest applying a leather conditioner a couple times a year. This will help prevent staining from spills and hand or hair oils. It also protects against fading if the piece sits in a room where it gets sunlight.
Peters Billiards has a leather protection plan that can be added to any furniture piece purchased with leather. It covers accidental stains such as food or beverage, pet stains, ink, and nail polish to name a few. It also covers accidental rips, cuts, punctures, and burns. Speak with a Peters associate for full details.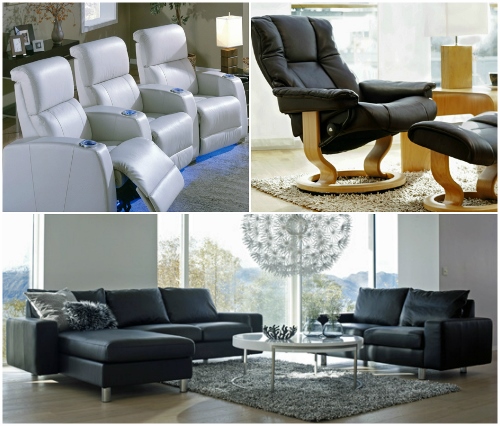 LEATHER FURNITURE BRANDS by Peters Billiards:
Sectionals, Sofas, Theater Seating and Chairs – Omnia Leather, Palliser, and Ekornes
Barstools, Dining Chairs, Game Chairs – Darafeev, Style Upholstering, California House, Elite, Johnston Casuals, Saloom, Dinec, Lorts, Trica, Two Day Design, JS Products, and Woodbridge
Be informed and know what you're buying. Our expert staff at Peters Billiards would be happy to help clarify any leather term for you or even show you some examples on display in-store.

Thanks for visiting Entertaining Design!
More from Peters Billiards:
Recent Posts
Categories
Sign Up for Emails
Be the first to get info on sales, new items and more.