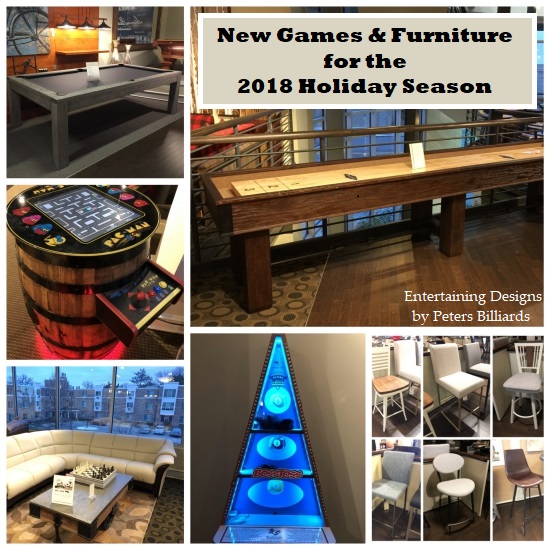 New Games and Furniture for the 2018 Holiday Season!
November 17, 2018
Houzz
It's time to start thinking about the holidays, entertaining, and spending much more time indoors. We've had strange fall weather this year and even though it's not Thanksgiving yet, those temperatures outside sure feel like mid-January. Brr!
Peters Billiards has stocked up on everything you need to have fun and stay cozy this season with new games and furniture. In the past couple months we have switched over our outdoor inventory and stocked up on pool tables, arcade games, sofas, game tables, theater seating, bar stools, shuffleboards, table tennis, and much more.
Here's a sneak peak at some of the new items we currently have on display.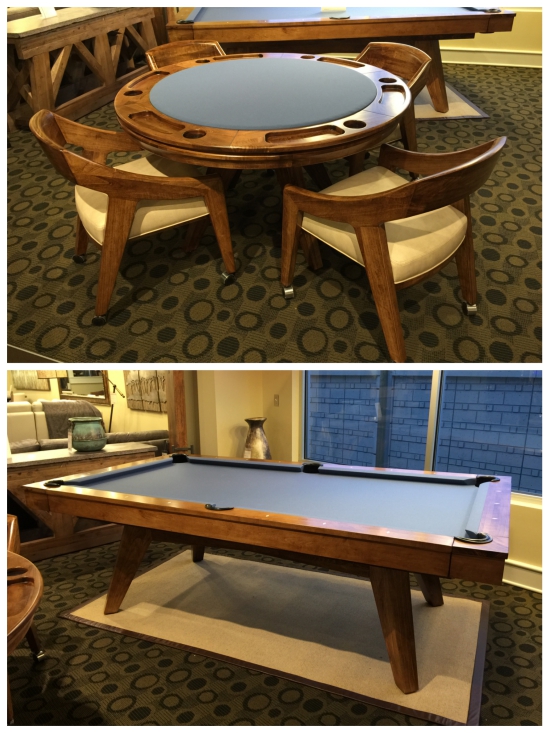 Austin game table and pool table. A show stopper as a set and equally as stunning alone, the Austin collection showcases beautiful woodwork and a mid-century modern design. Entirely made in the U.S. these two tables have options to choose stain, cloth color, and more.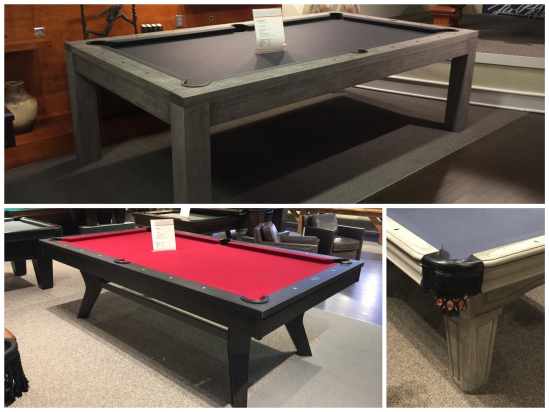 We have many pool tables on display including a few new sleek models such as these two above. The Glenwood table(bottom right) is now available in the new Rustic Gray finish.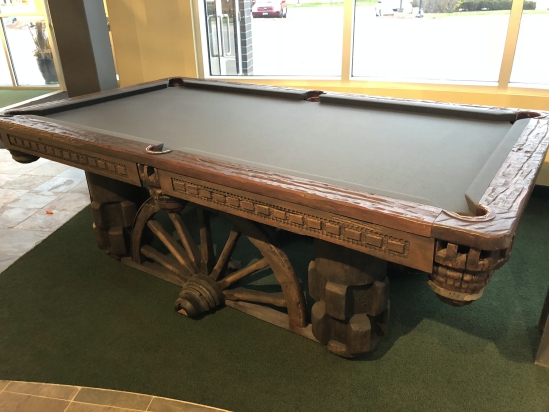 This Cattle Baron Rustic Teak pool table is one-of-a-kind! Made by using century old teak wood and reclaimed farm implements: yokes, plows, sugarcane grinders, and wagons. The legs alone weigh about 80 lbs. each! Although this table has many vintage elements it comes with 3 pc. Slate, new cushions, and new cloth for the best playability.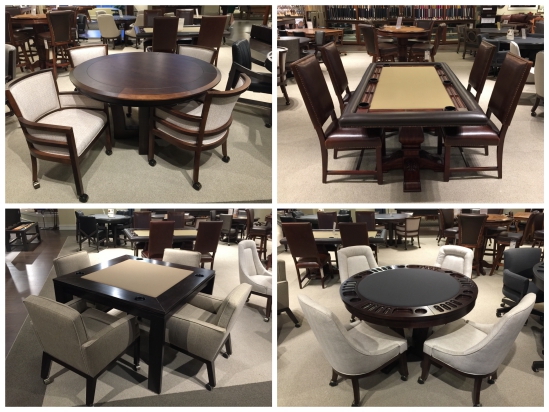 We've brought it new premium solid hardwood game tables in a variety of sizes and shapes. These game sets are all made in the USA so you can customize your preferred game set to your own personal style.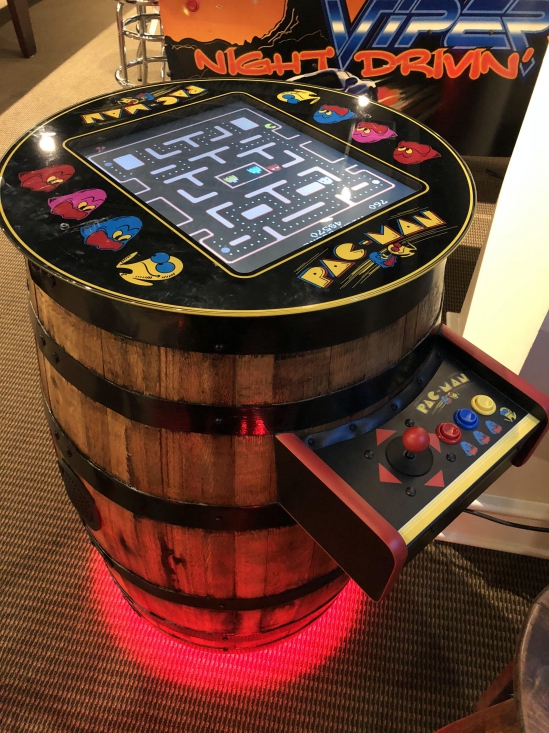 How fun is this?! The Wine Barrel Back to the 80's Cocktail Pac Man will blend seamlessly into your décor. Featuring 60 different games to entertain the young and old alike.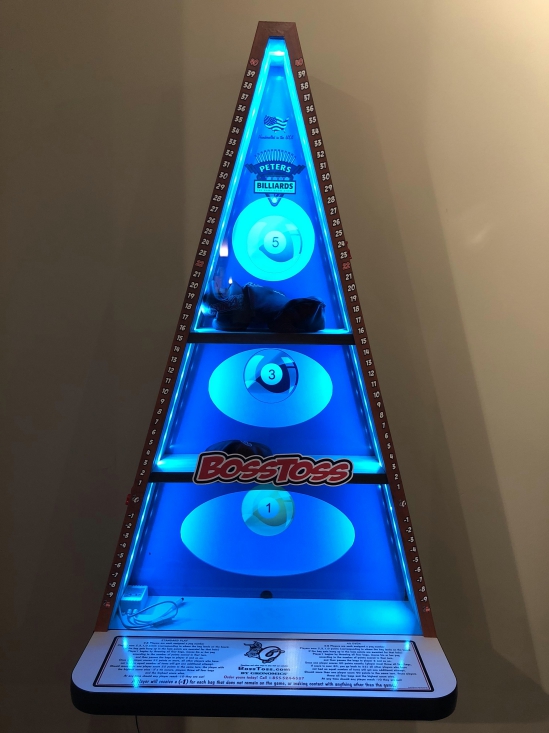 Boss Toss Wall Bags is a family hit! It can be used mounted to the wall or placed on a table. This game is made in the USA and works for indoor or outdoor use.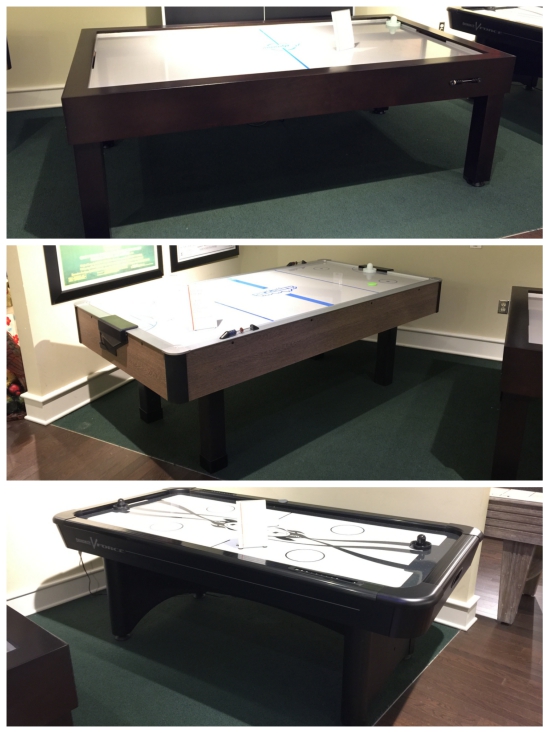 An update to the classic air hockey tables are these three new cabinet styles including (from top to bottom) the Dynamo Astoria, Branded Oak Arctic Wind, and V Force.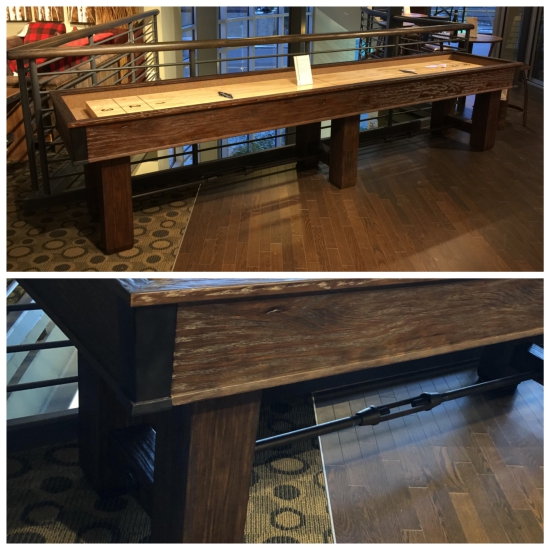 This gorgeous Canton Shuffleboard features a beautifully designed rustic wood cabinet in Black Forest finish and metal corners. The design elements of the Canton model will blend well into a variety of design styles including: industrial, transitional, farmhouse country, modern, or mid-century modern décor.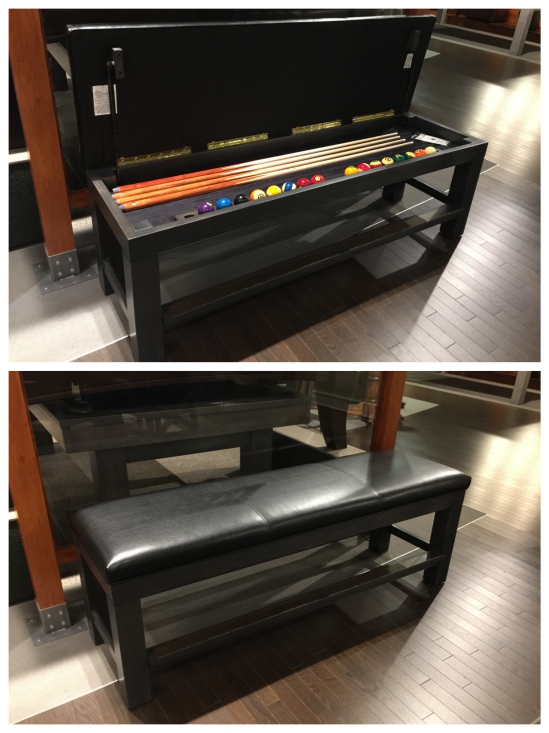 Neatly hide away your cues and pool balls into this storage bench and it doubles as extra seating.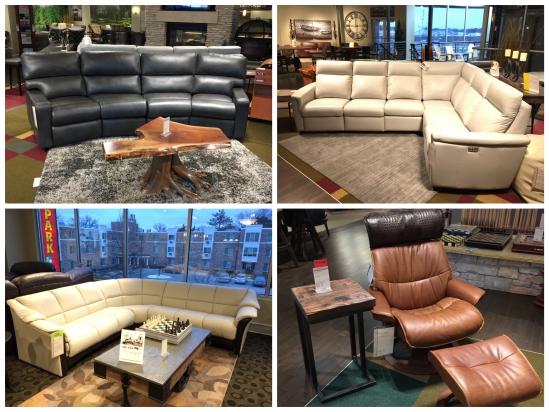 Oh so comfortable sofas, sectionals and chairs. These are the go to spot for cozying up indoors when the temperatures starts to dip. New models are on display now! Most are available to customize to your homes room shape, design style, and choice of material.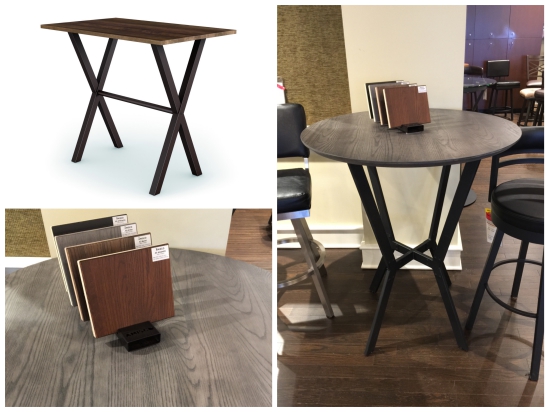 New solid ash hardwood topped pub tables come with your choice of wood stain and metal base color. Pub tables are available in both round and rectangular shapes and in dining, counter, and bar heights. Also, available with a large selection of complimenting stools to complete the set.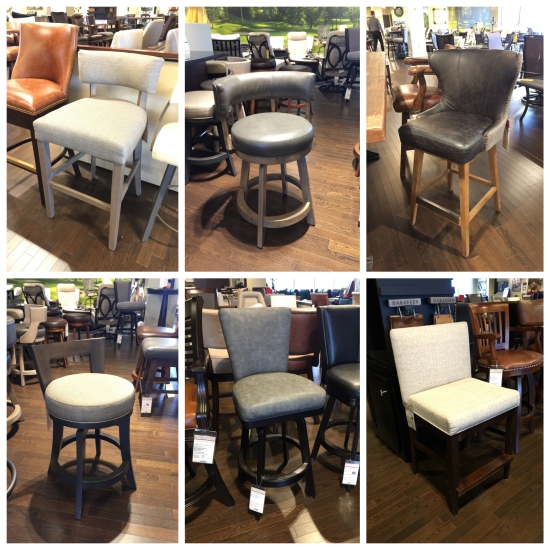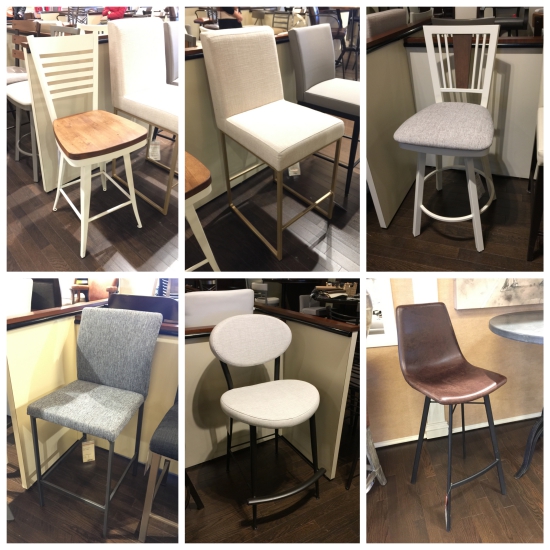 Many know we have the largest selection of kitchen and bar stools in the Midwest so we are constantly trying to keep with the trends and updating our selection, along with keeping those tried and true classics. These are just some of the new models that have made it into the lineup in the last month or so. Come in to the store to see and test out the full selection for yourself.
With the holidays just around the corner and no temperature warm ups in-sight, this might be a long winter. So stock up on everything you need to make the most of the cold weather season. Be sure to come visit us in store to see our entire selection of games, furniture and decor to complete your ultimate gameroom!
Thanks for visiting Entertaining Designs.