Personalize Your Patio Furniture: 5 Tips
July 19, 2016
Houzz
OK, I get it. It's the middle of the summer and you were ready for your patio furniture yesterday. Instead of special ordering in custom fabric, finishes and frame styles you might be thinking that a furniture set that is in-stock and ready for you to use ASAP sounds much better. However, the thought of having something that looks exactly like your neighbor's down the street isn't all that enticing. Don't worry, you can still personalize your space with in-stock furniture. It just might take a little creativity. Think of your outside as an extension of your home. What type of design style do you convey indoors? Try these 5 tips to personalize your patio to reflect your style.
1. Mix It Up.
Coordinating different furniture pieces that are not from the same collection or even the same vendor will give you a one of a kind look. For example, taking an all-weather wicker sofa and pair it with 2 metal framed lounge chairs, as seen in the photo below, will keep the look fresh. Add in some stone top accent tables or throw a fire pit into the mix to finish off the look. The aluminum dining set in the background would group nicely with this deep seating set.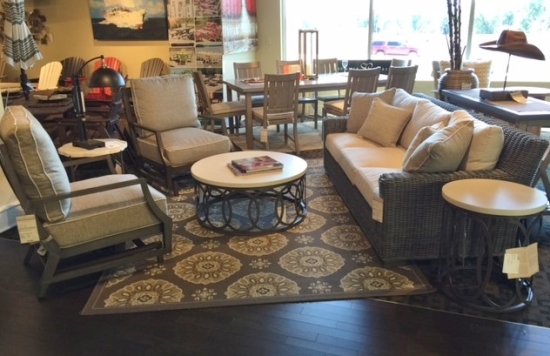 By mixing materials it brings interest and texture into what could otherwise be a stale furniture package. Variety is much more pleasing and welcoming to the eye. You can use this trick with your dining set too. A teak table with wicker chairs, a metal table with teak chairs, wicker captain's chairs on the ends of the table with metal dining chairs of the sides, and more. Also, keep in mind the dining set and sofa grouping do not have to match each other.
2. Accent with Textiles.
Adding in color through textiles is another great way to personalize your space. Using pops of color on materials such as accent pillows, throw blankets, rugs, umbrellas, and drapery will add that personalization to make your outdoor space uniquely you. Not a big fan of color? Keep it soothing with neutrals and soft patterns in the textiles you choose. You'll still get a one of a kind finished end result.
3. Jazz it up with Decor.
Most likely your neighbors will not have the same exact taste in décor so adding in a few touches of your own will help finish off the outdoor room and give it a personalized touch. The items below (and so much more) can transform your furniture into a unique space you can call your own.
lamps
mirrors
baskets to hold pillows & throws
lanterns
unique placemats
colorful dinnerware
clocks
picture frames
strings of accent lights
monogramed letters on the wall
fun lawn statue
flags
birdhouse
tiki torches
metal wall décor
candle holders
4. Don't Forget Greenery.
What's an outdoor space without any greenery? Besides having a patio surrounded by grass or a garden, you need to pull at least a little greenery onto the patio or deck where your furniture is located. You could add a couple pots filled with your favorite plant to add color and texture. If you not a huge fan of flowers, try grasses in a traditional round pot or a modern low rectangular planter. Other possible ways to introduce greenery into your patio, deck, or porch are:
trellis
potted plants in varying sizes
borders
cut flower center piece
hanging plants
wall hanging planters
window baskets
topiaries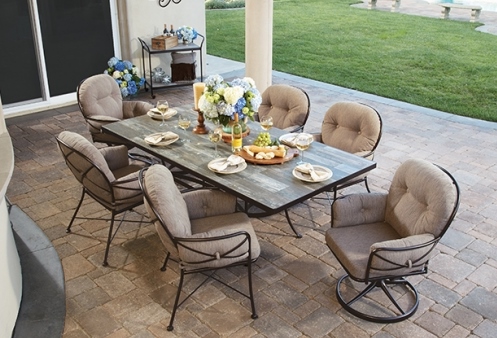 5. DIY.
I'm a firm believer that every room needs a piece that has special meaning to you. Something that was more or less created by you or someone you love. This will keep your space distinctly yours and give you a treasured connection to your outdoor room. . The sky's the limit on what you can do to add in your own personal touches to keep the space warm, inviting and comfortable no matter your design style. Here's a list of suggestions:
unique pieces picked up on travels
an antique coffee table
large wood log used as an end table
hand me down accent pieces that you've refreshed with paint
garden urn transformed into an accent table
pillow coverings stitched by Grandma
a bench constructed by Grandpa
placements sewn from an old curtains
rustic wood hand painted sign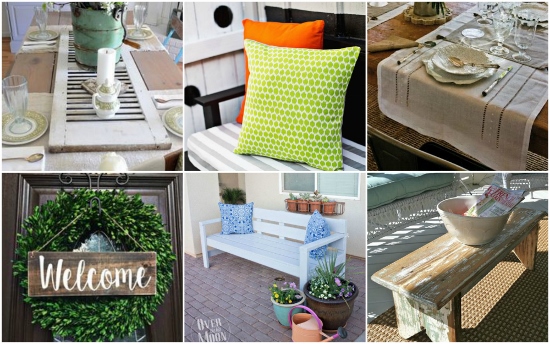 At Peters Billiards our experts will happily help you mix and match and pull together the perfect one-of-a-kind patio furniture arrangement. If you have pieces of your own that need to be included in the mix please bring in samples or pictures so we can help you lay out the space. Don't forget your measurements! We want to ensure the pieces will fit exactly as they should.
Peters has discounts on in-stock and floor model patio furniture going on now! Stop in and find the additional pieces you need to complete your unique outdoor space today.
Thanks for visiting Entertaining Design.
Also, a thank you to Houzz for providing great furniture and decor ideas. Check out Peters Billiards Houzz page for more design inpiration on patio furniture, indoor furniture, game rooms, kitchen and barstools, and much more.