What's Trending in Kitchen Stools? The "Mini-Back" Stool
January 13, 2015
Houzz
With the popularity of open concept kitchens, family rooms, and dining rooms there has been a demand for lower profile kitchen stools. This in turn has brought about the "mini-back". It's a low back style that typically stands no taller than the height of the counter. Here are 6 reasons why this trend is so popular.
Great views. With an open floor plan these stools offer uninterrupted views of the entire space. When you're in the kitchen, you can easily view the family or dining room. And when you're sitting in the family room you still have view of that beautiful granite countertop that took you forever to pick out.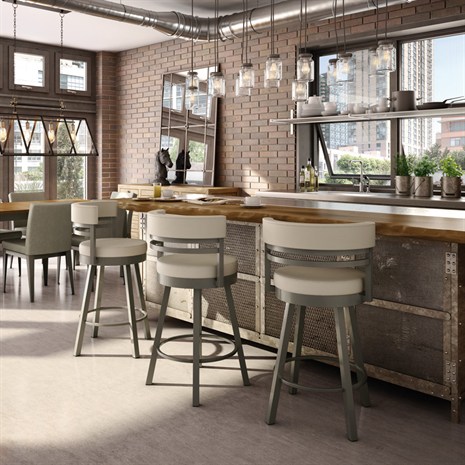 Tuck Under Style. Some of these "mini-back" stools are low enough that they can slip right under your countertop over hang. This is helpful if you have a large enough over hang to tuck the entire stool underneath when not in use. This opens up the walk space around the island or peninsula for easier traffic flow.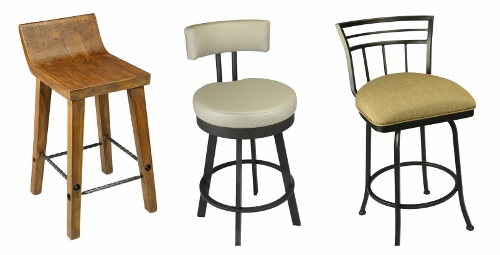 Comfort. Mini-back stools are more comfortable than no backs at all. Offering just enough lumbar back support to be comfortable during a meal and to keep little ones tucked in tight. These kid friendly stools are the perfect back height for the little youngsters.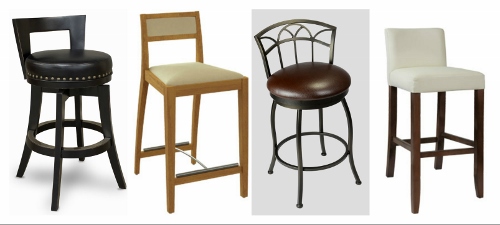 Less visual space. The overall scale of the mini-back stools tend to feel airy and give a lighter appearance than their high back brother. This helps produce a clean and simple design with more focus on your kitchen and less on the stools.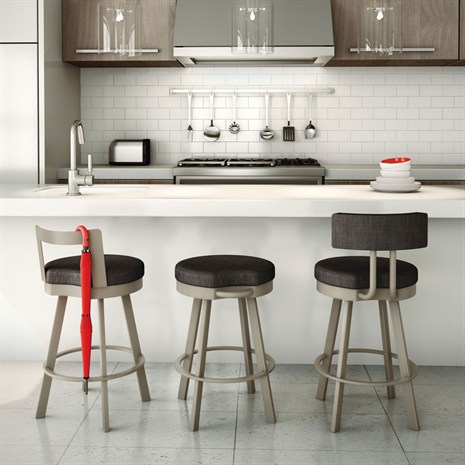 Design. Because these mini-back stools are becoming more popular there continue to be more design options available. From swivel to stationary, padded back to non-padded, metal to wood, the list goes on.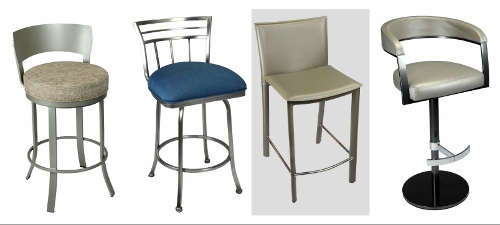 Counter Friendly. Stools with a low enough back to fit under the counter are wonderful so kids and adults don't bang the backs into the counter. Some low back stools even come with a padded back so that if they don't quite clear your counter, they will still offer protection against any damage from an unruly swiveling 5 year old.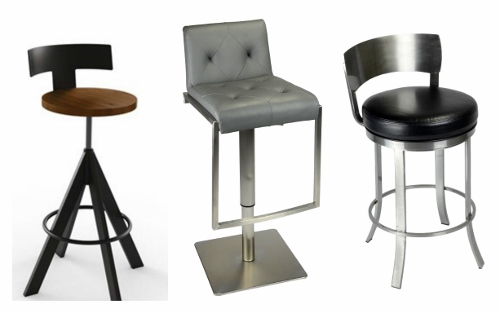 For more information on stools view Tips for Selecting Kitchen and Barstools #1 and TIps for Selecting Kitchen and Barstools #2.
Check out Peters Website to view pictures and specifications on stools we have on display in our showroom.
Thanks for visiting Entertaining Design.