Antique Pool Table Restoration: Part #1
A few months ago I posted about our new Antique Pool Table Showroom that we opened up at the end of September 2016. In this post I included Greg's love of billiards, how he acquired many of the tables, the value of an antique billiard table and the difference a Peters Billiards antique table has over others. I promised I would go into further details discussing what is done during the restoration process that brings each of these magnificent tables back to life. So, as promised, here is a more in depth look at those details.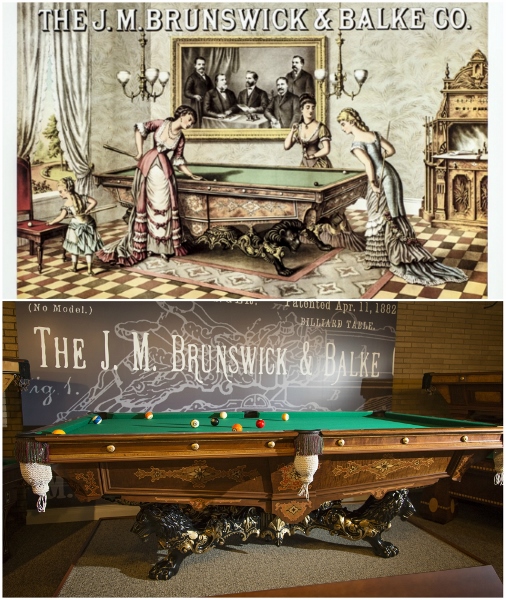 (Top) Monarch table in Brunswick & Balke Co. original catalog. (Bottom) Restored Monarch table in Peters Billiards Antique Table Showroom.
Once a table is acquired, it then comes time to restore it to its original beauty. Tables arrive in all conditions. A few tables are in pristine condition as in they have been sitting in one location for many years. Most tables, however, have been moved multiple times and covered with years of grime, grease, tar, nicotine and sometimes shellac. Each table is studied in detail and research is conducted back to the original table. The entire process from beginning to end takes anywhere from 100 to 200 hours of labor. Our goal of restoration is twofold: to restore the table to its original design and also return it to ultimate playability.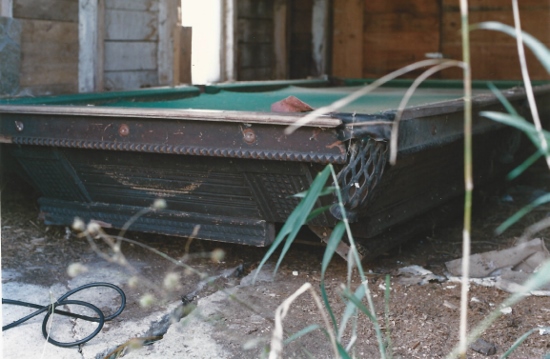 Antique table found in a chicken coop.
Here are the 7 steps that our craftsman go through to bring these beauties back to their full potential:
Stabilizing The Table
This includes gluing parts of the frame structure such as the frame that holds the slate, legs, blocks, joints, and corners that are still in good condition. We use hide glue, an animal based glue which dates back to the time of ancient Egyptians for use in caskets and woodworking. Now its main use is for restoring artifacts. It's harder to work with, but brings about a much more accurate finished result. It also contains less chemicals and is safer to use than modern glues.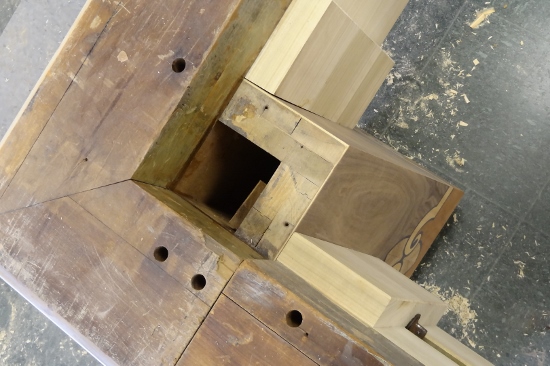 Stabalizing the table corner.
2. Rebuilding The Structure
Next is rebuilding parts of the structure that are either missing or too damaged for repair, as well as any veneer that's damaged. Authentic wood species original to the table are used: mahogany, Brazilian rosewood, Birdseye maple, white oak, circassian walnut, burl ash, and Carpathian elm to name a few. Once the structure components are rebuilt and damaged veneer is removed then a finish stripper is applied to take off dirt, grime, and old stains. All pieces are sanded to prepare the table for an accurate staining.
Rebuilding the table structure.
3. Restoring The Design
This step in the restoration project varies greatly depending on the style and design of the table, but it takes a very detailed and skilled craftsman to complete this stage of the process. Most of this work is done by hand to ensure precise accuracy. Examples of the design elements that are restored:
Replace cross banding veneer
Replicate or patch top layer of veneer
Replace diamond sites with resourced ivory
Fix hand carved designs
Lathe work for details such as spindles
Scraping the wood for profile detailing
Replating chrome or brass accent pieces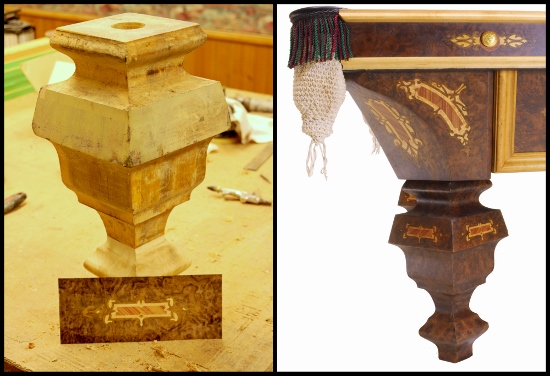 Replacing veneer on Nonpareil, before and after.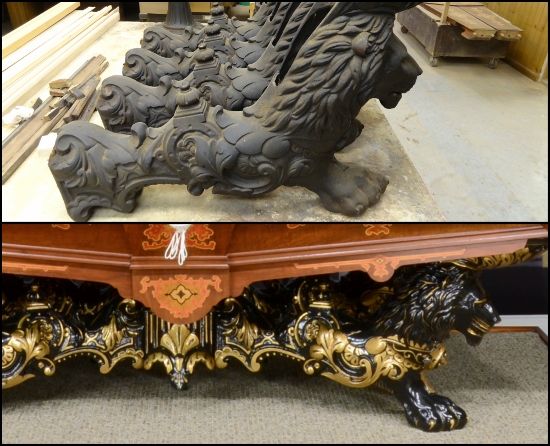 Lions head legs on Monarch table, before and after.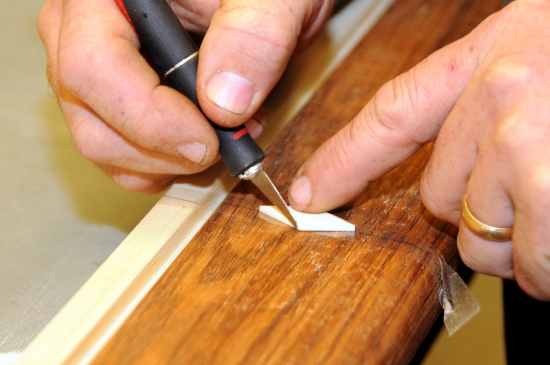 Replacing diamond sites.
4. Finishing and Staining
It's a process that takes on average 25 – 30 hours over a span of a few days to a week. Every table is different, but generally this is the process our finisher takes:
The table is prepared by doing a final sanding using 150/180 grit sandpaper and inlays are then taped off with pinstripe automotive tape.
An aniline dyed stain is then applied and depending on the final coloring that's trying to be achieved it's either hand wiped or sprayed.
A coat of sealer is then applied to seal in the color.
Another sanding is done by hand with fine grit sandpaper and a block or sponge to smooth any rough areas.
Paste filler is used which is key in the finishing process. A paste filler fills in the grain, any tiny pinholes, and pores in the wood to achieve a uniform color throughout. This paste goes on like shoe polish and dries in 2-3 minutes so you have to be quick, yet very precise.
The table is then left to dry and cure for 24 hours.
Once dry, all the tape is pulled off the table and a razor is used around the inlays where the filler has created a tiny burr where the edge of the tape was.
Two coats of pre-catalyzed lacquer finish in "rub affect" sheen are then applied with 12-24 hours of dry time in between. The rub affect sheen is duller than satin level sheen which results in a more historically accurate look.
A complete hand sanding with 320 grit sand paper and a block is used to smooth out any final impurities.
Some tables have sections that are painted in black. If this is the case then all stained portions of the table are taped and papered off so that paint can be applied where needed.
Once the paint is dry the paper and tape is removed and the table receives one final coat of pre-catalyzed lacquer in "rub affect" sheen. The table is then left to dry.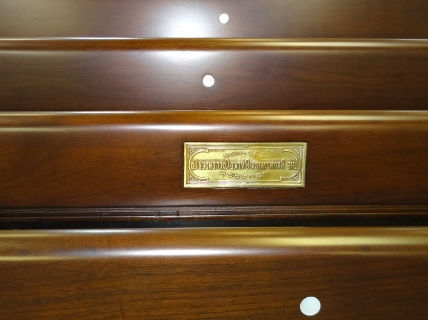 Rails after finishing is complete.
Master craftsman, Grant and Bob.
Check back again next week to learn about the final steps in an antique pool table restoration. We'll go in depth on these topics: #5 The Cushions, Rails, and Pockets, #6 The Slate, and #7 Setting Up an Antique Table. To be continued!..
**Update - PART 2: Antique Pool Table Restoration.
To learn more about the antique tables we have available please visit our website.
Thanks for visiting Entertaining Design!.
Categories
Sign Up for Emails
Be the first to get info on sales, new items and more.