Pool Table Service & Repair at Peters Billiards
Let's take a minute to talk about another side of Peters Billiards. Besides having comfortable furniture and exciting games in our showroom we also service our products and have a talented Service Crew that works with all of our games and furniture. They are in charge of all the products from first arrival at our warehouse to each items final destination at your home.
Along with unloading trucks, assembling and deliverying product, our service crew does an enormous amount of work behind the scenes. One part of that is servicing pool tables in the Twin Cities area and beyond. Pool tables are at the heart of Peters Billiards and many of our crew members have been servicing pool tables for decades. We continue to sell and service 3-piece slate pool tables, both modern and antiques.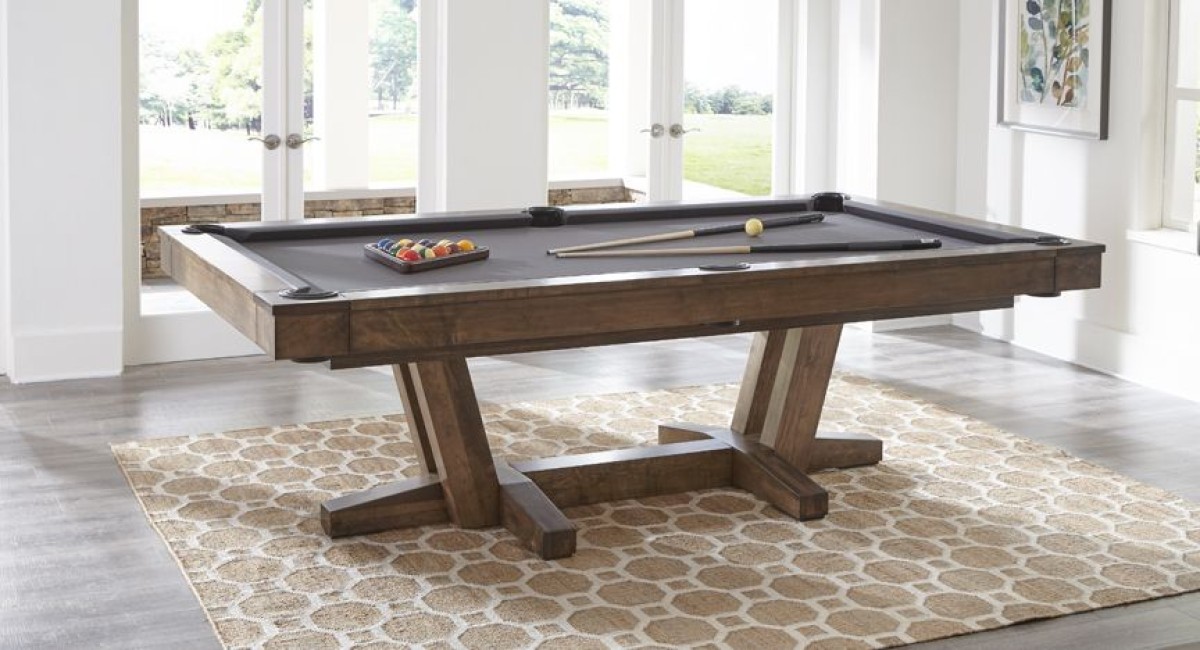 Here is a list of 5 common pool table services that Peters Billiards offers:
1. CLOTH RECOVERY
Most customers refer to their pool table covering as "pool table felt". We at Peters refer to this as pool table cloth. You can choose from our two grades of cloth, Simonis cloth or Invitational cloth. Our two-man crew will bring the cloth out to your home and do the work right on site. We remove the old cloth and recover with your cloth of choice with every attention to detail for a smooth playing surface.
We have all colors of the cloth to view in our showroom. Even swatch samples to try at home.
If you're changing colors of cloth it's also great time to grab a new pack of cue chalk to match, too.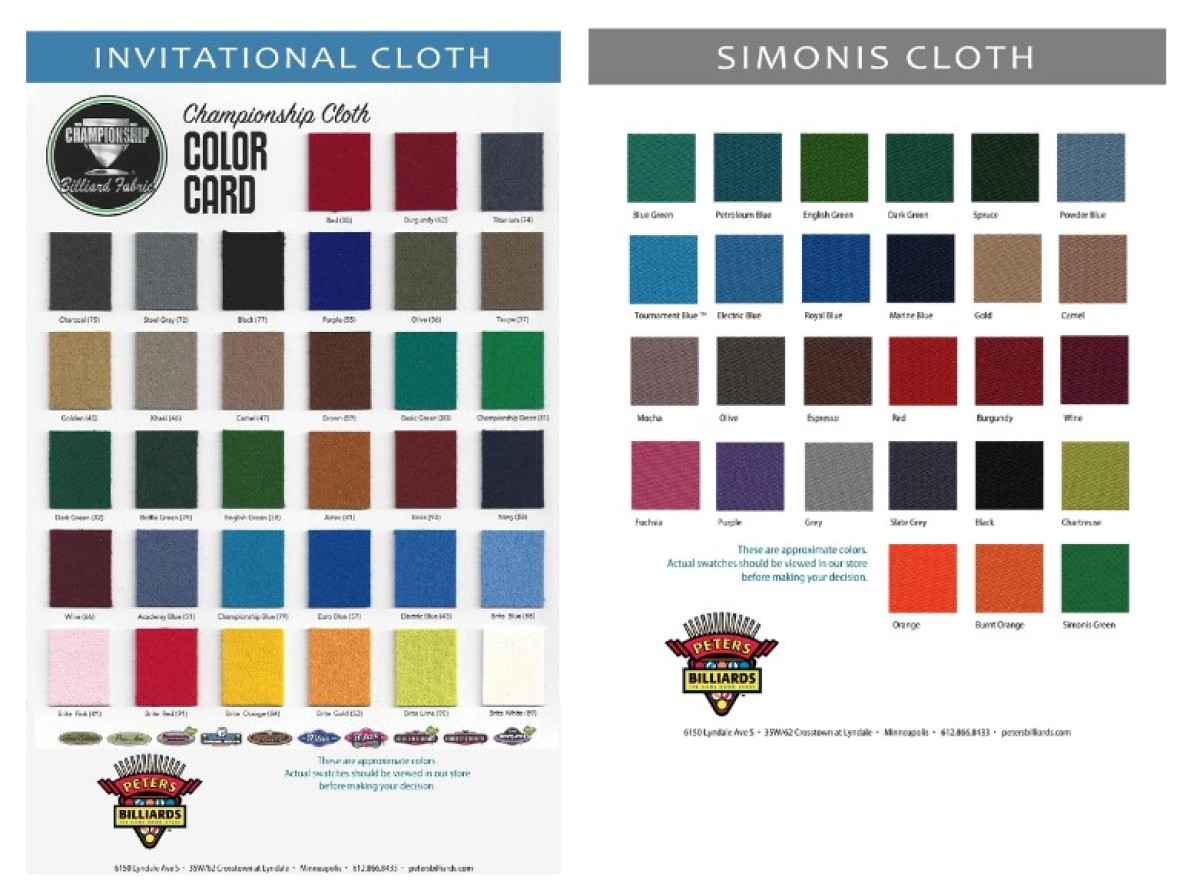 2. TAKE APART AND SET-UP OF A POOL TABLE
Many customers who are remodeling their home or replacing their flooring need to have their pool table moved out of the way before the work can start. We offer the service of taking apart your heavy slate pool table and leaving it unassembled on site. It can be stored in a spare bedroom or garage while the work is being done. We will then come back when the project is completed and set-up your table for you. Our professional installers can re-use your cloth if you choose and they will have the table leveled and ready to play on when finished.
This is also a great time to choose new cloth if you're looking for a change!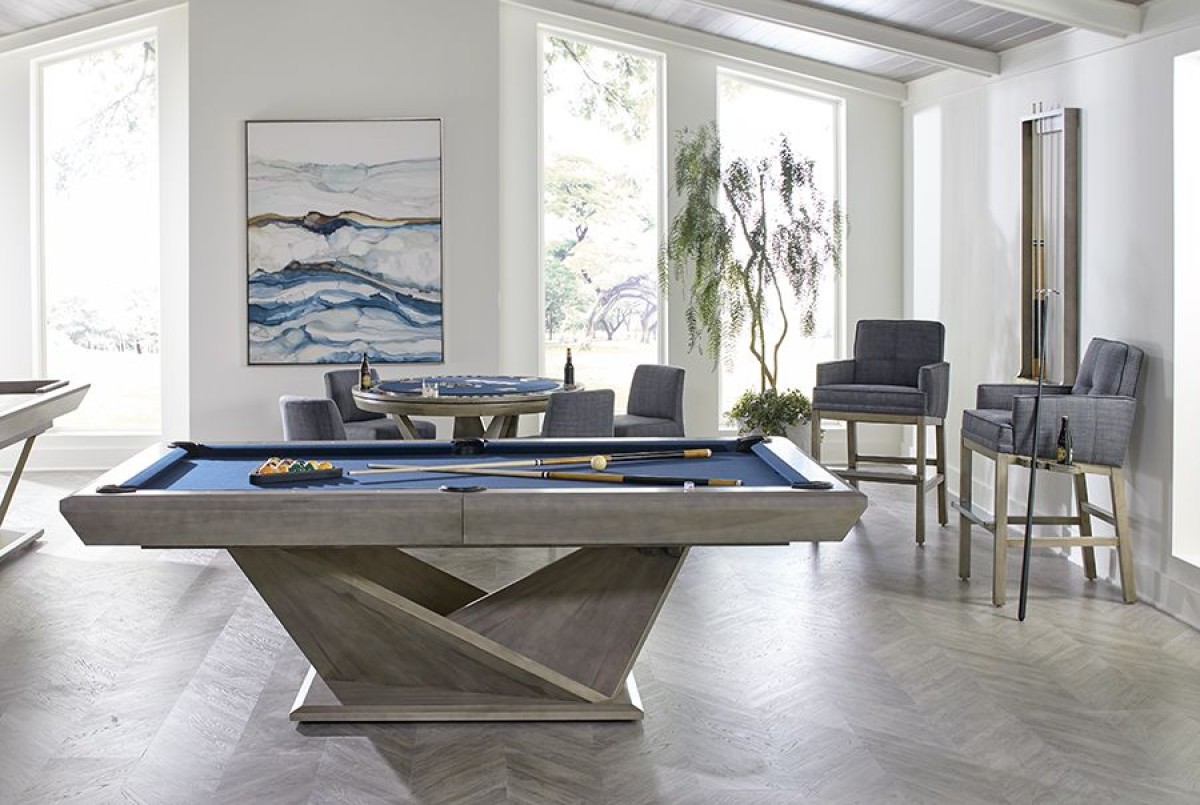 3. POOL TABLE MOVE
Moving to a new home and want to bring your table with you? Gifting your pool table to a family member? We offer the service of disassembling your pool table, loading the frame, slate and hardware into our truck and safely transporting it to your new home. Once there we will unload, set-up, and level your table in its new location so it's ready to play on.
Not moving locally? We do move tables outside of the metro area. Moving out of state? We can crate your slate to keep it protected during the moving process.

4. RAIL CUSHION REPAIR
An older table will play much better with a fresh set of rail cushions, or bumpers, as some people call them. Cushion repair has to be done at our warehouse location in Edina. If you can bring your rails to us, that saves you a trip charge, but we can come to your home and remove the rails if needed. At our warehouse we will strip the cloth, remove the old cushions, mount the correct new cushions for your table, and recover with new cloth. Once completed you can pick them up or we can deliver and install on your table in your home.
Most customers prefer to have their pool table bed cloth recovered at this time so the rails and the bed both have a fresh set of cloth.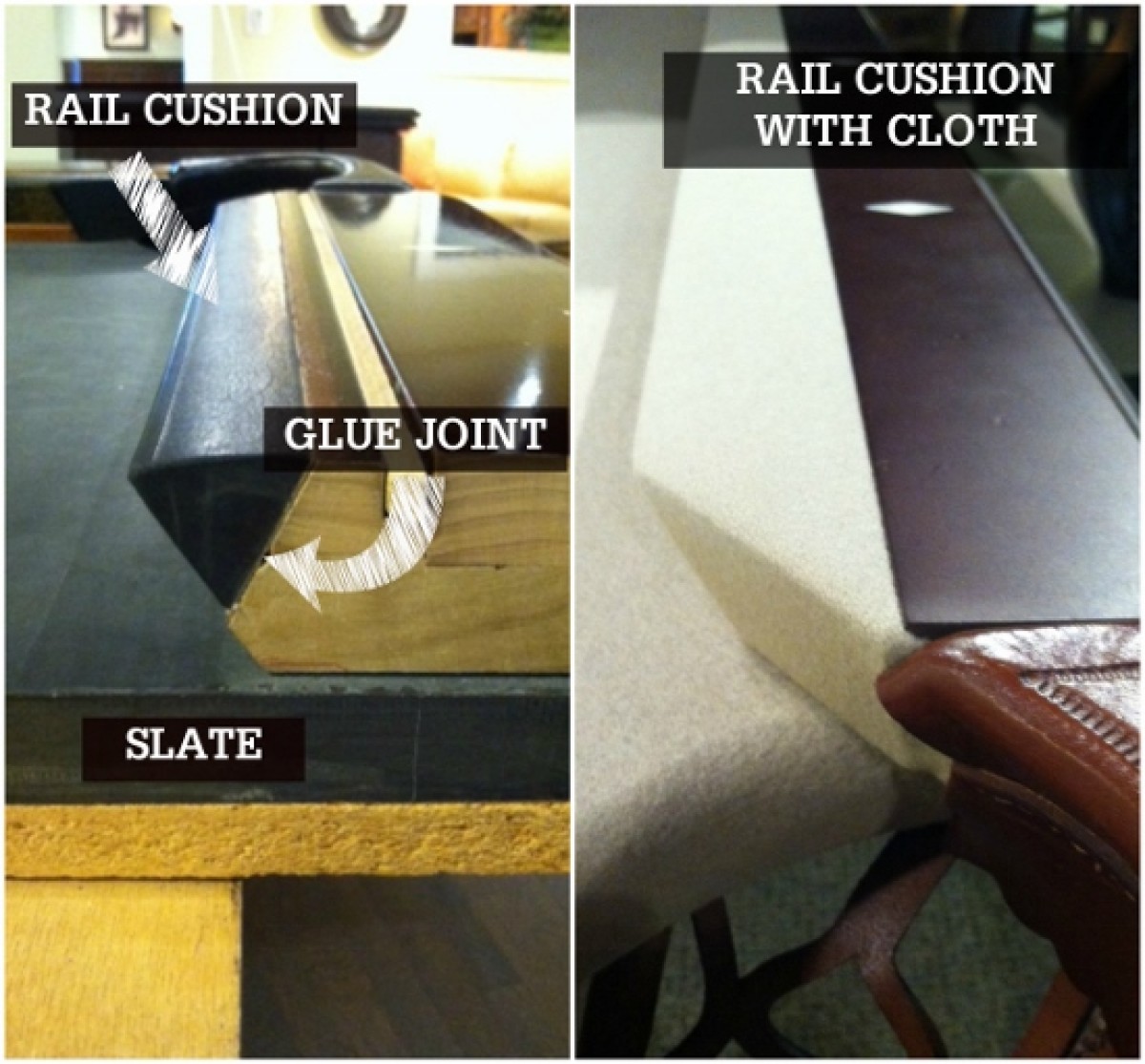 5. CUE REPAIR
We offer cue repair out of our showroom location in Minneapolis. We have expert staff that can re-tip your cue and put on a new ferrule if needed. We have a lathe to make the job quick and precise. Drop off your cues and we'll have them ready for you in a few short days.
Whether your moving, remodeling or just updating your pool table, we can help! Call or email us and we'd be happy to get you a service estimate.
Thanks for visiting Entertaining Design.
Categories
Sign Up for Emails
Be the first to get info on sales, new items and more.