Patio Furniture is IN STOCK Now!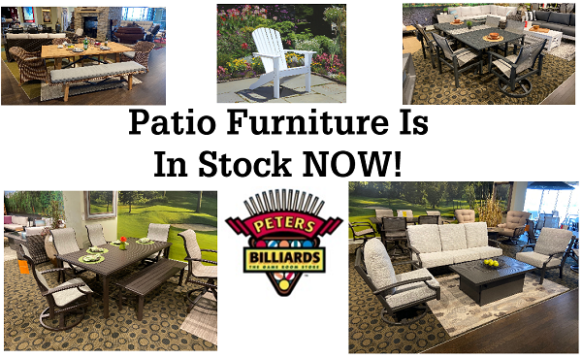 Now is the time to start planning for your outdoor patio furniture to enjoy for this spring, summer, and fall seasons! We have A LOT IN-STOCK with a lot more coming! At Peters we have been planning ahead knowing manufacturers lead times are still extremely long. Coming in early will give you the best selection for variety and style.
We have a lot of outdoor furniture available including: sectionals, sofas, loveseats, cushioned lounge chairs, Adirondack chairs, fire pits, dining tables, swivel chairs, stacking chairs, barstools, bar tables, end tables, coffee tables, umbrellas, and even protective covers for all.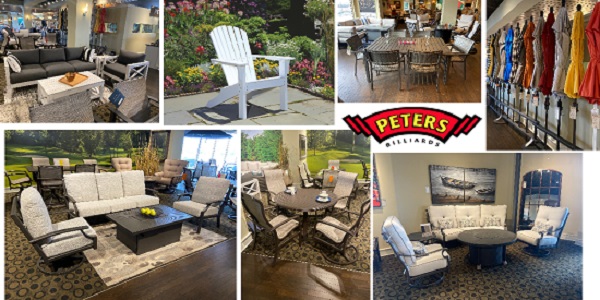 Our warehouse is currently FULL as we're planning to keep more in stock and available to you right away. We are receiving trucks every week full of new products in both furniture and games. More in- stock patio furniture will be arriving throughout the spring.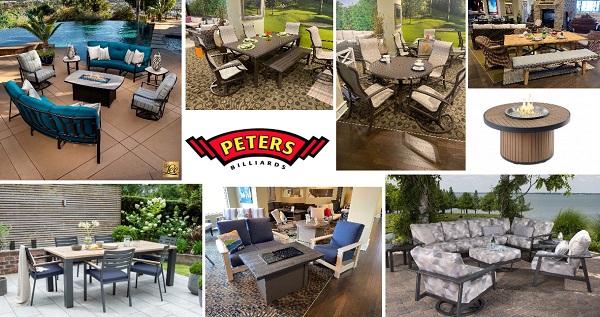 Even with all this selection and you still can't find the best patio furniture for your patio? We would be happy to help you select the perfect collection for your outdoor space and order it for you. We can custom order it in your of choice of frame finish and fabrics. The wait time is currently longer than average so you'll just have to have a little more patience waiting for your perfect patio furniture piece.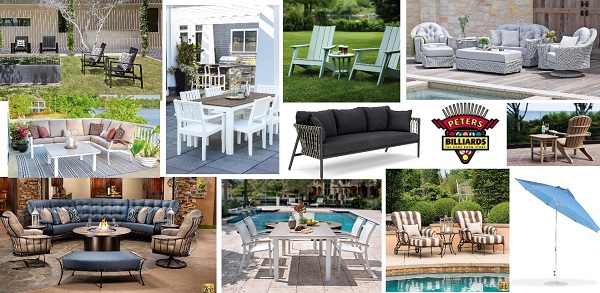 Why are manufacturers taking so long?
Most of you have heard of delays in many industries from indoor furniture, appliances, housing materials, and more which all stemmed from the start of COVID. Well, the repercussions have caused the same delays in patio furniture. This virus has caused issues across so many industries and it really has shown how supply chain issues can affect so much in the furniture industry.
Shutdowns back in 2020 caused the first delays and this was during the peak of spring orders. All the while orders were still coming in, even though manufacturers were on hold. Once manufacturers opened back up they had to deal with a backlog of orders. Supply chain issues such as shortage of foam, fabrics and other raw materials have caused even more disruption and delays. Freight delays on top of labor shortages have again caused longer delays.
With canceled travel plans and other canceled events such as concerts and large weddings during 2020 and 2021, homeowners turned their focus to time spent at home. All this time spent at home gave people that itch to finish those home projects they've been dreaming to do, such as finish and furnish their outdoor spaces. This has caused all of our patio furniture suppliers to see a huge surge in orders during a time when they're already behind.
Patience is the key!
We can still get your special ordered patio furniture, there is still no doubt about that. Patio furniture manufacturers are working long hours and doing their best. It will just take longer if you choose to order product vs. taking from in stock items we have on hand. At Peters Billiards we carry patio furniture that will last for many years to come. So, plan for the long haul, even if you need to patiently wait for its arrival.
Looking for a specific outdoor dining, outdoor chair or some other patio furniture item? Call or email and we'd be happy to check availability for you.
Which brands do you carry?
We carry all of these outdoor and patio furniture brands: Brown Jordan, Castelle, Frankford, Kettler, Lloyd Flanders, Mallin, OW Lee, Outdoor Greatroom, Seaside Casuals, South Sea, Summer Classics, Telescope Casual, Treasure Garden, Tropitone, Winston, and Woodard.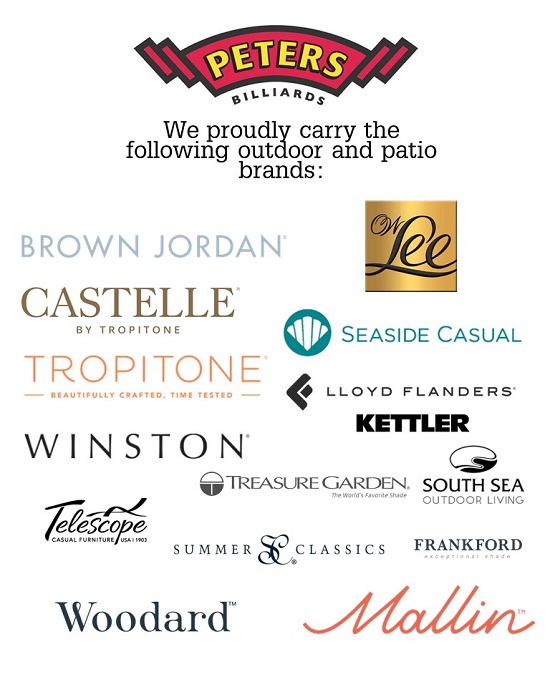 Thanks for visiting Entertaining Design by Peters Billiards.
Other Patio Blogs to Check Out:
Recent Posts
Categories
Sign Up for Emails
Be the first to get info on sales, new items and more.