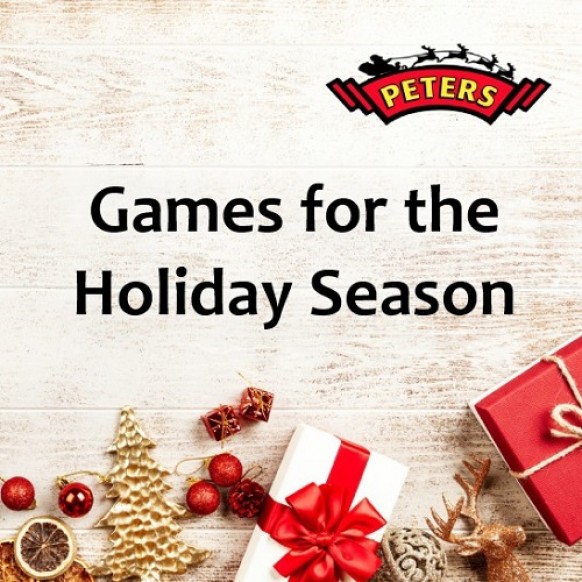 Peters has games BIG and small that are available right now for the holidays. Lots of options for gifting or filling your own game room for entertaining this season and beyond. Available right now for immediate pickup and delivery openings before the holidays.
Exciting Arcade Games
Action packed with all the lights and sounds these arcade games are sure to thrill everyone young and old.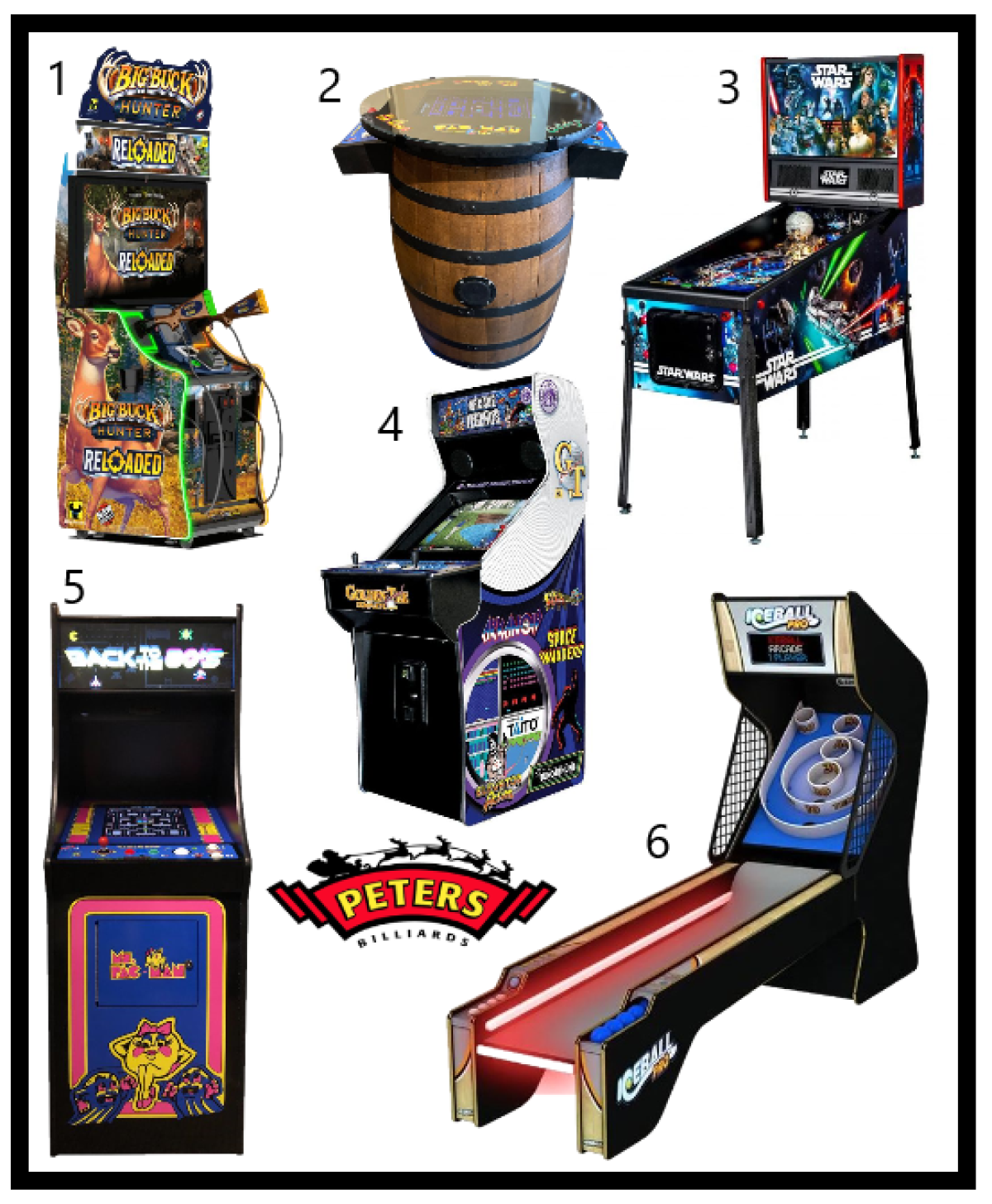 1|Big Buck Hunter Reloaded 2|Back to the 80's Wine Barrel 3|Star Wars Pinball 4|Arcade Legends 3 5| Back to the 80's Upright 6|Ice Pro Alley
Classic Darts
Always a great game, darts is entertaining for the whole family. The electronic versions, both commercial and at home styles, offer over 40 games and will be sure to impress your guests! We also carry a high-quality bristle dart board, too.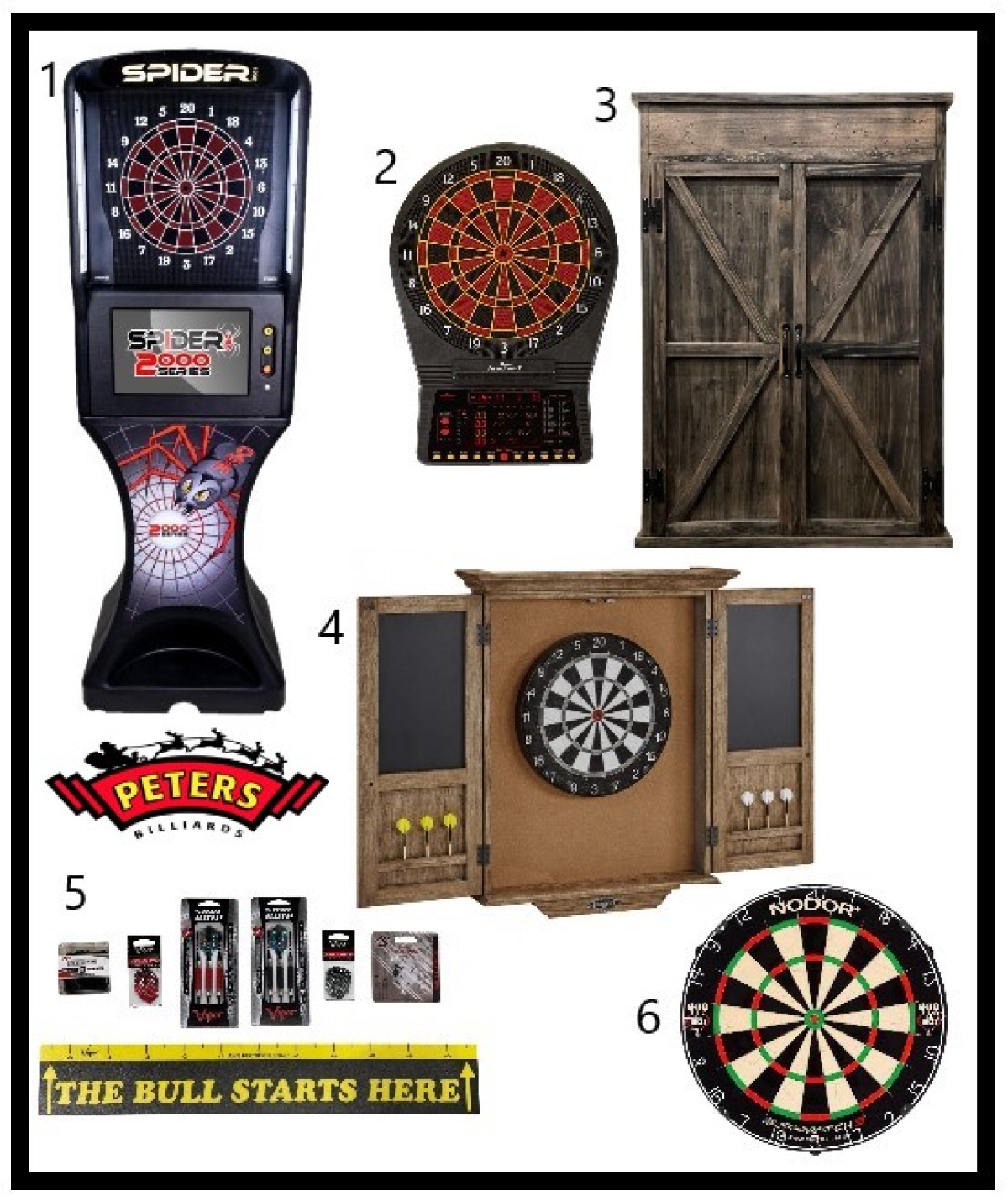 1|Spider 2000 Dart Board 2|Arachnid Cricket PRO Talking Dartboard 3|Mission Dartboard Cabinet 4|Brunswick Dartboard Cabinet 5|Soft Tip Dart Accessory Package 6|Nodor Supermatch 3 Bristle Board
Unplugged Games
Looking for something to get the kids off electronics? These games require no plug-in and will get everyone up and moving with some fun, competitive play.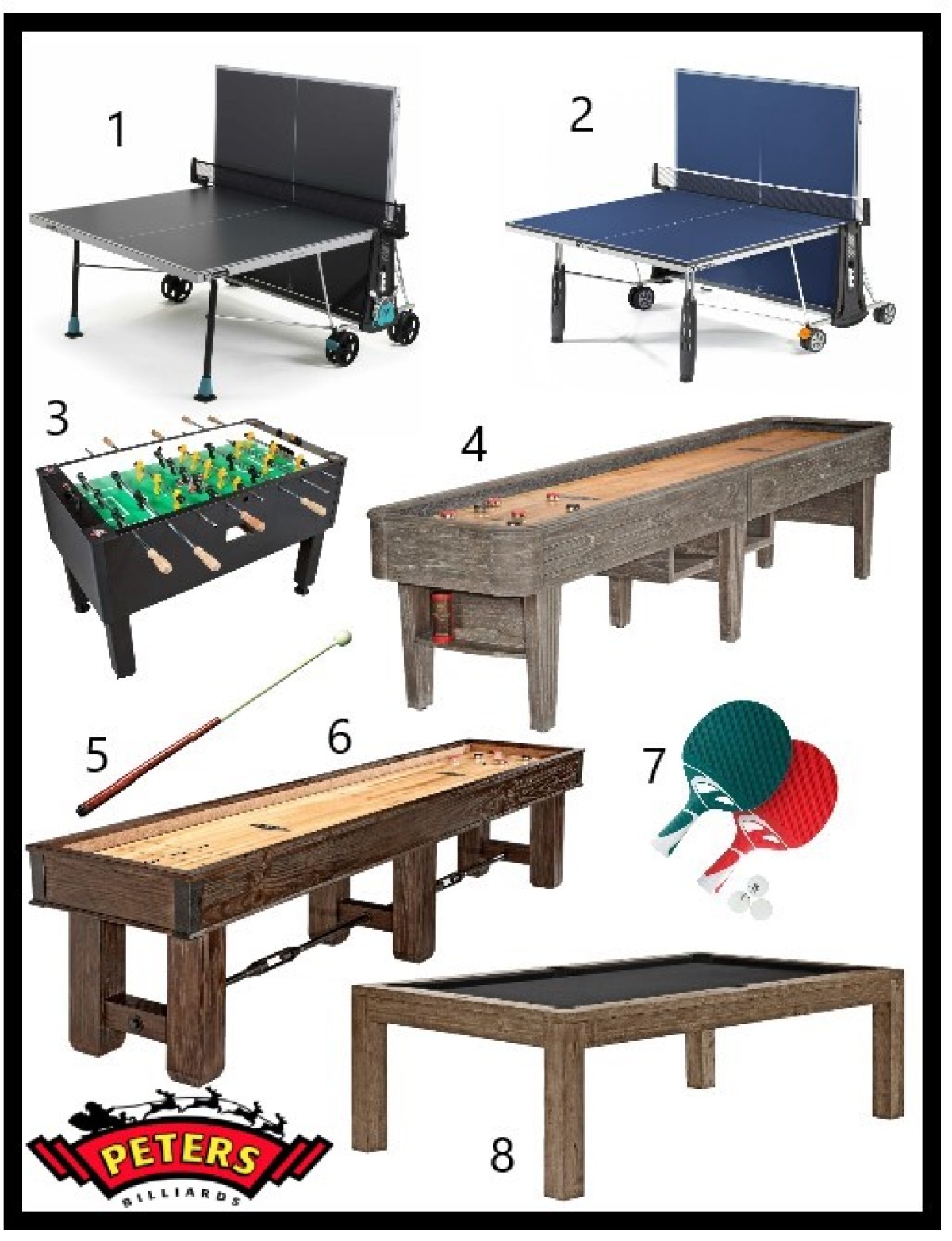 1|300X Indoor/Outdoor Gray 2|Sport 250 Indoor 3|Tornado Classic Foosball 4|Andover II Shuffleboard 5|Brunswick Junior Cue 6|Canton Shuffleboard 7|Cornilleau Tacteo DUO Pack Paddles 8|Sanibel 8' Pool Table
Hockey
This is the season of hockey! Stay warm in the comfort of your home and play these action-packed games all winter long.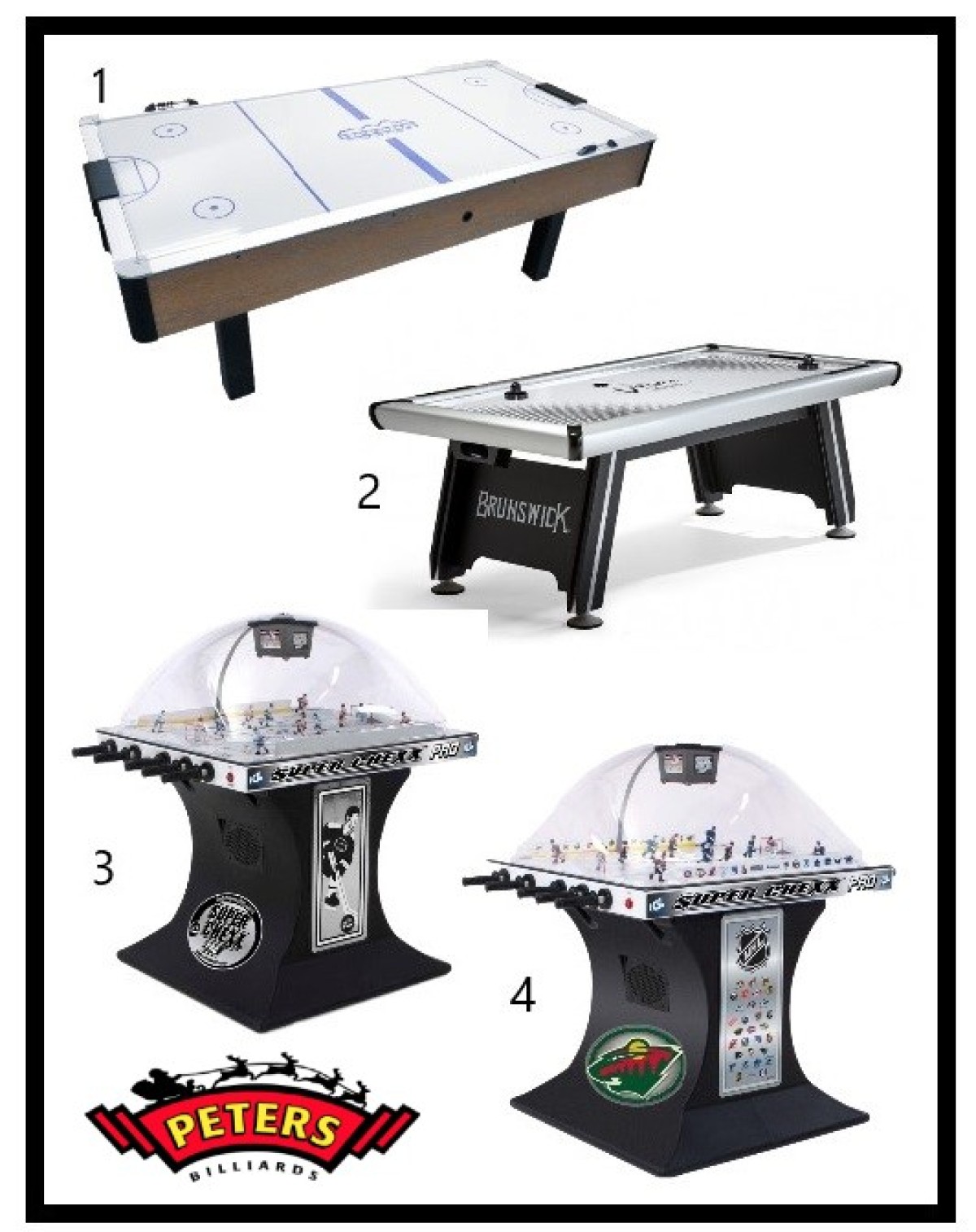 1|Branded Oak Arctic Wind 2|V Force 2.0 Air Hockey 3|Super Chexx PRO Dome Hockey 4|Super Chexx PRO NHL - MN Wild vs Chicago Blackhawks
Small Scale, Big Punch
These small-scale games can fit just about anywhere. Small on space, but big on fun these heirloom quality games offer unique details, beautiful designs, and enjoyment for the whole family.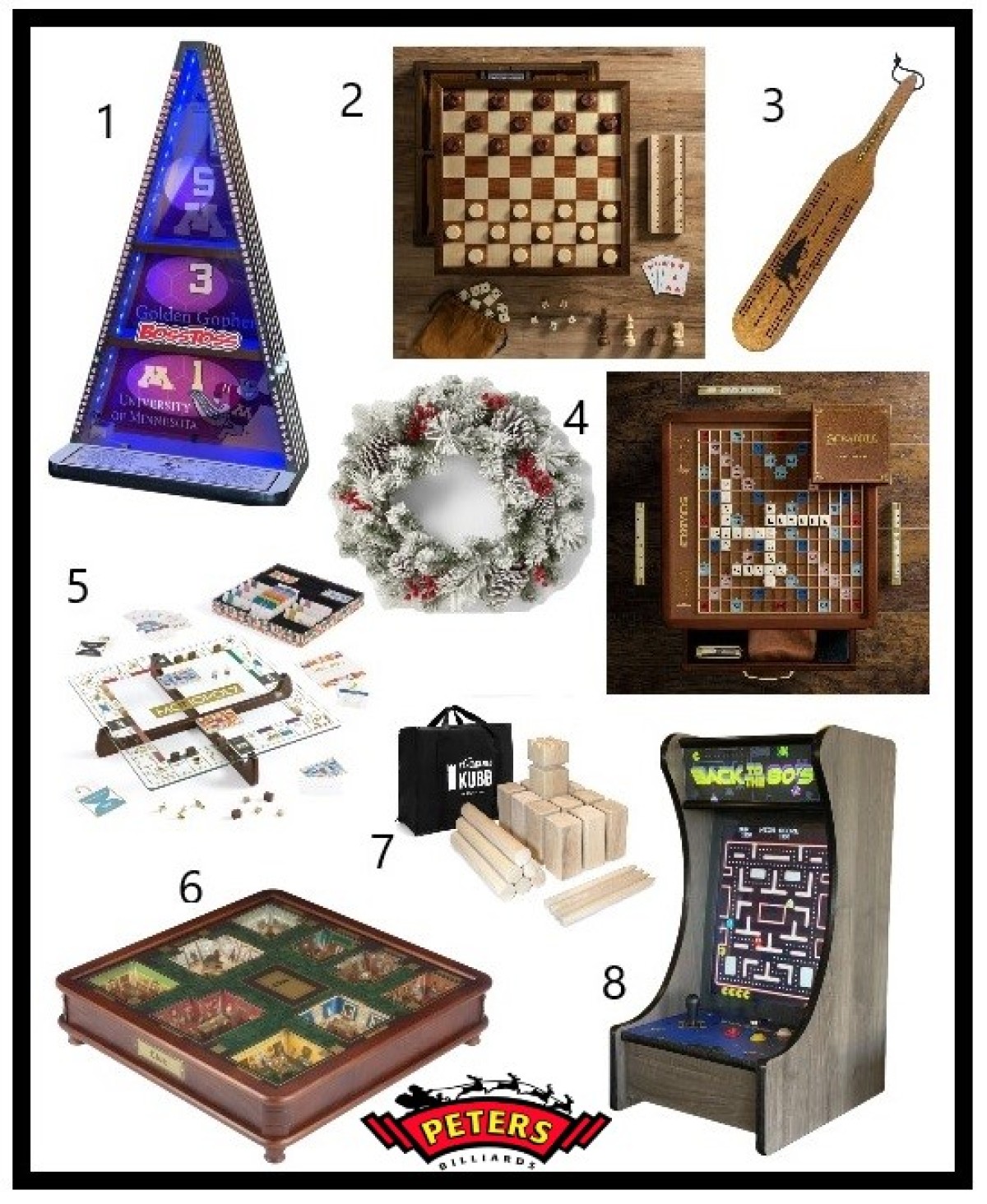 1|Boss Toss 2|Chess 7 in 1 Game Heirloom Edition 3|Cribbage Paddle (Tree) 4|Luxury Edition Scrabble 5|Monopoly Prisma Glass 6| Luxury Edition Clue 7|Kubb Lawn Game 8|Back to the 80's Table Top
Visit us in store to test out all these games and much more! Hurry in for the best selection to complete your game room for this holiday season. We can't think of a better place to actually have a real conversation with your kids.
Wishing you a healthy and happy holidays from all of us at Peters Billiards.
Want to Know More About Games?
All About Back to the 80's Arcade Games
Shuffleboard: Unplugged Games for the Family
Foosball: Unplugged Games for the Family
Table Tennis: Unplugged Games for the Family
The Game of Air Hockey
The Game of Darts
Pool Cues & Cases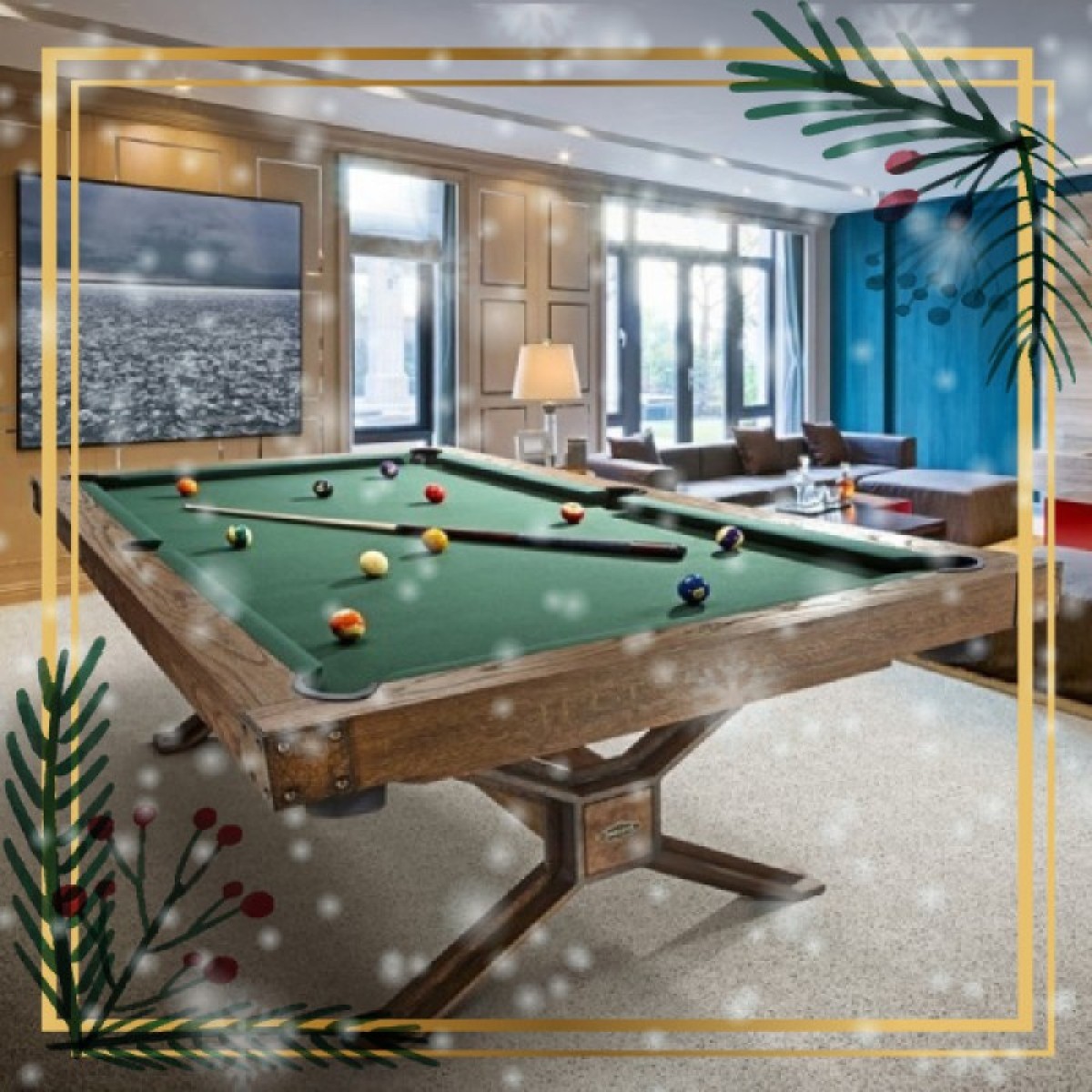 Categories
Sign Up for Emails
Be the first to get info on sales, new items and more.