Big Games for this Holiday Season: Part #2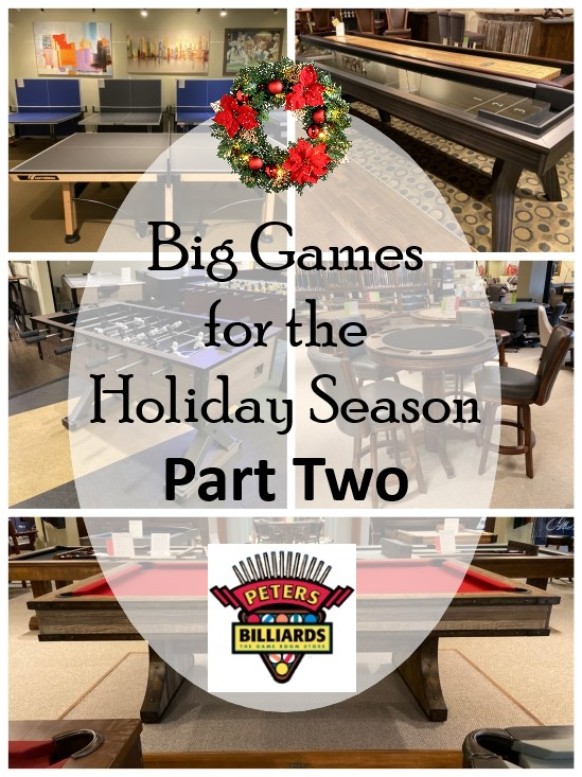 If you haven't been in our store lately then you haven't seen the hot new styles in pool tables, shuffleboards, and game tables. These games have become more than just a game, but beautiful pieces of furniture that will take your game room from good to gorgeous.
Let's take a look at what's trending in these big games so you can find the perfect addition to your game room this holiday season.
What's trending in pool tables?
Industrial design is very popular including details with reclaimed wood and metal accents. With hot new wood finishes including driftwoods, grays, and wire brushing techniques. The Edinburgh, Sanibel, and Railyard are great new tables that showcase these beautiful techniques.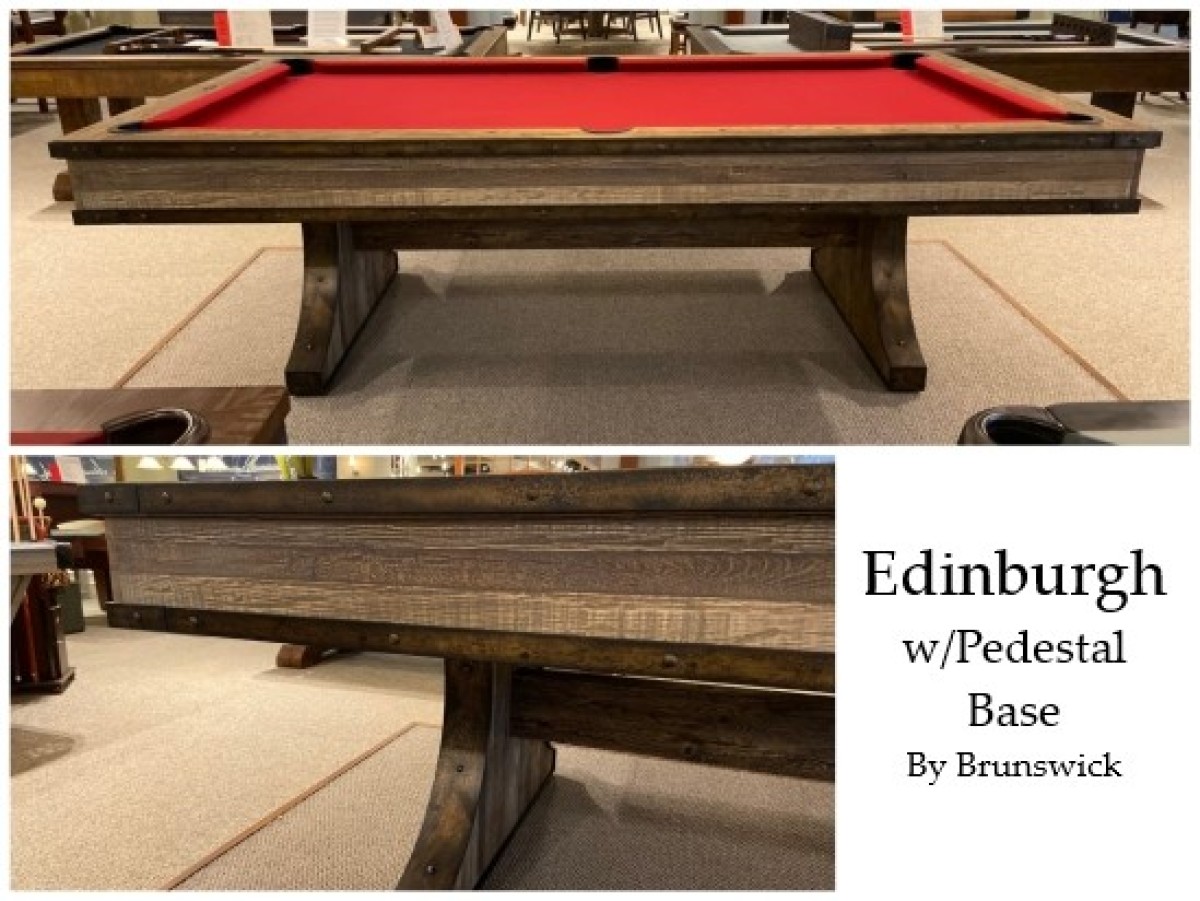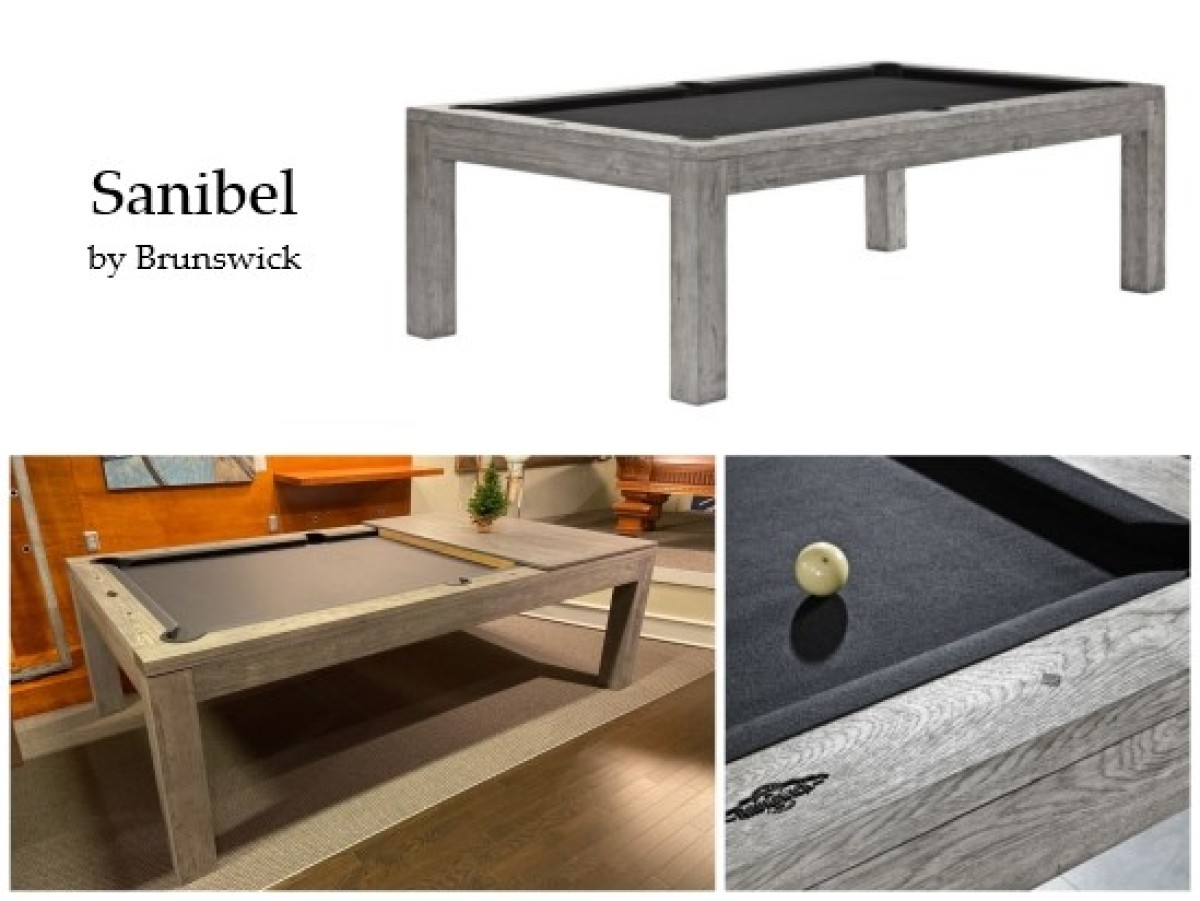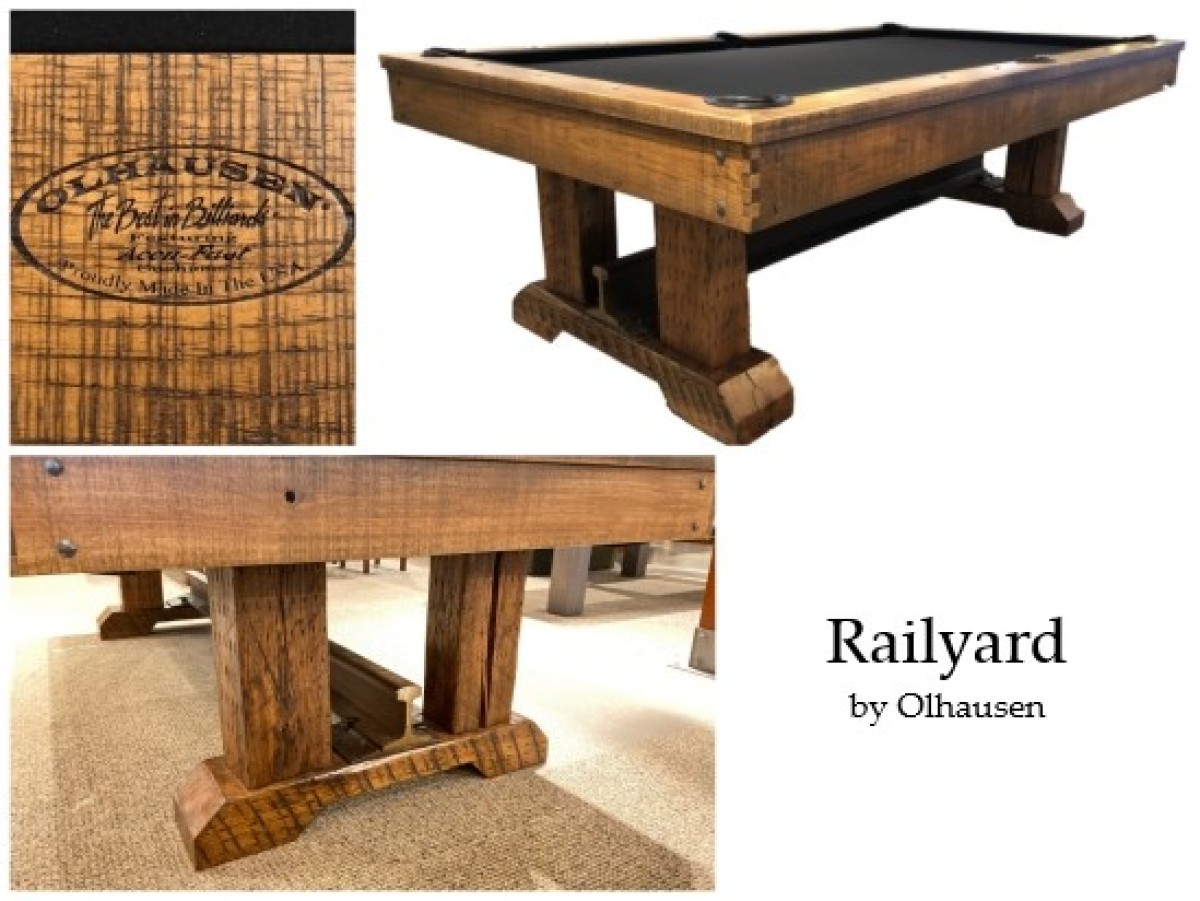 On the flip side the sleek Scandinavian inspired designs are also very hot. Smooth, clean styles such as the Bainbridge, Laguna, and Austin models have interior designers drooling. Just take a look.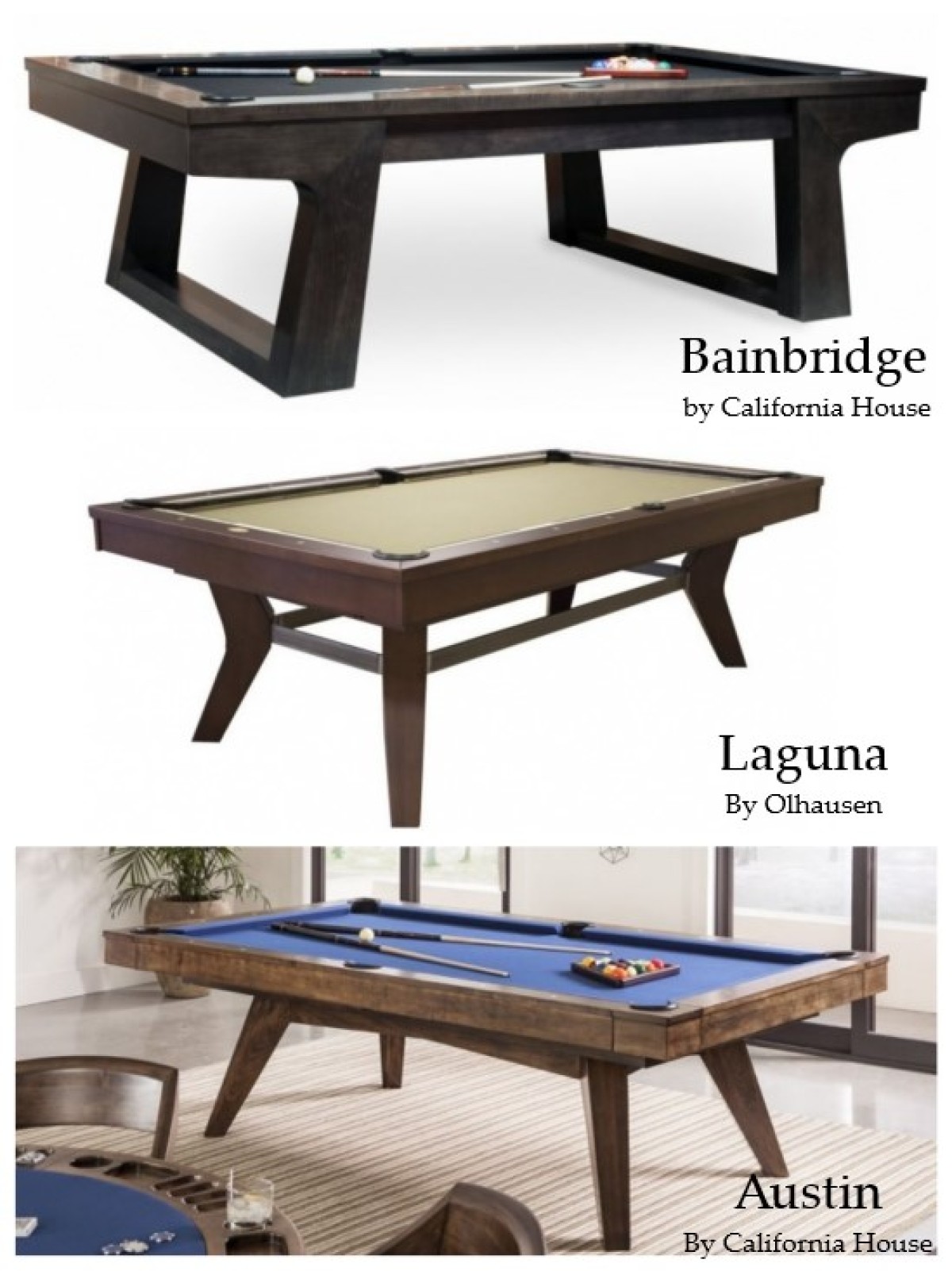 Be sure to know what size table will fit your space best. This Room Size Chart for Pool Tables will help! View all our pool tables on display in-store and our website.
What's trending in shuffleboards?
A new stained playfield option! We have a black stained playfield on display and pictures don't do this table justice. It's gorgeous! Available with your choice of stained playfield and cabinet for a customized look.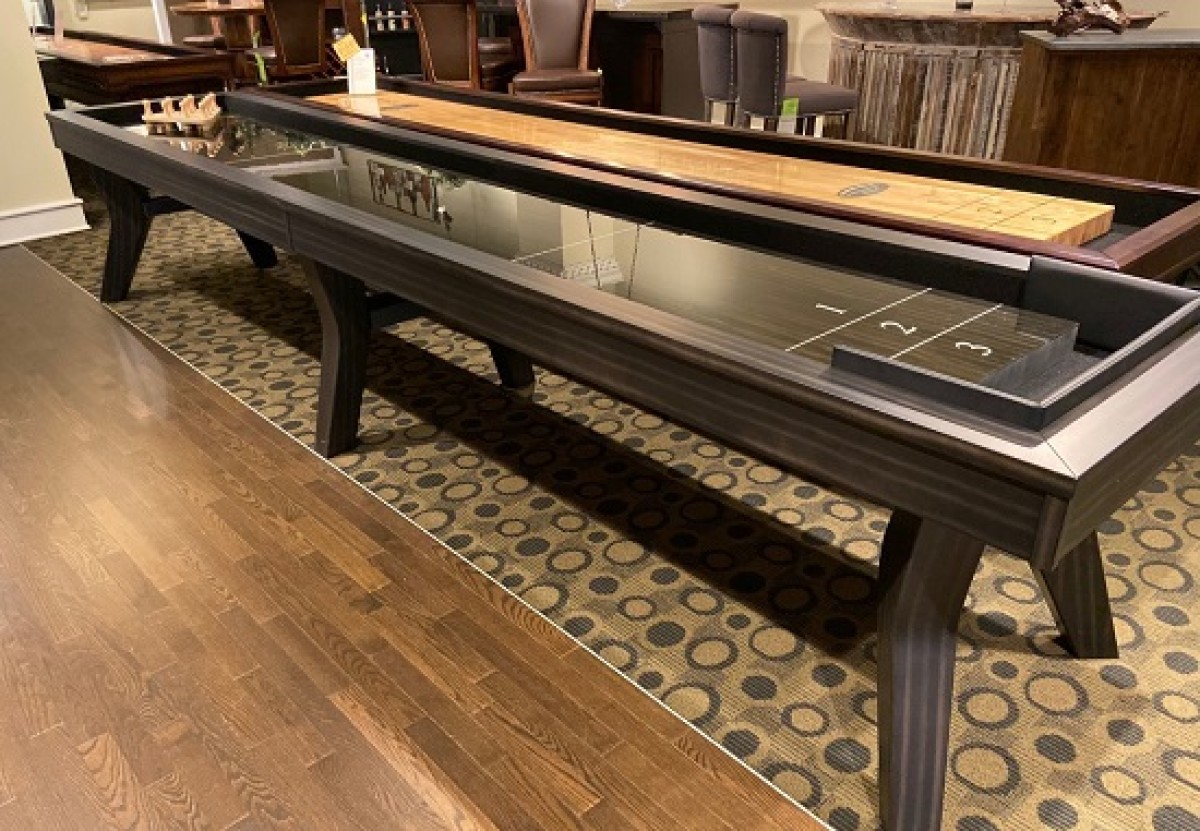 Most tables are now available in a two – piece playfield. What does that mean for you? The long playfield will come apart at the center so it's much easier for our crew to deliver around corners or tight staircases into a lower level. Our experienced sales people can help you determine which type of playfield works best for you and your home.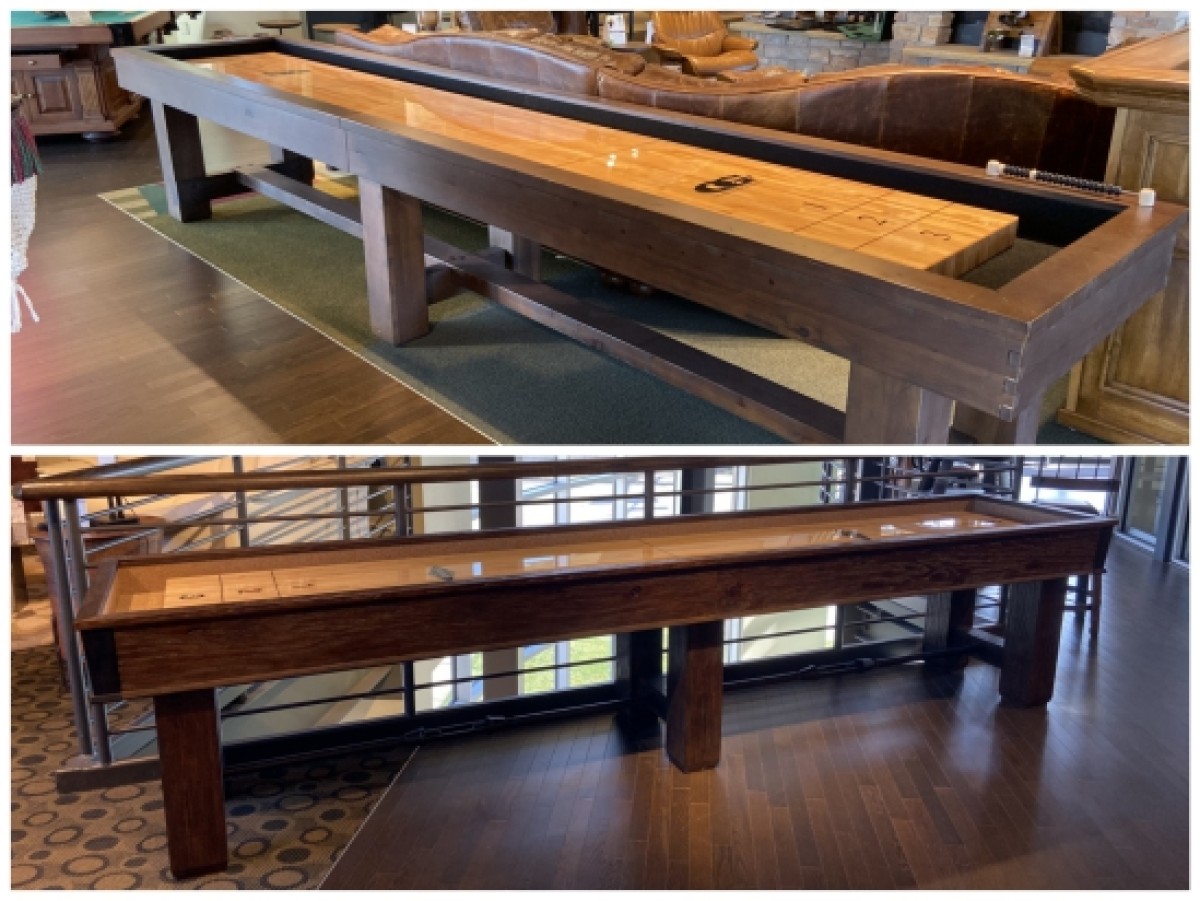 Remember shuffleboards only need 36" out from the wall. They range from 9' – 22' in length so you can choose the best size for your room. They fit great along a wall or behind the back of a long sofa. Be sure you have 24" of standing room at each end. Below is a room size chart as an example.

What's trending in Game Tables?
Game tables are following along with pool table trends. We are seeing industrial designs with shades of grays that are hot right now. Also, the Scandinavian and sleek styling is trending, too. Some favorite models are the Loft, Austin, and Algonquin.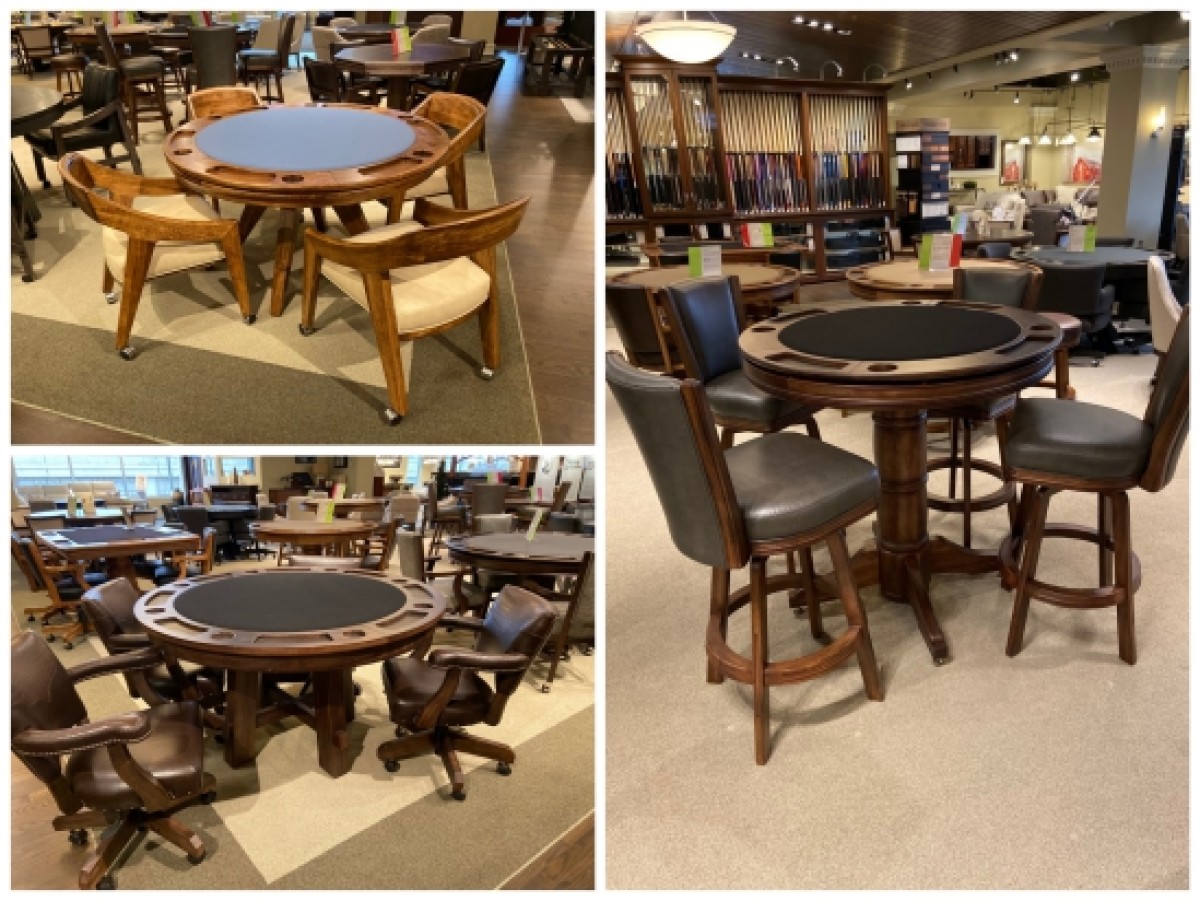 Pub height game tables are also popular. We show a 42" tall Algonquin game table (above) with 4 stools in a hot brown and gray color combo.
Other Classic Games
Don't forget classic games such a table tennis,foosball, air hockey, Bubble Chexx hockey and variety of arcade games. We have all games on display in-store to see quality and playability in person. We try to have them all in-stock and ready for pick-up or delivery.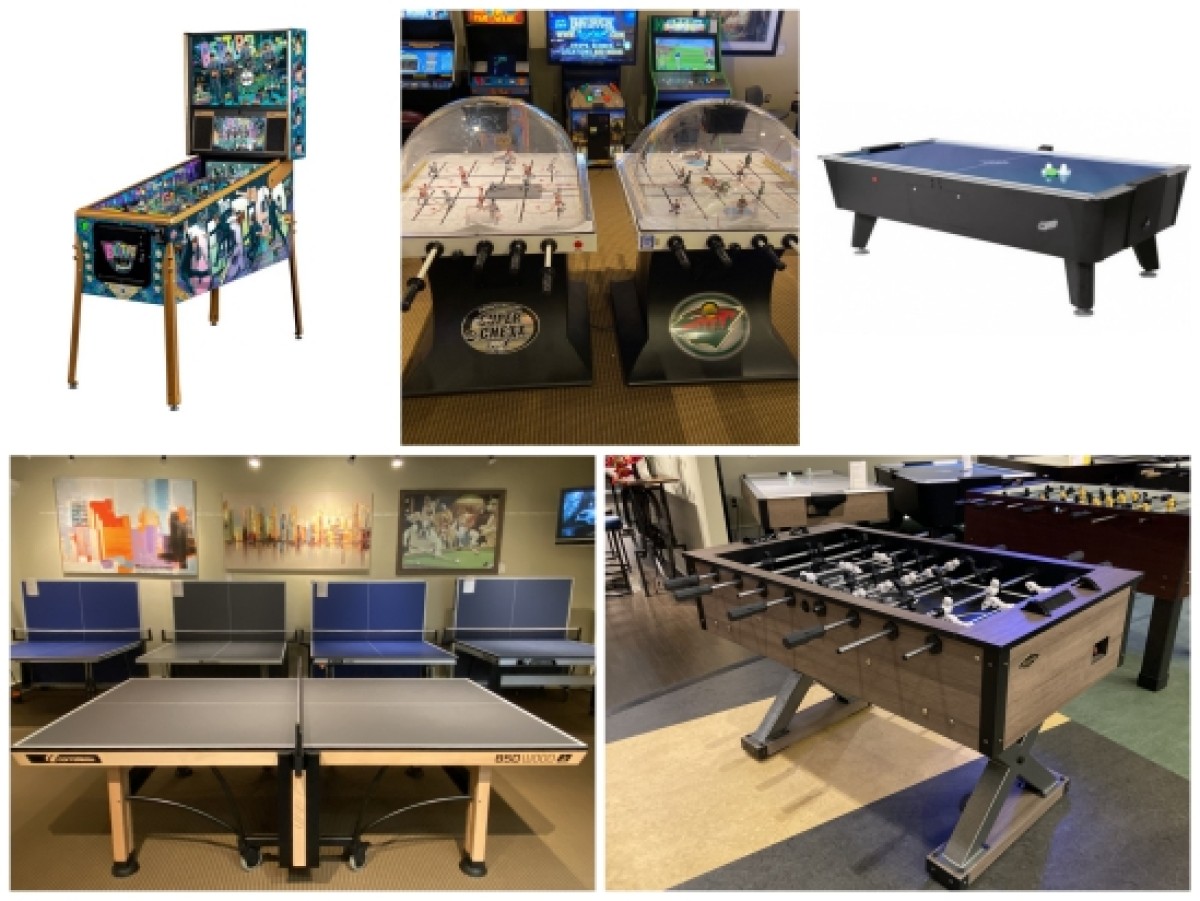 We have lot of openings for delivery before Christmas! Visit our website, visit us in store or call us to get your games ordered today.
If you didn't see it yet be sure to check out Big Games for the Holiday Season: Part One. where we talk about new and trending arcade games.
Happy Holidays from Peters Billiards. Thanks for visiting Entertaining Designs.
Recent Posts
Categories
Sign Up for Emails
Be the first to get info on sales, new items and more.